Leeds is a city located in West Yorkshire and it is one of the largest cities in the United Kingdom. A bustling metropolis, the city is alive with cultural energy and is a hub of academic excellence and diverse cultural experiences.
Learn more about what makes Leeds such a great place for students to continue their higher education in the UK or book a free consultation with SI-UK India today.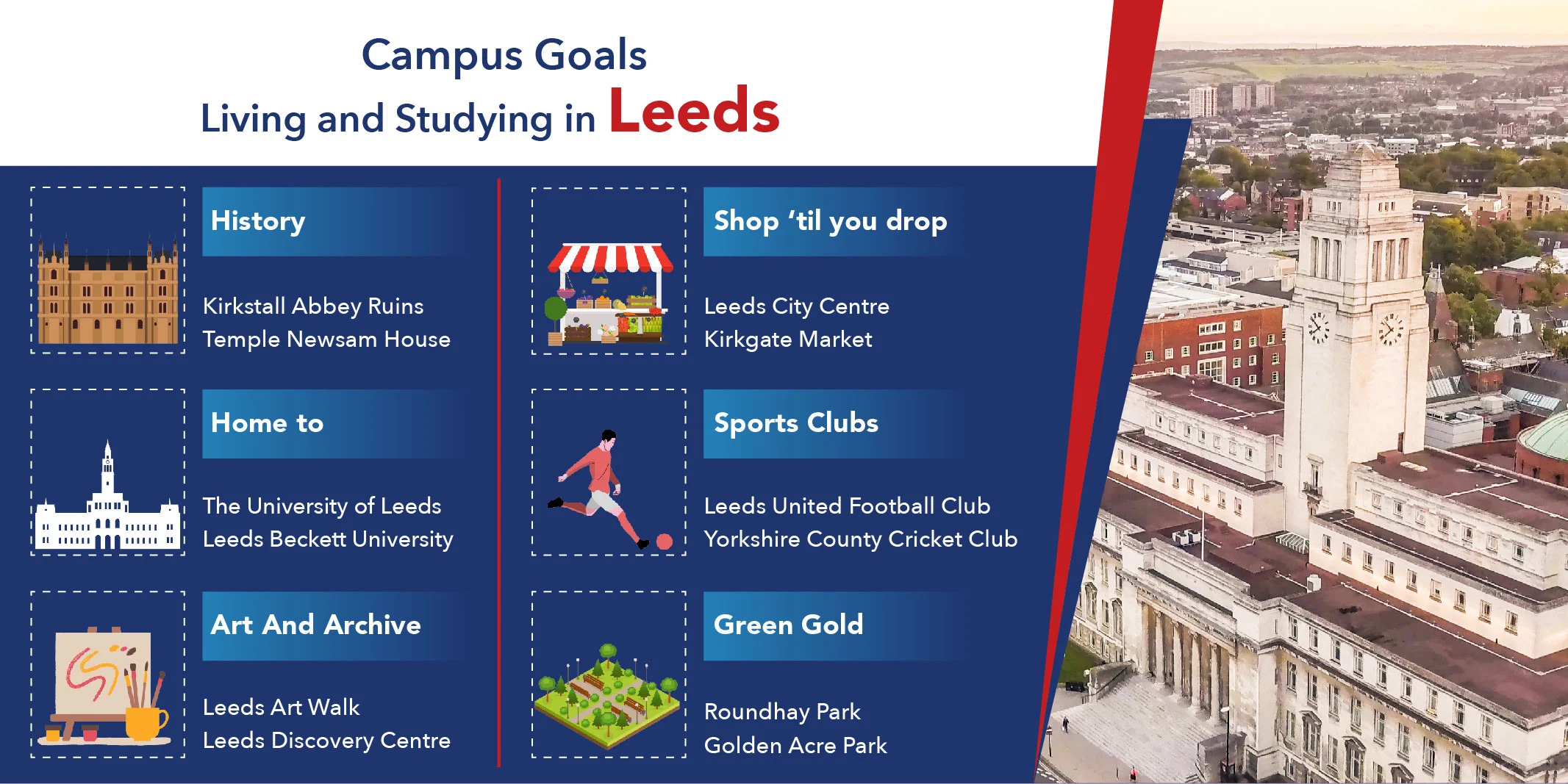 Living and Studying in Leeds as an International Student
Dynamic and Vibrant Student Life
For students, Leeds is a city like no other. Known for high-quality education standards, it draws students from across the globe with its exceptional academic courses and resources.
Many students choose to live in halls of residence or other university-managed accommodation, which can provide a supportive and social environment. Homestays are also very popular, where some students choose to live with local families, either through formal homestay programmes or by arranging their own accommodation.
Headingley, Hyde Park and Burley are all popular places for students, with a wide range of affordable accommodation options.
Leeds offers a variety of transportation options, including a comprehensive bus network that runs throughout the city and surrounding areas. For those who prefer to travel by bike, Leeds has a network of cycle paths and bike-friendly roads that make cycling a popular choice among students. Furthermore, many areas in Leeds are relatively compact and easily accessible on foot, making walking a convenient and healthy option for students.
Top Rated Universities
Many prominent universities and college call Leeds their home, each with its unique campus, culture, and history.
Established in 1904, the University of Leeds offers a wide range of undergraduate and postgraduate courses in subjects such as arts and humanities, engineering, business, and social sciences.
The campus features a blend of historic and modern buildings, including the iconic Parkinson Building, and is set in a beautiful parkland location close to the city centre. The university also boasts world-class research facilities, including the Leeds Institute for Data Analytics and the Astbury Centre for Structural Molecular Biology.
Formerly known as Leeds Polytechnic, Leeds Beckett University was established in 1824 and is located in the heart of the city. It offers a wide range of courses in fields such as business, health, education, law, sport, and the arts.
The university is known for its strong focus on employability and practical skills, with many courses offering opportunities for work placements and internships. The campus features modern facilities, including state-of-the-art lecture theatres, libraries, and sports centres.
Founded in 1966, Leeds Trinity University is a small university with a strong focus on the liberal arts, humanities, and social sciences. The university offers undergraduate and postgraduate courses in subjects such as journalism, media, English, history, and psychology. The campus is set in a beautiful parkland location, and the university prides itself on its friendly and supportive community.
Acceptance Rate: 84%
Popular Courses: Journalism, Teaching, Psychology
It was founded in 1846 as the Leeds School of Art, Leeds Arts University has a long history of excellence in art and design education. The university offers undergraduate and postgraduate courses in subjects such as fine art, graphic design, fashion, photography, and textiles.
The campus features modern facilities, including well-equipped studios and workshops, as well as galleries and exhibition spaces that showcase student and alumni work.
Acceptance Rate: 53%
Popular Courses: Animation, Photography, Fashion
Cosy Cafes to Lively Street Food Markets
Leeds offers an exciting array of dining options that are sure to tantalise your taste buds. With new and delicious food experiences waiting around every corner, it is the perfect destination for foodies and adventurous eaters alike.
Leeds City Centre, Headingley, and Kirkgate Market are all popular student areas renowned for their vibrant energy and diverse dining and drinking scene. Some of the most beloved food and drink destinations are Mrs Atha's, Kitty Cafe, Riva Blu and Falafel Guys.
Leeds has a wide range of Indian food options available, from traditional curry houses to street food vendors and grocery stores. Dastaan, Mumtaz, Bengal Brasserie and My Lahore are loved by Indian students and locals alike.
Urban Art and Historic Buildings
Leeds has a rich culture and history that can be experienced through its many attractions, events, and public spaces. Whether you're interested in art, history, or music, there's something for everyone in this vibrant city.
The city has a number of historic buildings that showcase its rich heritage, including the Leeds Town Hall, the Leeds Corn Exchange, and the Kirkstall Abbey ruin.
There are several walking tours available in Leeds that allow visitors to explore the city's history and culture. The Leeds Discovery Centre is a must-visit for all history and art lovers. Leeds Art Walk highlights the city's public art showing off its thriving urban art scene.
Cycling and City Walks
The city is home to some of the most iconic professional sports clubs in the UK, including Leeds United Football Club, Yorkshire Carnegie Rugby Union Club, Yorkshire County Cricket Club and Yorkshire Diamonds Women's Cricket Team. Over the years, Leeds has played host to some of the biggest international sporting events, such as the Rugby World Cup Final and the Tour de France. It is also home to some of the most iconic stadiums in the country, including Elland Road, Headingley Stadium and the First Direct Arena.
For those with a passion for sports, studying in Leeds is sure to provide an unforgettable experience. There are many opportunities for people to stay active and involved in sports in Leeds, whether by attending a game or event, taking a fitness class, or simply enjoying the city's beautiful outdoor spaces.
Leeds Half Marathon is a popular annual event that attracts runners from all over the UK and beyond. The course takes runners past some of the city's iconic landmarks. A major cycling event that takes place in Yorkshire, including in Leeds, every year is the Tour de Yorkshire. It attracts professional and amateur cyclists from around the world and offers a range of challenging routes for participants.
Leeds is home to many parks and green spaces that are great for outdoor activities such as running, cycling, and hiking. Popular parks include Roundhay Park, Temple Newsam Park, and Golden Acre Park.
Career Possibilities
Leeds is also a great place to kickstart your career. With a thriving economy and a range of industries, there are plenty of opportunities to gain work experience and build your skills. Some of the many companies that have offices in Leeds are ASDA, First Direct, KPMG, PwC, Barclays, and Lloyds Banking Group.
The city's rich culture means there's always something new to discover and experience, making it an amazing destination to learn and grow, and it's sure to leave a lasting impression on anyone who experiences it.
Study in Leeds
Contact SI-UK if you want to study at one of the top universities in Leeds, and begin your application today.
Living and Studying in Leeds FAQ