Cardiff, the capital city of Wales and one of the largest cities in the UK, is a multicultural metropolis that attracts students from many countries. Cardiff, meaning "fort" in Welsh, is also referred to as Tiger Bay and the City of Arcades.
Here are a few reasons why this port city, with a rich history dating back to Roman times, is so popular with students.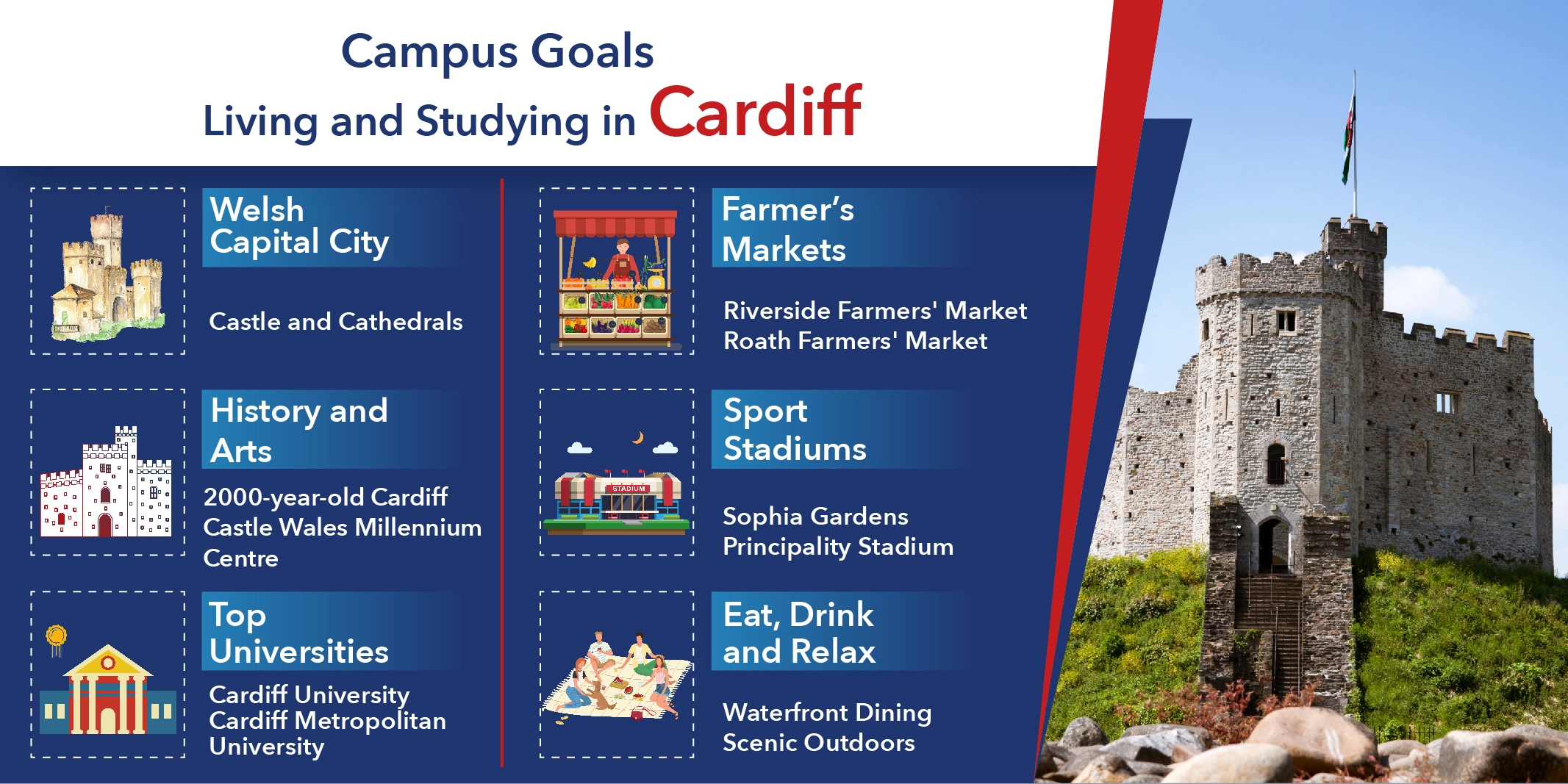 Living and Studying in Cardiff as an International Student
Excellent Student Living
Cardiff offers one of the most affordable student experiences in the UK. If you are living away from home for the first time, you might want to consider university accommodation as they provide a lively and supportive environment for new students. They are usually well equipped and fully furnished with all student amenities and are managed by the university.
Popular areas to live off-campus in Cardiff are Cathays and Roath, especially for Indian students, as rents in these areas are generally more affordable. There are also a few private student residences in Cardiff, like The Bakery and Arofan House, that often come with amenities such as 24-hour security, communal spaces, and on-site laundry facilities.
Cardiff has a range of transport options, including buses, trains, and the Cardiff Metro system. The best option, however, is getting a bike as it is the most affordable and fun way to see the city as well. Events like the Cardiff Mela, an annual event celebrating South Asian culture and Indian film screenings at The Chapter Arts Centre, make the students feel right at home.
Top Rated Universities
Cardiff is home to many universities and colleges, with each of them offering its own unique history, perks and academic programmes.
Founded in 1883 as the University College of South Wales and Monmouthshire, it consistently ranks among the top 200 universities in the world. The campus is located in the Cathays Park area of Cardiff and students can enjoy its beautiful Gothic Revival architecture.
Formerly known as the University of Wales Institute, the University was founded in 1865 as the Cardiff School of Art and Design. It focuses on vocational and professional education and is well known for its strong links with industry and leading companies in Wales and the UK. The campus is located in the Llandaff area of Cardiff amidst leafy surroundings and historic buildings.
The University of South Wales Cardiff campus is located in the Atlantic Wharf area of the city, known for its beautiful waterfront location and the convenience of its proximity to the city centre.
All three universities in Cardiff are known for their vivacious student communities and plenty of opportunities for socialising.
Waterfront Dining and Street Food
Cardiff has a vibrant and diverse food scene, with a wide range of options to suit all tastes and budgets. Several street food markets and pop-ups take place throughout the year in various locations around the city.
Some popular street food markets include Street Food Circus, Riverside Farmers' Market, and Roath Farmers' Market, where students can buy fresh, locally sourced food. Cardiff has a diverse range of restaurants offering cuisines from around the world, including Indian, Chinese, Italian, and Mexican. Popular restaurants for students include Cafe Citta, which serves authentic Italian food, and Chai Street, which offers traditional Indian street food. It also has several award winning Indian restaurants like Mowgli Street Food and The Purple Poppadom.
Overall, Cardiff's food scene offers something for everyone, whether you're looking for a quick and affordable meal or a special dining experience.
A Perfect Blend of Old and New
Cardiff is a diverse, multicultural city and is home to numerous theatres, galleries, and museums, including the Wales Millennium Centre and the Chapter Arts Centre.
Apart from the beautiful countryside surrounding Cardiff, one of the most popular attractions is the 2000-year-old Cardiff Castle, located in the heart of the city. It is a great city to explore on foot, and there are numerous walking tours available that explore the city's history and culture. These include the Cardiff Castle Tour and the Techniquest, which offers two floors of mesmerising models, marvellous machines and mind-boggling interactive displays.
Cardiffers love music and the city hosts several Music festivals. It also has the oldest record shop in the world, called Spillers Records, which was founded in 1894.
European Sports Capital
Cardiff has a vibrant sports culture, and is committed to using sports to impact the lives of its residents. There are many opportunities to get involved in sports or to watch live matches and events, starting with Cardiff City Football Club, which plays in the English Football League Championship. Rugby is a hugely popular sport in Cardiff, and the Principality Stadium regularly hosts Welsh rugby matches.
Cardiff is also home to the Glamorgan County Cricket Club, which plays its home games at Sophia Gardens, the stadium that hosted matches in the 2019 ICC Cricket World Cup. The Cardiff International Sports Stadium is a state-of-the-art facility that offers track and field events, as well as indoor sports such as basketball and badminton.
Students are always encouraged to take advantage of the many sports facilities available in the city.
Career Possibilities
Cardiff is a vibrant and growing city with a range of career prospects for its students. The city is home to a number of large companies and organisations, including the Welsh government, National Health Services Wales, and the BBC Cymru Wales New Broadcasting House, as well as a thriving startup scene. Some of the other notable companies that have a presence in Cardiff are Airbus, Deloitte and the Admiral Group.
Study in Cardiff
If you are interested in studying at one of the top universities in Cardiff and experiencing life as an international student in this bustling Welsh city, book a free consultation with SI-UK India today.