Birmingham is often referred to as the 'workshop of the world' as it played an important role during the Industrial Revolution. This is one city where history meets innovation.
Birmingham is now considered to be a financial, social and commercial hub of both the East and West Midlands. With a thriving tech sector, world-class research at UK universities, and a strong entrepreneurial spirit, it's no wonder that this city is a thriving student haven. Let's find out what makes Birmingham a great place to live and study in the UK for Indian students.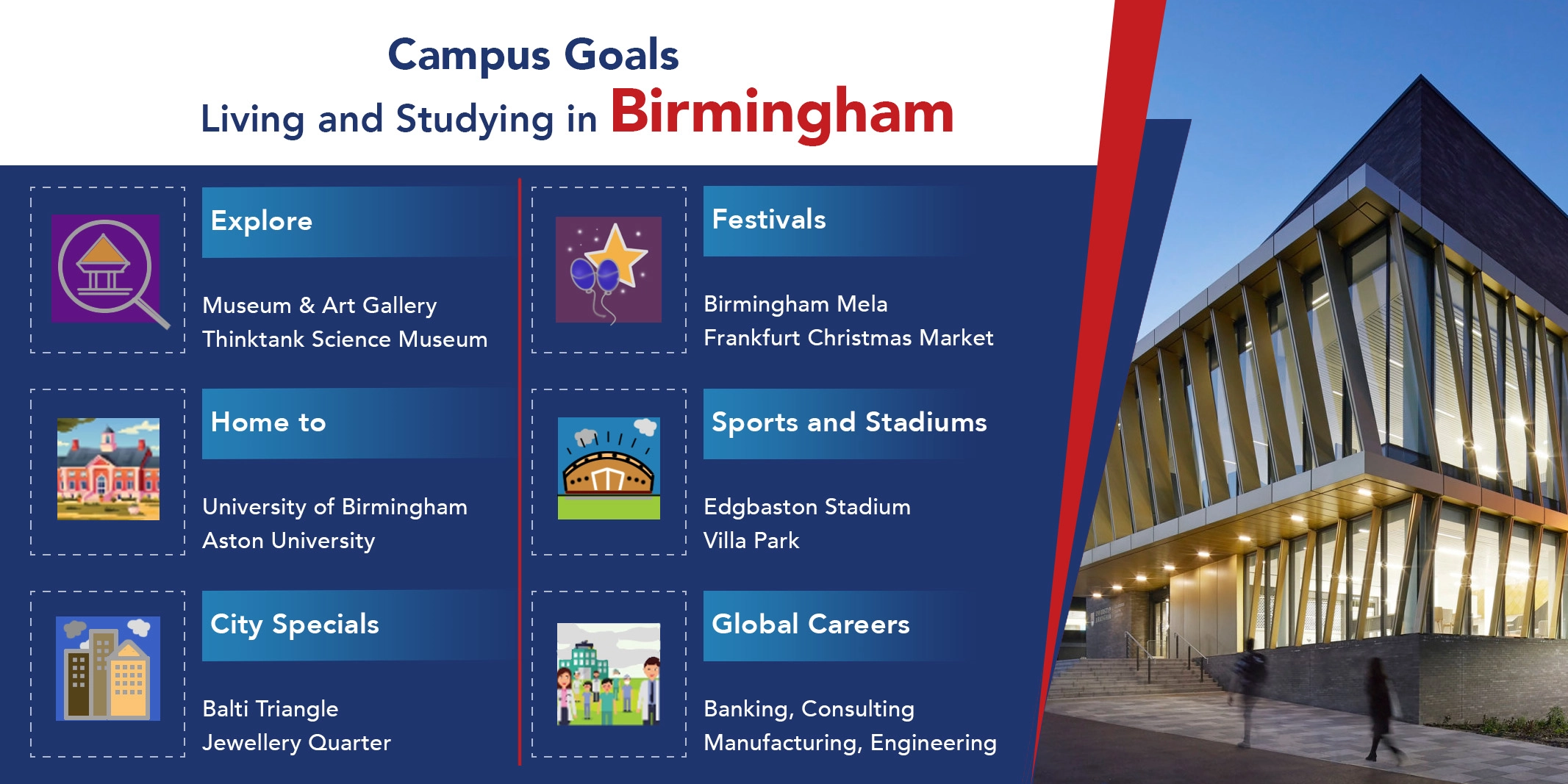 Studying and Living in Birmingham
Community Living
Birmingham is known for its friendly and welcoming atmosphere, with a strong sense of community and a culture of inclusivity. On-campus accommodation is available at various universities, offering a range of options from single rooms to shared apartments or houses. They may also provide meal plans and cleaning services, making them a convenient choice for students.
Edgbaston, Selly Oak and Bournbrook are popular choices for students who want off-campus accommodation, making it easy to meet new people and make friends. These areas also have everything available nearby, from local shops and supermarkets to restaurants, everything that students need.
The city has an extensive network of buses operated by various companies such as National Express West Midlands and Diamond Bus. These buses run throughout the city and connect to the surrounding areas, making it easy for students to get to their classes or explore the city.
For Indian students missing home, there is the Birmingham Indian Students Association. It is a student-run organisation that promotes Indian culture and heritage among the student community and hosts a range of events, including festivals and cultural shows.
Top Rated Universities
Birmingham is home to many top universities attracting students from around the world.
Founded in 1900, the University of Birmingham is a member of the prestigious Russell Group of universities and is one of the oldest and most respected universities in the UK.
The university is known for its excellent research facilities and has produced many important breakthroughs in fields such as medicine, physics, and engineering. The University of Birmingham offers a range of scholarships for international students, depending on their level of study, course, and nationality.
Acceptance rate: 13.54%
Top courses: Engineering, Economics, Medicine
Founded in 1895, Aston University is a research-focused university that is particularly renowned for its business and management courses. The campus is located in the city centre, making it accessible for students to commute to from anywhere in the city. Aston University offers scholarships for international students, which may include scholarships for undergraduate, postgraduate, and research programmes.
Acceptance rate: 50%
Top courses: Business
Originally founded as the Birmingham College of Art in 1843, Birmingham City University has since grown to become one of the largest universities in the region, with a particular focus on creative arts and media. Birmingham City University offers scholarships and bursaries for international students.
Founded in 1968, Newman University is a small, specialist university that focuses on teacher training and the liberal arts. The campus is located in Bartley Green, on the outskirts of Birmingham and offers undergraduate and postgraduate programs in fields such as education, theology, and philosophy. Newman University offers scholarships for international students that may provide partial or even full tuition fee waivers or other financial support.
Acceptance rate: 71.7%
Top courses: Theology and Religious Studies, Sociology
What to do when studying in Birmingham?
From exploring museums to a vibrant nightlife, the city is a paradise for students to explore their interests while completing their academics at one of the popular universities in Birmingham.
Balti In Birmingham
The city is home to the famous Balti Triangle, an area in the city that is renowned for its Indian and Pakistani cuisine. Some notable restaurants in the Balti Triangle include Akram's, Shababs Balti and Shahi Nan Kebab House.
The Jewellery Quarter is another popular area for food in Birmingham, with a range of cafes, bars, and restaurants offering international cuisine. Birmingham also hosts a range of food fairs and farmers' markets throughout the year, offering the chance to sample local produce and artisanal food products.
Overall, Birmingham's food scene is diverse and vibrant, with a range of options for every taste and budget.
Festivals and Markets Galore
Birmingham has a rich cultural history, with a variety of historic sites, museums, and cultural events to explore.
The Birmingham Museum and Art Gallery is one of the city's top attractions, with a collection of art, artefacts, and exhibits covering the city's history and culture. The Thinktank Science Museum and the Birmingham Back to Backs Museum are also popular attractions.
Brummies, as the locals are known, are very fond of festivals, and the city hosts some of the biggest ones in the country. From the iconic Birmingham Mela, the UK's biggest South Asian music festival to the annual Birmingham Frankfurt Christmas Market, one of the largest German Christmas Markets in Europe.
Birmingham is also well-situated for day trips to other parts of the UK. Stratford-upon-Avon, the birthplace of Shakespeare, is located just a short distance from Birmingham and is a popular destination for theatre lovers and history buffs.
Staying Active
Sport and fitness are a way of life in Birmingham. There are ample social leagues, competitive teams and from fitness classes to help you stay fit in the city. Starting with Cricket first. In fact, records suggest that there was a cricket club in existence in Birmingham by 1745.
Edgbaston Stadium is located in Birmingham and is one of the premier cricket venues in the UK. The stadium has hosted many high-profile cricket matches, including five ICC Cricket World Cup matches in 2019.
Villa Park, home of Aston Villa Football Club, is also located in Birmingham and is a popular venue for football matches and events. Birmingham is also home to a variety of other sports and events, including rugby, basketball, and boxing.
Whether you prefer to exercise outdoors or indoors, there are plenty of opportunities to stay healthy and active in this vibrant city.
Career Possibilities
Birmingham's historical role as a manufacturing and industrial centre gave it the nickname of The City of a Thousand Trades. The city is an important hub for manufacturing and engineering. Lloyds Banking Group, ASDA, KPMG, HSBC etc, are some of the global companies that have a presence in the city.
From food to sports, art to shopping, the Brummies know their town truly has it all. Studying in Birmingham will give you the opportunity to explore new activities, develop new skills and make friends for life.
Study in Birmingham
Book a free consultation with SI-UK India today if you are interested in learning more about studying at one of the top universities in Birmingham.
Living and Studying in Birmingham FAQ