A CAS letter, also known as a Confirmation of Acceptance for Studies, is a unique reference number issued by a UK educational institution to students who have been accepted into a specific course to study in the UK. The CAS letter is an essential document required for students who need to apply for a UK student visa to study in the United Kingdom.
The CAS letter contains important information about the student, the course of study, and the university. It serves as evidence that the student has been offered a place on a particular course and intends to study at the institution mentioned in the letter. The CAS letter also includes details such as the course start and end dates, tuition fees, and any conditions that need to be met before the course commencement.
To obtain a CAS letter, students must meet the admission requirements set by the educational institution and provide the necessary documentation to demonstrate their eligibility. Once the CAS letter is issued, students can use it as part of their student visa application to the UK Visa and Immigration (UKVI).
It is important to note that the CAS letter UK is not a visa itself but a key document in the visa application process. Students must still meet the UK's immigration requirements and follow the necessary steps to obtain a valid student visa to study in the UK.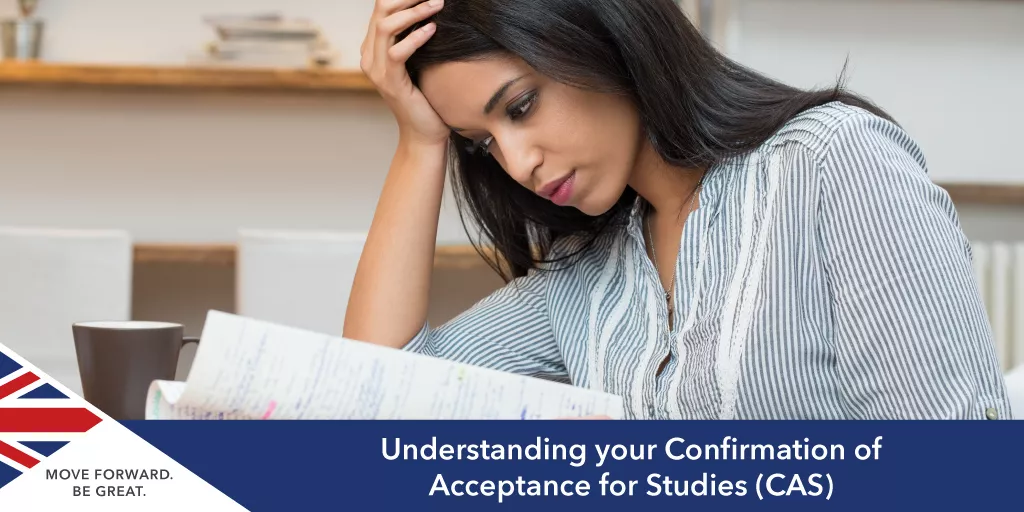 An In-depth Look at the CAS
Importance of CAS number
The CAS number is provided by the educational institution sponsoring the student and serves as proof of acceptance onto a specific course. It plays a vital role in the student visa application process and ensures that the student meets the necessary requirements for studying in the UK.
The 14-digit CAS number is unique to each student. This number is essential for the UKVI (UK Visas and Immigration) to confirm that you are a genuine international student at a UK university. This is done by accessing your CAS record stored on the secure databases, which enlist information supplied by your desired university to UKVI, further mentioning your personal and course-specific details.
The letter is valid for 6 months from the date of issue, and it provides the UK Visas and Immigration (UKVI) department with the details about the student, the chosen program, and the university. So, as a study in UK aspirant, if you too are interested in knowing all about the CAS letter UK, this blog will provide you with all the information along with a CAS letter UK sample.
Requirements and validity for CAS
To be eligible for a CAS number, there are certain requirements that students need to fulfil. These requirements may vary depending on the educational institution and the specific course of study. Generally, students must have a valid offer of admission from a licensed sponsor in the UK, demonstrate sufficient English language proficiency, provide evidence of financial capability to cover tuition fees and living expenses and meet any additional requirements set by the institution.
The validity of a CAS number is limited. It is typically valid for six months from the date of issue. Therefore, it is important for students to apply for their student visa within this timeframe to avoid any complications or the need to request a new CAS number.
Applying for a CAS Letter
Step 1: Login into the OSIS platform
To begin the process of applying for a Confirmation of Acceptance for Studies (CAS) letter, you will need to log in to the Online Student Information System (OSIS) platform. This is typically an online portal provided by your chosen UK educational institution. Access your OSIS account using the login credentials provided by the university.
Step 2: Approval of draft CAS Information
Once you have logged in to the OSIS platform, you will need to complete the necessary sections and provide the required information for your CAS application. This may include personal details, academic qualifications, financial information, and proof of English language proficiency. Carefully fill out each section, ensuring accuracy and completeness.
After you have provided all the necessary information, you will typically be required to submit the application for review. The university's designated officials will then review your application and the provided information. They may contact you for additional documentation or clarification if needed. It is crucial to respond promptly to any requests to avoid delays in the application process.
Step 3: Issue of CAS Letter
Once your application has been reviewed and approved, the university will generate your CAS letter. The CAS letter is an official document that confirms your acceptance into a specific course at the university and contains important information such as your personal details, course details, start and end dates of the course, and the amount of tuition fees you are required to pay.
After the CAS letter has been generated, you will typically receive an electronic copy via email. Review the CAS letter carefully to ensure that all the information is correct. If any discrepancies are found, promptly notify the university's international office or admissions team for necessary corrections.
Familiarise yourself with the visa application process and requirements for your specific country of residence to ensure a smooth transition to the UK for your studies. Additionally, keep track of any deadlines related to visa applications to allow sufficient time for CAS letter processing.
Deadline to apply for a CAS letter
The deadline to apply for a CAS letter can vary depending on the university and the specific course you have been accepted into. It is crucial to check with your chosen educational institution for their specific CAS application deadline.
Generally, universities advise students to apply for their CAS letter well in advance to allow sufficient time for the visa application process. It is recommended to apply for the CAS letter as soon as you have received an offer of acceptance from the university and have met all the conditions stated in the offer.
This will help ensure that you have ample time to complete the visa application process and make any necessary arrangements for your studies in the UK. Missing the CAS application deadline may result in delays in obtaining your student visa, so it is essential to stay informed and submit your application within the designated timeframe provided by your university.
Applying as an Indian Student
Typically, CAS requests for international students are accepted within 90 working days before the latest course start date. However, in certain cases where the faculty grants an extension or the university treats the application as a special case, the processing time may be delayed.
CAS Letter Processing Time
The issuance of the CAS letter is generally done on a first-come, first-served basis. It is advisable to submit your application as early as possible to receive a prompt response. However, the processing time can vary depending on the university's internal procedures and workload. There is no fixed period for the issuance of the CAS letter, and it is best to check with your specific university for their estimated processing time.
What to Do When You Have Multiple CAS Letters from Different Universities?
When you have multiple CAS letters from different universities, it's important to consider your options and make an informed decision carefully. Here are some steps to help you navigate this situation:
Review the Offered Courses
Thoroughly examine the courses and programs offered by each university. Consider factors such as curriculum, specialisation options, research opportunities, and career prospects associated with each course.
Evaluate University Rankings and Reputation
Research and compare the rankings and reputation of the universities offering the courses you are interested in. Look into factors like academic excellence, faculty expertise, industry connections, and alumni success.
Consider Location and Campus Life
Assess the location and campus environment of each university. Consider factors such as the city's livability, cultural attractions, student support services, accommodation options, and extracurricular activities. Determine which location aligns best with your preferences and lifestyle.
Compare Financial Aspects
Evaluate the financial aspects of each university, including tuition fees, available scholarships, and cost of living in the respective cities. Consider your budget and financial resources to determine which option is more feasible for you.
Consult with Advisors or Mentors
Seek guidance from educational advisors, mentors, or individuals who have knowledge and experience in the field or have studied at the universities you are considering. They can provide valuable insights and perspectives that can help you make an informed decision.
Visit University Open Days or Virtual Events
If possible, attend open days or virtual events organised by the universities. This will give you an opportunity to interact with faculty members, current students, and alumni, providing a better understanding of the university's culture, facilities, and learning environment.
Reflect on Personal Goals and Priorities
Consider your personal goals, aspirations, and priorities. Reflect on factors such as the specific academic and career opportunities each university offers, the learning environment that suits you best, and the overall alignment with your long-term goals.
Seek Advice from Current Students
Connect with current students at the universities you are considering. They can provide firsthand information about their experiences, campus life, academic challenges, and support services. Their insights can give you a clearer picture of what it would be like to study at each institution.
Make a Well-Informed Decision
After considering all the relevant factors, make a decision based on what aligns best with your academic and personal goals. Take your time, weigh the pros and cons, and trust your instincts to choose the university and course that feels right for you.
CAS Letter FAQ
Is it challenging to get a CAS in the UK?
Obtaining a CAS (Confirmation of Acceptance for Studies) in the UK can be a rigorous process, but it is not inherently challenging. The difficulty level can vary depending on various factors, such as meeting the university's admission requirements, providing accurate and complete documentation, demonstrating sufficient financial capacity, and satisfying the UK Visa and Immigration (UKVI) requirements.
Why does a CAS get rejected?
Common reasons include providing incomplete or inaccurate information, failing to meet the university's admission requirements, insufficient financial evidence, or not meeting the UKVI's rules.
Does CAS guarantee a visa?
While obtaining a CAS is a crucial step in the student visa application process, it does not guarantee the issuance of a visa. The CAS serves as evidence of your acceptance into a UK educational institution and provides important information for your visa application. The final decision on granting a student visa rests with the UKVI, who will assess your application based on various factors such as financial capacity, English language proficiency, genuine intention to study, and meeting the immigration requirements.
Do I need IELTS if I have CAS?
Having a CAS does not exempt you from meeting the English language proficiency requirements for a UK student visa. In most cases, you will still need to demonstrate your English language skills by providing a valid English language test result, such as IELTS, TOEFL, or PTE Academic.
Is a CAS interview compulsory?
A CAS interview is not a standard requirement for obtaining a CAS or a UK student visa. However, in some cases, the university or UKVI may request an interview to verify the authenticity of the information provided in your application. The interview may be conducted in person, over the phone, or via video conferencing. If an interview is required, you will be notified by the university or UKVI.
Can a UK student visa be rejected after CAS?
While it is rare, there is a possibility that a UK student visa application can be rejected even after obtaining a CAS. The UKVI has the final authority to approve or reject a visa application, and they consider various factors such as meeting the immigration rules, providing genuine documents, financial capacity, and English language proficiency.