In today's rapidly changing world, where on the international stage, developed countries are becoming more powerful and significant while developing countries are growing expeditiously, the centre of attraction has been shifted towards International Affairs. Foreign relations between nations are changing; hence a profound study on international relations has become inspiring, intriguing and important.
International relations is an exciting field of study presenting a globally oriented perspective on the issues that rise above the nations. It deals with the nature of ever-changing relations between nations and studies the functioning of the International System. Interdisciplinary in nature, it blends the fields of economics, history, and political science to examine human rights, global poverty, the environment, economics, globalization, security, global ethics, and political, and environmental boundaries.
Why study International Relations in the UK?
Provides great insights on political affairs, public policies, economic trends, social issues, and laws – all linked together and forming the big picture
Develops the rights skills, such as communication skills, persuasion and negotiation abilities, creativity and problem-solving skills
It aims to give you insight into how the international community works as you will study alongside students from a wide range of countries
Helps to develop a range of intellectual and practical skills that are relevant across a wide range of career opportunities
Enables you to improve your English speaking by attending an English language school abroad
It gives an opportunity to apply to a Bachelor's or Mater's that focuses on that specific area to perform a job as an international relations specialist
Supports you to seek employability in numerous fields, including the NGO sector, International Organisations, diplomacy, political analysis, journalism and much more
Learn more about the best UK universities for international relations below (Guardian University Guide 2023) and begin your application by contacting SI-UK today.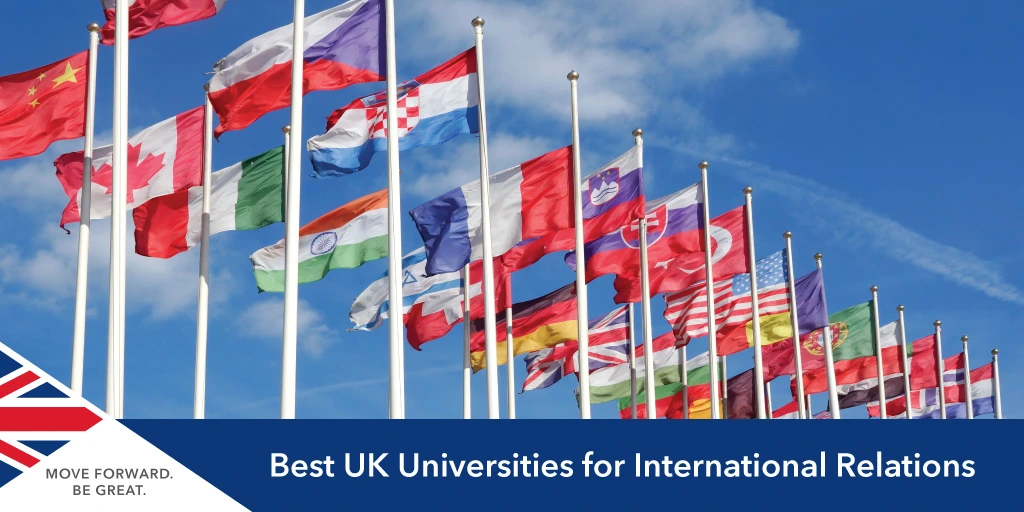 Top Five Universities for International Relations in the UK
The International Relations MA programme is designed to provide students with an advanced understanding of global politics and international relations. The curriculum covers topics, including international security, governance, human rights, and political economy. Students will also specialise in areas such as diplomacy, conflict resolution, and international law. The programme is designed to equip students with the knowledge and skills to critically analyse complex issues and develop practical solutions to real-world problems.
The University of St Andrews is one of the best universities for international relations in the world, with a long history of excellence in teaching and research. The programme is taught by internationally renowned experts in the field, who are active cutting-edge research on issues such as global governance, conflict and peacebuilding, and international security. Students will have access to a wide range of resources, including the University's world-class library, research centres, and expert faculty members.
Suggested course: International Relations MA (Honours)
Entry requirements: Standard entry grades: AAA, Minimum entry grades: ABB; Standard entry grades: 38 (HL 6,6,6), Minimum entry grades: 36 (HL 6,5,5)
International fees: £28,190
King's College London is considered among the best international relations universities in Europe. Its International Relations programme offers students a unique opportunity to delve deep into cutting-edge topics in the field, such as globalisation, ethics and human rights, political violence and security, and the international political economy. The programme is taught by a multidisciplinary team of experts who bring a range of perspectives from politics and international relations, philosophy, and social theory. Located in the heart of London, the programme offers close proximity to leading NGOs, research institutions, Westminster, and London's legal quarter.
The focus on conceptual, methodological, and analytical issues at the heart of international relations equips students with the skills and knowledge required for a variety of professions. Students will gain in-depth and critical analysis skills in international politics, and will be exposed to the latest research in the discipline, including the impact of the Covid-19 pandemic and the rise of Chinese power. The faculty members are world-renowned and committed to offering research-led teaching and training.
Suggested course: International Relations MA
Entry requirements: A minimum high 2:1 undergraduate Bachelor's (honours) degree with a final mark of at least 67% or above.
International fees: £31,080
The University of Warwick's MA in International Relations comprehensively explores the pressing global issues decision-makers face, such as war, terrorism, security, climate change, poverty, and inequality. The programme aims to equip students with the ability to evaluate theoretical positions in the context of real-world political challenges. Students will be introduced to key theoretical approaches in IR, from Realism to Postcolonialism, and will learn to apply these theories to both historical and contemporary issues.
Through this programme, students will learn to understand and apply theoretical frameworks to a range of topics beyond traditional state-to-state interactions. They will develop critical thinking and analytical skills necessary to address the complexities of contemporary international relations. By broadening the scope of IR, students will be well-prepared to tackle the significant challenges facing global decision-makers in the 21st century.
Suggested course: International Relations (MA)
Entry requirements: A 2:1 undergraduate degree (or equivalent) in a related subject.
International fees: £26,590
The MSc International Relations programme at the University of Aberdeen employs interactive methods to enhance students' critical thinking, presentation, and interpersonal skills. It aims to provide students with a nuanced understanding of key concepts and paradigms that structure the disciplinary study of International Relations and equip them with the theoretical and analytical tools to engage in debates about them. Students can choose from several thematic and regional specialisation areas that reflect their research and professional interests, enabling them to develop in-depth knowledge and understanding to analyse complex issues.
The unique and innovative programme allows students to develop in-depth analysis and research skills to work as consultants for various international organisations. The Department of Politics and International Relations is ranked highly and offers expertise in various regions, including the Middle East, Latin America, North and South Asia, the Nordic Countries, Central and Eastern Europe, as well as Scotland, the UK, and the EU.
Suggested course: International Relations, MSc
Entry requirements: A relevant Honours degree with a 2:1 standard from a recognised university or body.
International fees: £23,800
The BA International Relations at SOAS offers a comprehensive understanding of the complex cultural issues of global politics. The programme delves into political issues in Africa, Asia, and the Middle East on a level unmatched by other universities. The interdisciplinary programme incorporates approaches from political science, global history, political economy, and sociology to provide students with an in-depth understanding of international relations and foreign policy across various thematic areas and expertise in regional politics.
Students will explore mainstream approaches and critiques of world politics and develop a historicised appreciation for Western-centric lenses of international relations and their relevance to studying Asia, Africa, and the Middle East. SOAS is among the best schools for international relations undergraduate degrees, and is ranked 5th in the UK for Politics and 3rd globally for academic reputation. The programme focuses on key issues in world politics, such as war, empire, environmental politics, gender, international institutions, and the global political economy.
Suggested course: BA International Relations
Entry requirements: A Level equivalent: AAB; Contextualised offer: ABB
International fees: £21,160
Study International Relations in the UK
If you want to study International Relations in the UK, arrange your free consultation today. Don't forget the Premium Service will guarantee you at least one offer from a UK university!