Dubai is among the world's most lucrative destinations to live and study. The UAE capital city has rapidly grown into a global financial capital and is now home to several business giants, thanks to the exceptional improvement in the city's infrastructure. A number of top-ranking universities from the US, the UK, Europe, Australia, and other parts of the world, including the University of Birmingham, the University of Wollongong, and the Institute of Management Technology, have satellite campuses in Dubai.
About 80,000 international students study in the UAE, and many of them prefer working part-time to make up for their study cost and living expenses. Learn more below about what it is like to work in Dubai as an Indian student, and if you have any questions about graduate jobs in Dubai, and working while studying in Dubai, arrange a free consultation with SI-UK India.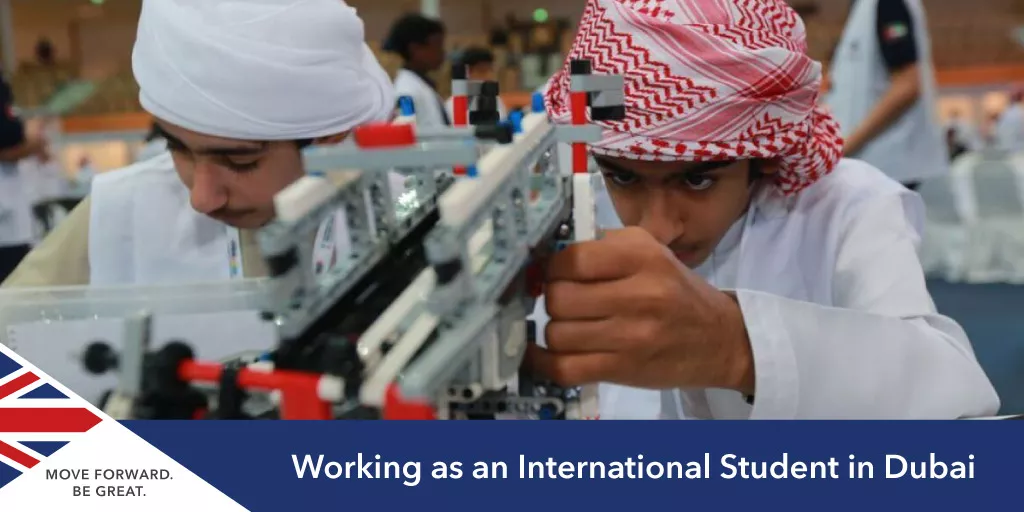 International Student Work Rights in Dubai
- On-Campus
International students in Dubai have a variety of on-campus employment opportunities available to them. These include working in student services, such as the library, student centre, or student health centre; in the university's administrative offices; and in the university's research labs. Additionally, some universities offer teaching assistant positions or other research-related positions too.
International students are allowed to work up to 15 hours per week at universities. During academic breaks, they can work up to 40 hours per week.
- Off-Campus
Recent changes in UAE Labour Laws have made it possible for international students to work off-campus while studying in Dubai. Apart from a work permit from the UAE Labour Department, the student must have a university sponsorship to be granted a part-time work permit. The official age requirement for applying for a job in Dubai is 18 years. You are also required to have proof of medical fitness for the required job role.
Some popular part-time jobs for students in Dubai are Cab Drivers, Waiters/waitresses, and Retail Cashiers.
Top Companies In Dubai
Traditionally, Engineering, Business & IT, Oil and gas and Energy, Tourism, Finance, Retail, Construction and Real Estate have been top-performing sectors in Dubai, where there is a regular demand for highly skilled resources.
As one of the busiest commercial centres in the world, Dubai is home to many domestic and international businesses across industries. Some of the top companies include Emaar, Chalhoub Group, Al Tayer Group, Google, Al-Futtaim, Mashreq Bank, HSBC, Microsoft, Dell, Schneider Electric, Amazon, Deloitte, Gucci, Emirates, Almarai, Etihad Airways, Etisalat, Abu Dhabi Commercial Bank and more.
Cost Of Living and Salaries in Dubai
Generally, the annual average cost of living in Dubai varies between 14,000 to 27,000 AED (Approx ₹3,11,672-Rs.6,01,083). Everything largely depends on the type of accommodation a student picks and the lifestyle.
Job type, skill level, and overall experience all influence an employee's earning potential. The average monthly salary is approximately 21500 AED (Approx ₹ 4,78,612).
Why work while studying in Dubai?
Working while studying is across the world. It not only helps you earn and better your living standard but also plays a key role in enhancing your workplace experience. Dubai, being a compendium of cultures, businesses, and natural beauty, gives you many opportunities to explore the world in one place. You can network with people from diverse backgrounds and learn much about the professional space. Befriending people can be beneficial in building a professional support group.
In addition, earning while studying gives you a sense of personal and financial independence. Some students use the money to live a better life and pay bills and rent, while others invest in long-term business plans. This is crucial in learning better planning skills, the first step to professional success.
Study in Dubai
If you want to learn more about jobs for students in Dubai, arrange a free consultation with SI-UK today.