The UCAT (University Clinical Aptitude Test) is a computer-based assessment used by universities in the UK to select students for medical and dental degrees. It measures a candidate's ability to interpret numerical and written information across various formats, and the test consists of five timed subtests with multiple-choice questions, assessing mental abilities essential for healthcare professionals.
The UCAT is an important criterion alongside secondary school exam performance and interviews. Despite its initial intimidation, approaching the UCAT with the right mindset can make it less stressful. Successful performance in the UCAT can greatly enhance one's chances of pursuing a career in the healthcare field.
Learn more about the UCAT below, and if you would like to apply to study a medicine or dentistry course in the UK, arrange a free consultation with SI-UK India.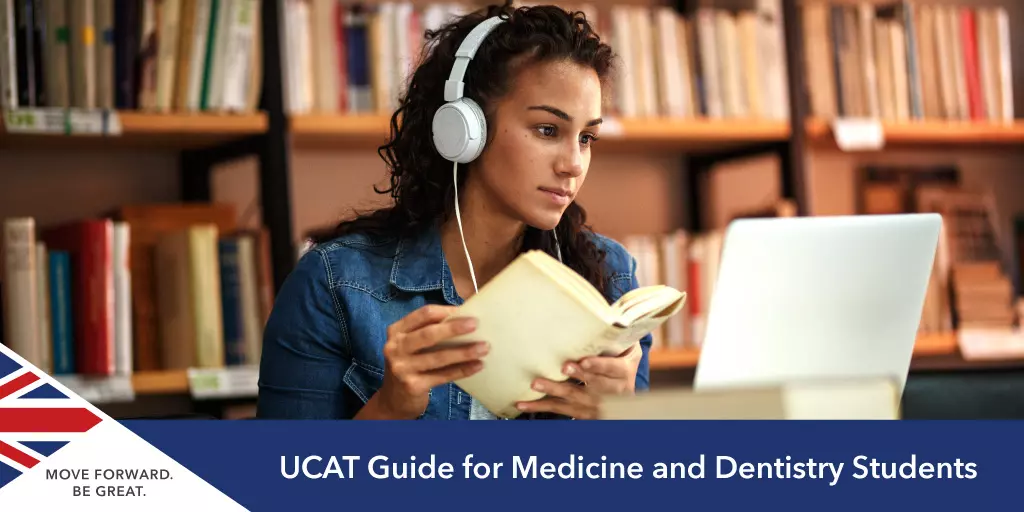 UCAT 2023 Guide
What is the importance of UCAT?
The University Clinical Aptitude Test is necessary for gaining entry into medicine and dentistry courses in the United Kingdom. The demand for these courses is extremely high, leading to a need for an additional method of selecting students beyond secondary school performance.
UCAT was specifically developed to evaluate essential qualities in health professions, such as problem-solving abilities, empathy, and abstract reasoning skills. In addition to UCAT, many universities also incorporate interviews as part of their selection process for medicine and dentistry programs.
While opinions may differ on whether UCAT effectively measures the qualities required to be a successful medical student and doctor, the fact remains that sitting the UCAT is a prerequisite for admission to many medicine and dentistry courses in the UK.
What is the structure of the UCAT?
The UCAT evaluates various abilities required by medical and dental schools. It is not based on a specific curriculum but assesses innate skills and aptitude.
The exam consists of several subtests, including Verbal Reasoning, which assesses the critical evaluation of written information; Decision Making, which evaluates the ability to make sound judgments using complex data; Quantitative Reasoning, which examines the essential assessment of numerical information; Abstract Reasoning, which tests the identification of patterns in abstract shapes; and Situational Judgement, which involves understanding real-world scenarios and identifying appropriate behaviour and critical factors.
UCAT Scoring
The standardised test lasts 2 hours, with each subtest preceded by a 1-minute instruction section. The UCAT is marked on the number of correct answers you give and there is no negative marking for incorrect answers.
| UCAT Subtests | Questions | Test Time | Score |
| --- | --- | --- | --- |
| Verbal Reasoning | 44 | 21 minutes | 300 - 900 |
| Decision Making | 29 | 31 minutes | 300 - 900 |
| Quantitative Reasoning | 36 | 25 minutes | 300 - 900 |
| Abstract Reasoning | 50 | 12 minutes | 300 - 900 |
| Situational Judgement | 69 | 26 minutes | Bands 1 - 4 |
After completing the test, the individual scores from each section are added together to obtain the total UCAT score. Different universities may have varying weightage for the UCAT score in their admission criteria so that the score requirements can vary between institutions.
Understanding UCAT Subtests
The UCAT test consists of five subtests: Verbal Reasoning, Decision Making, Quantitative Reasoning, Abstract Reasoning, and Situational Judgement.
- Verbal Reasoning
Doctors and dentists require strong verbal reasoning skills to understand complex information and effectively communicate it to patients. The Verbal Reasoning subtest measures the ability to comprehend and analyse information presented in passages. It assesses the candidate's skills in concluding the given information. This subtest consists of eleven passages, each followed by four questions, which can be either selecting the most suitable response or determining the validity of statements based on the passage.
- Decision Making
Doctors and dentists often face complex situations requiring high-level problem-solving skills, risk assessment, and uncertainty management. The Decision Making subtest evaluates the candidate's logical reasoning and problem-solving abilities. It assesses their capacity to analyse arguments, interpret statistical information, and make sound decisions. Questions in this subtest may refer to text, charts, tables, graphs, or diagrams, and there are various question types, including syllogisms, logical puzzles, recognising assumptions, interpreting information, Venn diagrams, and probabilistic and statistical reasoning.
- Quantitative Reasoning
Doctors and dentists frequently need to review and apply data in their practice, such as drug calculations based on patient factors or interpreting complex statistical results in clinical research. The Quantitative Reasoning subtest measures the candidate's numerical skills and ability to solve problems. It assumes familiarity with numbers equivalent to a good pass at the GCSE level. Questions in this subtest often involve charts and graphs containing data; most questions are presented in sets connected to the same data.
- Abstract Reasoning
Abstract Reasoning assesses the candidate's ability to identify patterns among abstract shapes. It tests their capacity to think critically, change track, evaluate hypotheses, and question judgments. Medical practitioners need to make informed judgments based on information to reach conclusions or generate further hypotheses in research. The questions in this subtest involve sets of shapes, with various question types, such as determining shape sets, identifying the next shape in a series, completing statements, or assigning shapes to specific sets.
- Situational Judgement
The Situational Judgement Test (SJT) measures the candidates' understanding of real-world situations and their ability to identify critical factors and appropriate behaviour in dealing with them. This test assesses qualities like integrity, perspective-taking, team involvement, resilience, and adaptability. Questions in the SJT are hypothetical scenarios set in clinical or educational settings. Candidates may need to rate the importance or appropriateness of statements or choose the most and least appropriate actions in response to each scenario.
UCAT Test Dates 2023
If you wish to study a dentistry or medicine programme for 2024 entry, you must adhere to the below 2023 testing calendar. The UCAT registration process is entirely online, and the UCAT test will take place in Pearson test centres throughout the UK and internationally.
16 May - UCAT Account creation opens | Bursary and Access Arrangement applications open
20 June - Booking opens
10 July - Testing starts
19 September - Access Arrangement application deadline
21 September - Booking deadline | UCAT Account creation closes
28 September - Last test day
29 September - Bursary Scheme application deadline
16 October - UCAS deadline
Early November - Results delivered to universities
- UCAT Test Fees
The UCAT costs £70 for students taking the test in the UK and £115 for students taking the test elsewhere in the world. The fee covers the cost of the test, as well as access to the official UCAT practice materials.
UCAT Universities 2023
The UCAT is used by the majority of UK medical and dental schools for admission purposes. As of 2023, the following UK medical schools require the UCAT:
Study in the UK
If you need assistance applying to study in the UK, arrange a free consultation with SI-UK India today.