Indian students who want to study in the UK need to take an English language test and meet the minimum entry requirements for UK study. The test is taken to show that the candidate has the suitable reading, writing, speaking and listening abilities in the English language required for living and studying in the UK. An English language test is also required for a UK student visa.
Academic metrics are not the only factor that matters for international students to study abroad. International applicants also need to have the necessary English language skills. The Pearson PTE English exam is one of the most common English proficiency tests accepted across numerous international universities.
Taken by 180 nationalities, the PTE Academic is the first-of-its-kind computer-based English language test that measures the speaking, listening, writing and reading proficiency of non-native English speakers. As an AI-powered English language proficiency test that eliminates human bias, the test was first launched in 2009 and included a comprehensive research programme led by top language experts from around the world. A good score in PTE academics can help you secure a seat at the top universities in English-speaking countries.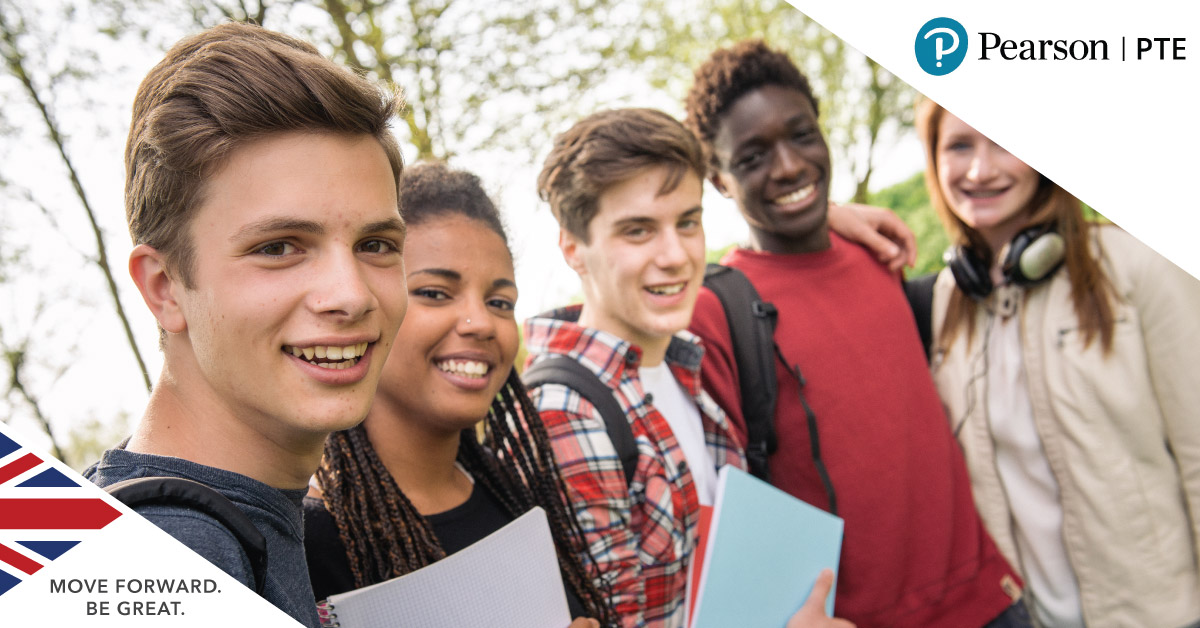 Eligibility Criteria for PTE Academic
PTE is suitable for candidates preparing for higher education or professional employment. To apply for the PTE Academic exam, here are the eligibility criteria that an applicant needs to meet.
Nationality of the Candidate
The PTE Academic exam is available to students from all nationalities, and students need to follow the same set of rules set by the governing body. The exams can only be taken by candidates with valid identity proof. Typically, a passport is considered a valid identity proof document.
Age of the Candidate
Candidates above the age of 16 are eligible for the PTE Academic exam, and although PTE doesn't have an upper age limit, students between the age of 16-18 need to submit a parental consent form in advance. The parental consent form can be downloaded from the PTE exam official website.
Who accepts the PTE Test?
PTE is accepted across 3000+ universities around the world. From the UK to the US, universities from the most popular study abroad destinations accept PTE tests. UK universities accepting PTE scores include:
London Business School
University of Oxford
Aston University
University of Southampton
University of Bath
University of Warwick
University of Glasgow
Reasons to Choose Pearson
Some of the primary reasons why PTE is more popular among students over other ESL tests include easy registration, PTE results are generated within 24 hours to 5 business days, and there is no personal bias in speaking and writing modules since it is a computer-based exam. Other reasons include:
The Pearson Test is accepted by 98% of UK universities
2-hour exam duration
Multiple exam centres available across many countries
'International' English is tested, not just British or American
PTE practice tests for maximum confidence on test day
Send your scores as often as you like for free
The PTE Score Report and Skills Profile
When students complete their PTE Academic test, they receive a Score Report and a new Skills Profile, both available on myPTE. The report and profile tell students their test scores and language skill level and show them where they can improve. The Skills Profile is only visible to the test taker, and personalised recommendations are available to help strengthen the test taker's English skills in each category.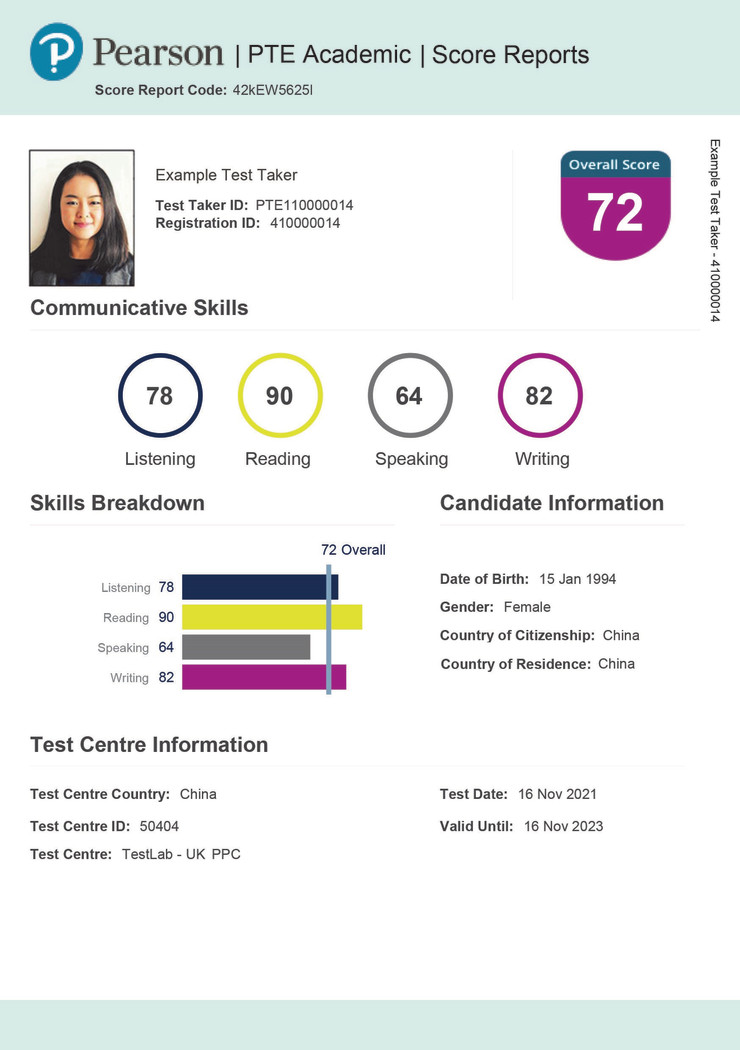 How is Pearson scored?
When you complete your test, you will receive a report to help you understand your score, your skill level, and where you can improve. Each test has 20 question types and each one is graded differently.
Typically, you will need to achieve the following minimum scores depending on what study level you wish to pursue.
Pearson PTE Test Tips
Do
Ensure you use correct punctuation for writing tasks: full stops, capital letters, commas, etc
Ensure each answer you supply is relevant to the question
Keep within the word limit for writing tasks
Respond quickly to speaking tasks - the microphone will close after 3 seconds of silence and stop recording!
Don't
Write in capital letters. Only use capitals when needed for punctuation
Click Next (N) before you have completed the previous task and are ready to proceed
Types of Pearson Test
- PTE Academic
The PTE Academic is an entirely computer based exam of approximately two hours. It assesses reading, writing, listening and speaking abilities in the English Language with the help of 20 different types of tasks in a real life setting.
Suitable for those interested in studying undergraduate and postgraduate courses in the UK, it can be booked at a short notice online at one of 250+ global test centres. Students are given an overall score and a section specific score based on the Global Scale of English (GSE) between 10 to 90 points.
- PTE SELT Tests for UK Visas and Immigration
The PTE SELT Tests for UK Visas and Immigration is a test approved by the UK Visas and Immigration Office for all UK visas.
- Pearson Versant English Test
The Pearson Versant English Test is an automated AI-based language test delivered in 100+ countries with a 24x7 availability and can be taken anytime without a prior appointment.
Pearson PTE Practice Test
Whichever above-mentioned form of the Pearson Test of English you want to take, it is very important that you prepare thoroughly. Pearson's official Practice app is the best platform where you can fit yourself out with the necessary skills. Mock PTE tests are available for which area you want to improve on.
Pearson PTE Test Format
There are three parts of the PTE Academic - Part 1: Speaking & Writing, Part 2: Reading, and Part 3: Listening. There are 20 questions in a test, and before beginning, it is important to get acquainted with the test format.
PTE Academic Structure
| Section | Time Allotted | Number of Segments | Skills Assessed | Score Range |
| --- | --- | --- | --- | --- |
| Reading | 32-41 minutes | Five segments | English Comprehension | 10-90 points |
| Speaking and writing | 77-91 minutes | Six segments | Writing and speaking fluency | 10-90 points |
| Listening | 45-57 minutes | Eight segments | Listening from pre-recorded audios | 10-90 points |
Part 1: Speaking and Writing
This 54-67 minutes long section analyses your speaking and writing skills. This contains seven questions: essay writing, sentence repetition, and reading aloud.
The Reading section contains five different types of questions, testing your basic reading and grammar skills. You will get questions like paragraph rearrangement, filling in the blanks, etc.
The third part of the test is about 30-43 minutes long and contains eight question types. You will have to answer these questions based on audio or video clips that begin to play automatically.
PTE Eligibility
The PTE (Pearson Test of English) exam does not have specific eligibility criteria, but certain guidelines apply.
Multiple attempts allowed: Test-takers can attempt the PTE exam as many times as they wish. There are no restrictions or limitations on the number of attempts. This allows candidates to retake the test until they achieve their desired score.
No educational qualification requirements: Unlike some other standardised tests, the PTE exam does not require any minimum educational qualifications or degree prerequisites.
English language proficiency: Although there are no specific educational requirements, applicants are expected to have a good command of the English language.
Age criteria: There is no minimum or maximum age limit for individuals taking the PTE exam. People of all age groups can register and appear for the test. However, applicants who are below the age of 18 years need to submit parental consent at the time of registration.
Identification requirements: To register for the PTE exam and to appear on the test day, candidates need to present valid identification.
How to Register for PTE Academic
Create an account on the PTE website: Visit https://in.pearson.com and choose PTE Academic to create a PTE academic account. The account will be activated within 48 hours.
Book a seat at the nearest centre: Select a centre from the list of exam centres near you and choose a preferred date and time to book your seat.
Pay the registration fees: Secure your PTE exam booking by paying the registration fee.
Get Discounts on Your PTE Fees with SI-UK
SI-UK has recently collaborated with the Pearson Test of English (PTE) and we are offering 10% off on your PTE course fees. Use the promo code "SIUK10" during checkout at the PTE website. To learn more about PTE, book a free consultation with SI-UK India today.
Pearson PTE FAQ
Which university accepts PTE in the UK?
Many universities in the UK accept PTE scores for admissions, including reputable institutions like the University of Exeter, Lancaster University, Queen Mary University of London, and Kingston University London. The acceptance of PTE scores may vary among universities, so candidates should check with their preferred institutions for specific requirements.
How much PTE score is required for the UK?
The required PTE score for UK universities may vary depending on the institution and the course of study. Generally, universities set their own score requirements, ranging from 50 to 80 or higher on the PTE Academic scale, which goes up to 90. Candidates should verify the specific score requirements with each university they apply to.
Does the UK accept the Pearson Test of English for a student visa?
Yes, the UK accepts the Pearson Test of English Academic (PTE Academic) for the student visa application. The UK government recognises PTE scores as proof of English language proficiency for visa purposes, including student visas. Applicants need to meet the specific language proficiency requirements for their intended study programme to be eligible for a student visa.