IELTS, the International English Language Testing System, is one of the world's most popular English language proficiency tests intended for non-native speakers looking to study or work in a country where English is the primary language of communication such as the UK.
There are two types of IELTS tests, General IELTS and Academic IELTS, with the former used for testing basic English, while the latter is used to test the English of students interested in studying for a degree abroad.
An IELTS academic test consists of four sections and students are examined on all four language skills, listening, speaking, reading and writing. Whilst the listening, reading and writing tests are taken together on the same day, the speaking test may be taken seven days before or after these tests.
Learn more about the four components of an IELTS test below, or connect with our in-house experts to start preparing for IELTS today.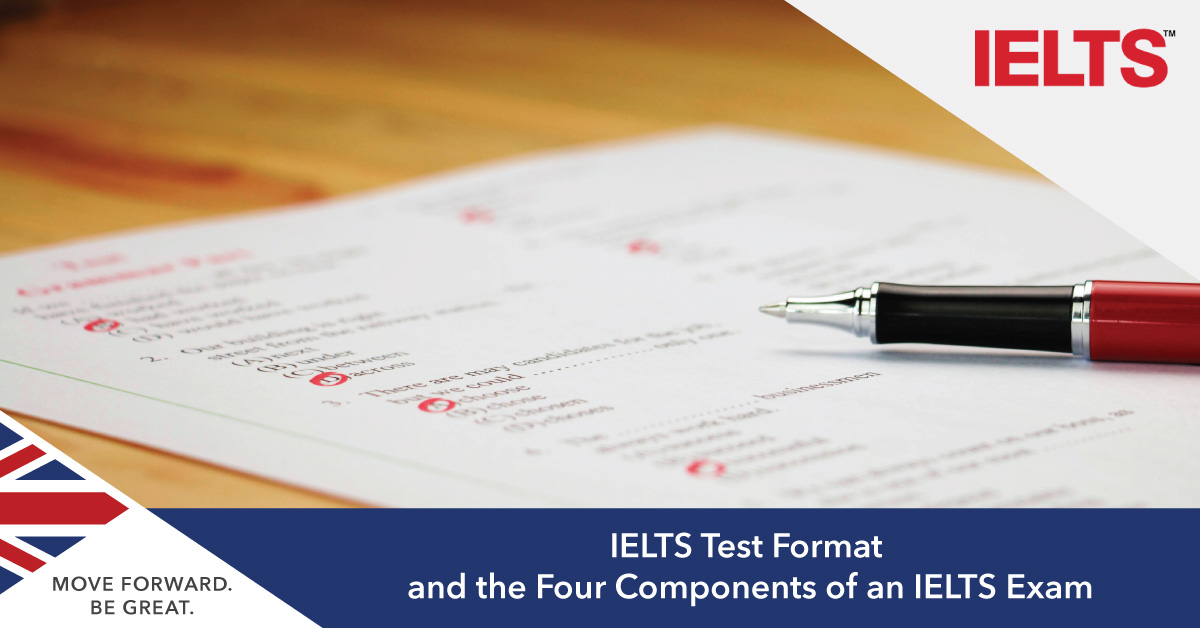 Four Components of the IELTS Test
1. IELTS Listening Test
The listening test is of 30 minutes duration. An extra 10 minutes are given to transfer the answers from the question booklet to the answer sheet. Students have to listen to four recordings in native English and then write answers to a series of related questions. Each recording can be heard only once.
1st recording: A conversation between two people in a normal social context
2nd recording: A monologue set in a normal social context
3rd recording: A conversation between up to four people in an educational context
4th recording: A monologue set in an academic context
There are 40 questions and each question is worth 1 mark.
2. IELTS Reading Test
The reading test is of 60 minutes duration including transfer time. Students have to demonstrate quick and efficient reading in the task. They will read three long texts ranging from descriptive and factual to the discursive/argumentative and analytical and then answer 40 related questions. Passages will be taken from books, newspapers, magazines and journals and will be recognisably appropriate for students entering university courses.
There are 40 questions and each question is worth 1 mark.
3. IELTS Writing Test
The writing test is of 60 minutes duration and consists of two tasks.
1st task: Students will be given a graph, table, chart or diagram and will have to summarise or explain it in their own words.
2nd task: Students will be asked to write an essay on a general topic, in response to a point of view, argument or problem.
The suggested division of time and words is 20 minutes and 150 words for the first task and 40 minutes and 250 words for the second. The style of writing should be formal.
4. IELTS Speaking Test
The speaking test is an interactive test of 11-14 minutes duration. Students will speak to a certified examiner and all tests are recorded. The speaking test consists of three parts.
1st part: Students will be asked to introduce themselves and to answer general questions about their lives.
2nd part: Students will be asked to speak on a particular topic for two minutes and will then answer one or two related questions.
3rd part: Students will be asked further questions related to part 2, in order to elaborate on more abstract ideas.
The four marking criteria will be speaking fluency and coherence, vocabulary, grammatical accuracy and pronunciation.
The total time available for completing an IELTS exam is 2 hours and 45 minutes. The IELTS preparation time required varies for each student according to their English proficiency and desired score.
You don't pass or fail an IELTS test, rather IELTS results are reported as band scores ranging from one to nine, with one being the lowest and nine being the highest score a student can achieve. Students usually need a minimum IELTS score of 6 or 6.5 to study in UK universities.
Prepare for IELTS with SI-UK
The best way to do well in your IELTS exam is by preparing for it with the help of professionals. Study with SI-UK IELTS experts privately or in batches by registering for IELTS exam preparation classes at our offices in Delhi, Mumbai, Bangalore, Chennai, Pune, Coimbatore, Lucknow, Jaipur, Hyderabad and Ahmedabad.
Related Articles: