The SOP, short for Statement of Purpose, is an extremely crucial part of your application to a university. Also referred to as 'Personal Statement', it is an essay in which you introduce yourself to the university and make your first personal impression on them. Apart from grades and eligibility requirements, an SOP is your chance to stand out and make a good impact; hence we have dedicated this space to writing a winning SOP for UK Universities.
If you want to use SI-UK's Personal Statement Writing service, get in touch with our in-house experts by contacting us today.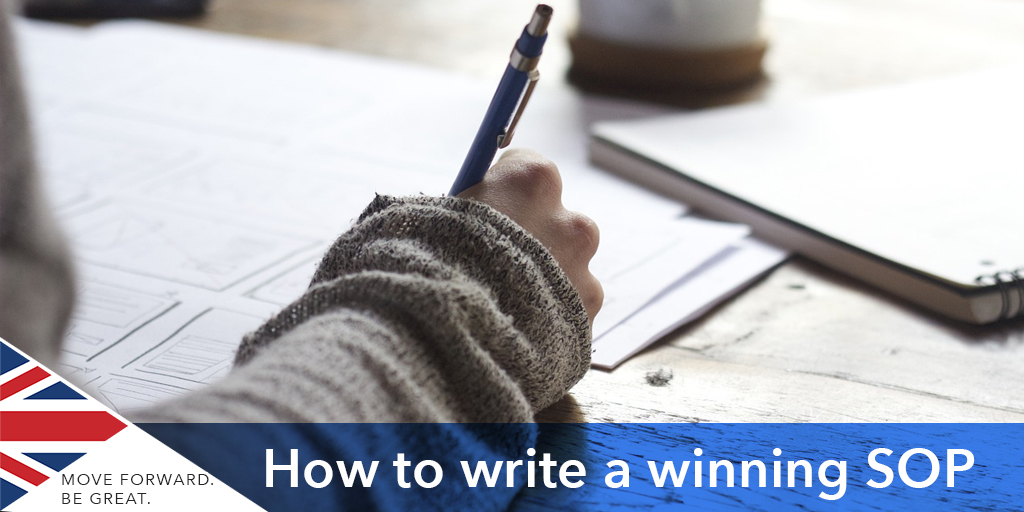 SOP Writing Tips and Techniques
Depending on the course you wish to study, there are different ways of writing an SOP. However, the basic structure remains the same.
The SOP word limit should be between 800-1200 with concise and relevant information only.
It needs to be clear, coherent and should read well in terms of the flow of thought.
It should be written in reverse order, i.e. starting with the present and going back to what you have done in the past.
Structure of an SOP
Your SOP should have three parts forming a clear beginning (introduction), middle (body) and end (conclusion).
Introduction – this needs to be interesting so that it inspires the readers to read more. Aim to grasp the reader's attention with a good catchy opening statement/sentence.
Body – this part needs to be about your goals or future career objectives, work experience and previous studies. Explain why you chose the particular university and course and how it will fulfil your academic objective. Share your genuine interests and hobbies here, such as sports, literature, music or environmental conservation.
Conclusion – This is the closing statement/ paragraph where you sum up with an emphasis on your desire to study at the university and how you will be suitable for and contribute to the chosen field of study.
Share relevant information
An SOP needs to be personal without getting too intimate and revealing anything that seems irrelevant or excessive. You may add some anecdote or event from the past which triggered your early interest in the course. Mention your career goals and how studying a particular course at the university will help you achieve them.
Why the UK and why that particular university?
You should add a few lines on why you wish to study in the UK for further studies. You should then write about why you chose a particular university over others for the same. You need to show that you have thoroughly studied the university and course of your choice before applying, so that the university is compelled to select your application out of the hundreds that they receive.
Plagiarism
Universities will immediately reject an SOP which has been plagiarized. Plagiarism checks will catch anything of the sort instantly, so you must not copy and paste lines from anywhere in your essay. Even if your SOP is not exactly duplicated but has no originality in it, universities are unlikely to accept it.
Proofreading
Once you are done writing your SOP, take a break and get back to it later for a review. Make sure that you proofread your work before submitting it. Check your work for sentence structure, grammar, coherence and accurate vocabulary.
You can also refer to the IELTS vocabulary list for writing to make your SOP more impressive.
Apply to a UK University with SI-UK
These tips and techniques will help you write an ideal Personal Statement. If you are not confident about writing your statement yourself and would like us to write it for you, visit our study experts or book a free consultation to avail of our SOP writing service today.