Moving to a new country can be an overwhelming change, and living costs in the UK are not exactly low. Because of this, many Indian students take part-time jobs for extra financial support while studying in the UK.
Working part-time allows students to gain practical skills, earn extra income, and offset living expenses. It also allows one to immerse in the local culture, improve language skills, and expand professional networks. However, there are certain limitations and considerations to be aware of, such as balancing work and studies, adhering to visa regulations, and managing time effectively.
When planning on working while studying in the UK, there are certain things that you should keep in mind. If you need information, advice and assistance regarding studying in the UK, book a free consultation call with SI-UK India today.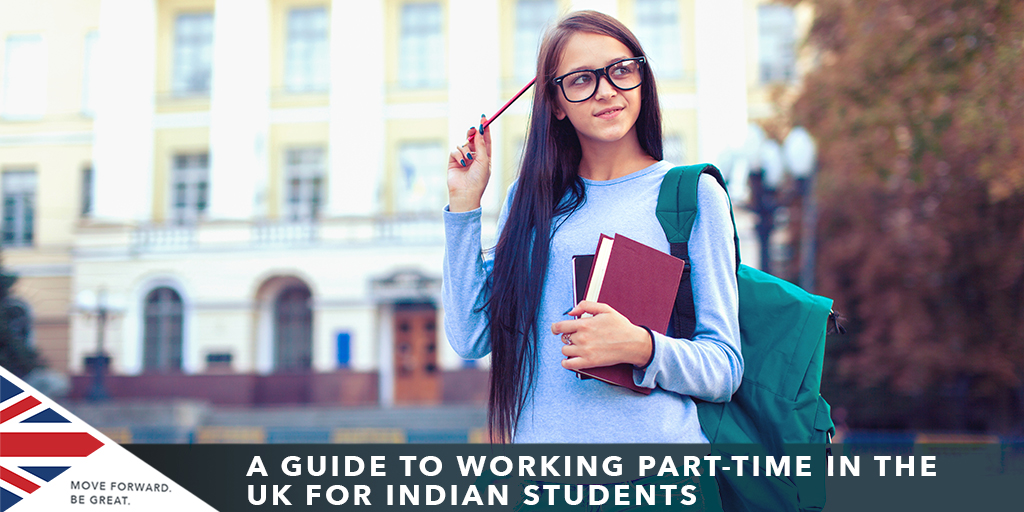 Types of Part-Time Jobs in the UK for Students
When searching for part-time jobs as an Indian student in the UK, there are two primary options: on-campus and off-campus jobs.
On-Campus Jobs
On-campus jobs are positions available within the university campus itself. These roles are often ideal for students as they are conveniently located. On-campus job opportunities can be found in various departments, including the library, computer labs, reception, gyms, cafeterias, and more. Keep in mind that due to limited positions, securing an on-campus job can be competitive.
Off-Campus Jobs
Off-campus jobs offer international students a broader range of opportunities but may require commuting. These positions can include office work, receptionist roles, waiter/waitress positions, call centre roles, data entry, and more. To work off-campus, you will need to seek permission from your university.
Part-Time Online Jobs
In addition to on-campus and off-campus opportunities, international students in the UK can also explore part-time online jobs. These remote positions offer flexibility and can be highly advantageous, especially if you have a demanding academic schedule. Online jobs typically require only a laptop and a stable internet connection, both readily available to students. You can explore work-from-home roles that match your skills and schedule.
How do Indian students find part-time jobs in the UK?
To land a part-time job, create a detailed CV highlighting your education, skills, and experiences. Then, explore these specific areas for job opportunities:
Local Newspapers: Local newspapers often list part-time job openings in your area, making it easy to find positions that suit your needs.
Online Job Searches: Use online job portals to search for a wide range of job opportunities tailored to students in the UK. You can filter jobs based on your course, location, and other preferences, including work-from-home positions.
University Recruitment Teams: Your university likely has a dedicated recruitment team that can help you connect with both full-time and part-time job opportunities, as well as internships. Don't hesitate to reach out to them for job assistance.
Personal Connections: Reach out to your friends and fellow students who may already have part-time jobs as receptionists, waiters, or in other roles. They can help you find openings in their workplaces.
With these strategies, you can increase your chances of finding the right part-time job that complements your studies and allows you to thrive as an international student in the UK.
Rules and Regulations
As an international student with a UK visa, there are specific rules and regulations which must be followed:
Weekly Hours
Full-time students can work up to 20 hours per week during the academic semester.
During university breaks, full-time students can work full-time, which means up to 40 hours per week.
Degree Pursuers
Students pursuing a degree can work 10 hours per week while studying full-time.
Freelancing and Contract Work
It's important to note that international students are prohibited from engaging in freelance or contract work.
Full-Time Employment
You cannot work full-time for any company without obtaining a post-study work visa in the UK.
Maintaining Balance
Whether you are pursuing an undergraduate or degree at UK universities, maintaining a balance between work and studies is crucial. Your job should not hinder your academic performance.
National Insurance Number for Indian Students
All non-UK students are legally obliged to get a National Insurance number (NINo) once they start working in the UK. If you have found work before getting the NINo, you can apply, start working, and tell your employer you have applied for one. A NINo must also claim benefits or apply for a student loan. You can apply for a NINo or use a service by paying a small fee of £25. To get one, you have to call the NINo application line.
National Insurance number application line:
Telephone: 0800 141 2075
Textphone: 0800 141 2438
The process takes around 15 days. You may or may not have to go for a face-to-face interview at JobCentre Plus before getting your NINo.
National Minimum Wage for International Students
The National Minimum Wage (NMW) is the minimum amount that employers may legally pay to their employees in the UK. This is the same for UK and non-UK residents in the country. Also, it is the same for students who are working part-time or full-time.
The NMW as of April 1st, 2022 is:
£9.50 per hour for workers 23 and over (known as the National Living Wage)
£9.18 per hour for workers 21 - 22
£6.83 per hour for 18 - 20
When deciding to work in the UK while studying, remember not to take on more than you can handle. Maintain a healthy work-study-life balance to make the most of your time in the UK.
Study in the UK
If you want to enrol at a UK university or need help deciding where to study in the UK, book a free consultation with SI-UK India today.
Part-time Jobs for Indian Students FAQ