If you want to kick-start your career in the exciting world of fashion, London is an excellent city offering plenty of opportunities during and after the completion of your studies. Known as the city of trends and a central fashion hub, London is one of the world's 'big four' fashion capitals. Hosting its popular Fashion Week twice a year, the city is also home to global design houses like Alexander McQueen, Burberry, Stella McCartney and many more.
Students pursuing a career in fashion in London have access to industry events and exhibitions, giving them unparalleled opportunities to network with big names in the fashion world. All these make London the first choice on every budding fashionista's list of places to study. Let's take a look at the top rated fashion courses in the city and points to keep in mind while choosing one.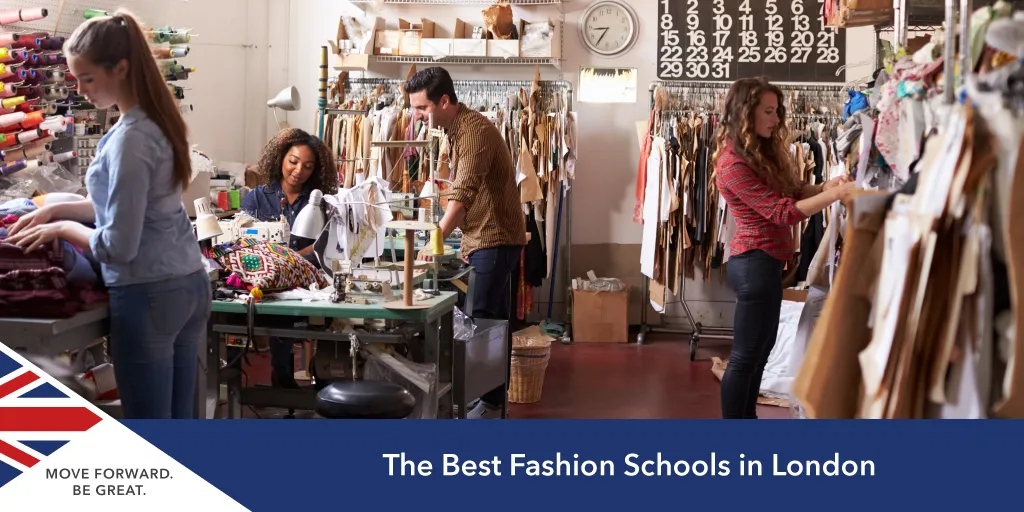 How to Choose the Best Fashion Course in London
London is home to some of the best fashion institutes in the world, making it difficult to narrow it down to a single choice. Here's what you can do:
Follow Your Passion: Look for a course that focuses on what excites you the most in fashion! Whether it's designing outfits, running fashion shows, or nailing the perfect marketing campaign, choose a course that matches your career goals.
Professors and Affiliations: The one teaching you can make a huge difference! Seek out courses where the professors have real-world experience and connections in the fashion industry. Affiliations with organisations like The British Fashion Council can greatly benefit industry recognition and networking opportunities.
College environment: Does the institute feel like it can provide you with the best fashion studios, bustling workshops and cutting-edge equipment to help you create your fashion masterpieces? Studying in London allows you to set trends, not just follow them.
Alumni: Check out what the current and past students have to say. Their experiences can give you a glimpse of what it's like to study there and what they have gone on to do. This can also help you understand their post-education placement assistance policies.
Top Rated Fashion Courses in London
The Kingston School of Art, a part of the prestigious Kingston University, is ranked 2nd in the UK and 1st in London (as per Guardian University Guide 2024). Kingston believes in a collaborative and multi-disciplinary approach focusing on laying a strong foundation of technical competence.
They offer undergraduate and postgraduate courses in Fashion, and an impressive 90% of their graduates go on to become designers and launch their collections. The alumni from Kingston have gained senior positions in global fashion companies, including Burberry, Calvin Klein, Paul Smith, All Saints, Alexander McQueen, Club Monaco, Margiela and Saint Laurent.
Suggested Course: Fashion BA (Hons)
Duration: 3 years, full time
International Fees: £16,800 per year
2. Central Saint Martins College of Art and Design
Central Saint Martins is a world renowned arts and design college and a part of UAL, University of the Arts London. With a strong focus on sustainability & climate emergency and a multi-disciplinary, vibrant community of creators, they believe that artists are uniquely equipped to save and shape the world through creative action.
They offer numerous graduate and undergraduate courses focusing on a wide range of subjects related to Fashion and Design. Their illustrious alumni include some of the biggest names in the fashion world, such as designers Stella McCartney and Kim Jones, stylist and journalist Ib Kamara, and many others. Their staff have previously directed industry projects with global names like Alexander McQueen, NET-A-PORTER, and more.
3. London College of Fashion
London College of Fashion, LCF, is also a part of UAL, University of the Arts, London. Being one of the foremost and most respected institutes for over a century, they offer over 60 undergraduate and postgraduate degrees in all things fashion, from business and design to fashion curation and merchandising.
LCF also offers an Integrated master's Degree; students undertake three years of undergraduate-level study, followed by a fourth year of postgraduate study, leading to a master's qualification. Students benefit from their excellent contacts in the industry, and recent placements have included Marc Jacobs, Gareth Pugh, Celine and Simone Rocha, among others.
With four campuses across London and impressive venues like its own Cinema and Gallery Spaces, the University of Westminster is a truly Global University with London Energy. They offer industry-focused fashion courses and a curriculum designed to meet the current and future needs of the fashion industry. Recent graduates include designers like Claire Barrow and Roberta Einer and others like Christopher Bailey, Chief Creative Officer of Burberry.
Their fashion courses have exceptional industry connections and an excellent track record of successful internships and placements with leading companies like Kenzo, Givenchy, Alexander Wang, Christian Dior, Versace, H&M, and many more.
Study Fashion in London
London's fashion education scene boasts prestigious universities, industry-driven courses, creative real-world assignments and career opportunities with the most recognisable names in Fashion. If you dream of fashion, London is the place to be. Book a free consultation with SI-UK India today if you want to study fashion in London.
Studying Fashion in London FAQ
Is London good for studying fashion?
Yes, London is good for studying fashion not only since it is one of the four major fashion hubs but also because of the exposure one can receive by studying at any of these universities. It is home to some of the leading universities for studying fashion design courses in the world, such as the Central Saint Martins College of Art and Design and the London College of Fashion.
How can I study fashion design in London?
To study fashion design in London, follow these steps:
Research: Start by researching renowned fashion institutions in London.
Entry Requirements: Check the specific entry requirements for your chosen course. Many institutions will ask for a portfolio showcasing your work.
Apply: Submit your application through the UCAS (Universities and Colleges Admissions Service) if it's for an undergraduate degree.
Prepare a Portfolio: Your portfolio is a critical component of your application. It should demonstrate your skills, creativity, and passion for fashion.
Interview: Some courses may require you to attend an interview.
What is the best fashion course in the UK?
According to the Guardian 2024 league table, Loughborough University has firmly established its reputation in the fashion sector. Situated in the heart of the UK, Loughborough University has consistently endeavoured to blend traditional fashion principles with contemporary design techniques. Their curriculum, spearheaded by some of the industry's most experienced professionals, encompasses a holistic view of fashion – from the inception of ideas to the commercial realisation of designs.
Furthermore, the university offers its students invaluable industry connections, ensuring they are academically prepared and professionally networked by the time they graduate.
What is the highest-paid job in fashion in the UK?
In the UK, some of the highest-paid jobs in fashion include Brand Managers, Creative Directors, and Fashion Buyers for major retailers or luxury brands. Additionally, establishing oneself as a renowned independent fashion designer with a strong brand presence can lead to substantial earnings.
Are fashion designers in demand in the UK?
Yes, fashion designers are in demand in the UK. London, in particular, is one of the world's fashion capitals, hosting major fashion events like London Fashion Week. The city's dynamic fashion scene means a consistent need for fresh, innovative designers.
Additionally, the UK's rich fashion history, combined with its modern cosmopolitan outlook, creates a vibrant market for diverse fashion styles and trends. However, it's worth noting that while the demand exists, the fashion industry is highly competitive, so emerging designers need to be both talented and tenacious.