Adult nursing at Aberystwyth University develops nurses who deliver excellent evidence-based practice in a range of care settings, and the university is working with SI-UK India as one of only two recruitment partners to identify qualified applicants for the funded places on the BSc Nursing (Adult) course for September 2023 entry.
On completion of your studies, participants in the scheme will be included in the graduate nurse streamlining scheme and apply for graduate nursing posts in Wales. They will be eligible to apply for Registered Nurse (Adult) status and can typically expect a starting salary of £25,655 P/A rising to £53,219 P/A for a highly experienced registered nurse.
If you're interested in joining this esteemed programme, be sure to submit your application through SI-UK before the deadline on July 13, 2023, as spots are limited. Contact SI-UK today to begin.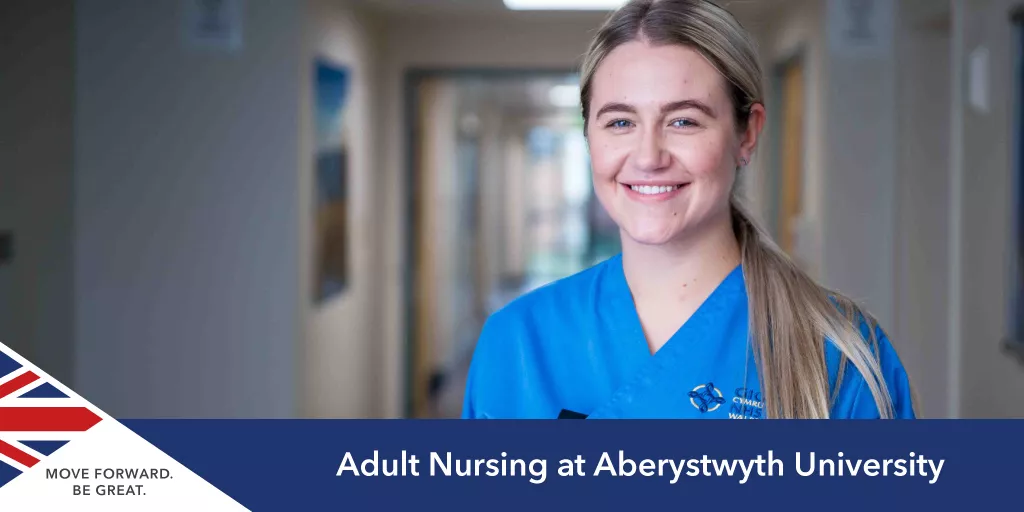 Five Reasons to Study Nursing at Aberystwyth University
1. Accreditation and Professional Recognition
Aberystwyth University offers accredited BSc Nursing degree programmes in Adult and Mental Health Nursing, recognised by the Nursing and Midwifery Council (NMC), a regulatory body in the UK that oversees the professional standards and practice of nurses and midwives. This accreditation ensures that the curriculum meets industry standards, providing you with a rigorous and reputable education in nursing. Choosing Aberystwyth University will enhance your credibility and employability as a nurse, as your degree will be widely recognised and respected in the healthcare field.
2. Person-Centred Approach
Mental Health and Adult Nursing degree programmes at Aberystwyth prioritise a person-centred approach to care delivery. Students begin by learning how to meet the essential care needs of individuals. As they advance through their second and third years of study, they acquire the necessary skills and capabilities to assess, provide, and manage complex care needs for both individuals and groups.
The BSc Adult Nursing profession offers a diverse and rewarding career path. Graduates have the opportunity to work in various healthcare settings, such as hospitals, clinics, community health centres, and mental health facilities. They play a vital role in providing compassionate care, promoting health and well-being, and supporting individuals in their recovery journeys. By choosing these degree programmes, students embark on a fulfilling profession dedicated to making a positive impact on people's lives.
3. Strong Links with Welsh Health Boards
Aberystwyth University has established strong partnerships with prominent Welsh health boards, namely Betsi Cadwaladr University Health Board, Hywel Dda University Health Board, Powys Teaching Health Board, and Swansea Bay University Health Board.
These connections provide students with diverse clinical placement opportunities in both urban and rural settings. Additionally, the proximity of Bronglais General Hospital to the university's Healthcare Education Centre offers convenient access for students seeking practical learning experiences. This combination of strong links with health boards and nearby hospital facilities enhances students' educational opportunities and exposure to real-world healthcare settings.
4. Professional Opportunities
After completing the required education and training, you will have the opportunity to apply for Registered Nurse (Adult) status with the Nursing and Midwifery Council (NMC) and become a registered nurse eligible to work in the EU and EEA. As a newly qualified nurse, you can expect a starting salary of £25,655, which can increase to £53,219 for highly experienced nurses. Specialised nurses and practice managers have the potential to earn up to £45,000.
If you receive funding through the NHS Wales Bursary Scheme, you will be obligated to work in Wales for two years after becoming a registered nurse. The Student Streamlining Scheme will assist in finding a suitable position based on your preferences and location.
5. Practical Learning Environment
Aberystwyth University provides a practical learning environment to enhance your experience of pursuing BSc Nursing in the UK. The university offers state-of-the-art facilities, including the newly established Clinical Skills Unit, where you will have access to a simulation suite. In this suite, you can practice and refine your clinical skills in a safe and supportive environment. The hands-on learning experience bridges the gap between theory and practice, preparing you for real-world healthcare scenarios that you will encounter during your hospital or community placements. Engaging in practical learning will develop confidence, competence, and critical thinking skills, which are vital for providing high-quality patient care.
Study Nursing at Aberystwyth University
If you want to study Nursing at Aberystwyth University in the UK, contact SI-UK today to apply for the limited seats available for the programme.
Nursing at Aberystwyth FAQ
What are the entry requirements for Indian nursing students?
For Indian students, the academic entry requirements for Aberystwyth University include a Standard XII Certificate with a minimum of 75% overall and at least 75% in Mathematics. English language proficiency is also required, with a minimum IELTS score of 7.0 overall, including 7.0 in reading, 6.5 in writing, and 6.0 in other components.
What is the average cost of graduation in nursing?
The average tuition fee for graduate studies in Nursing at Aberystwyth University is £17,525. However, additional costs such as accommodation expenses and other miscellaneous fees contribute to the overall expenses.
What is the deadline to apply for nursing at Aberystwyth University?
Aberystwyth University's nursing programme is accepting applications until Thursday, July 13, 2023, with limited spots available. Interested applicants can contact SI-UK for the application process and the academic term will commence on Monday, September 4, 2023, and the last day for registration is Friday, September 15, 2023.