University College London is one of the world's best universities, regularly maintaining its rank in the top 10 global institutes across a wide spectrum of subjects and on several different parameters.
UCL is also popularly known as London's Global University, which means this university has students from around 150 countries. This provides you with a global perspective that helps you understand the major issues and dynamics of the world. UCL courses and teaching are continually reviewed and revived to ensure that all the latest discoveries and developments are incorporated into their taught programmes. International students at UCL are selected on the basis of their talent and potential and not based on their backgrounds.
SI-UK is the sole agency officially appointed by University College London to support postgraduate UCL applications globally. You can begin yours now by arranging a free consultation with SI-UK India today. Feel free to reach us with any questions.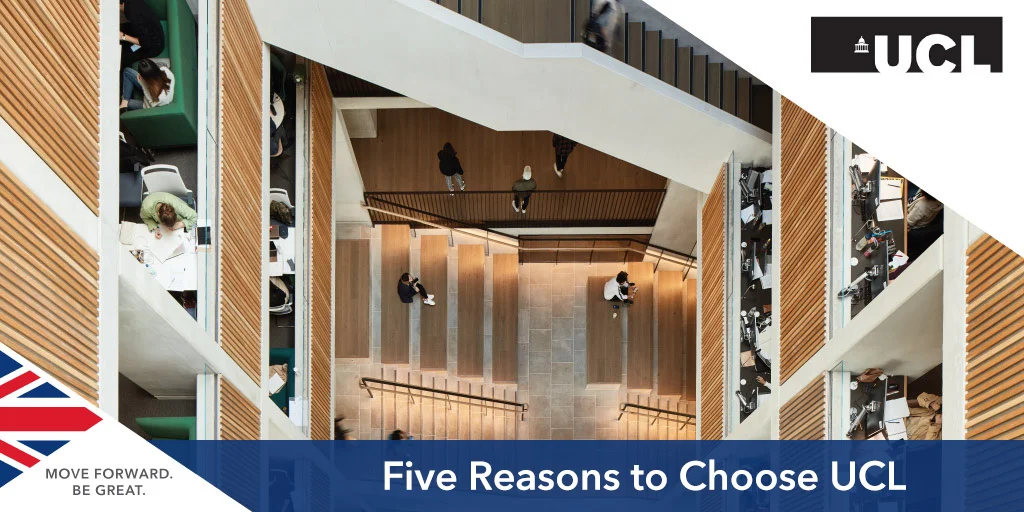 Five Reasons to Choose University College London
1. Rankings and Reputation
University College London is currently ranked 9th in the world by the QS World University Rankings 2024 and 22nd by the Times Higher Education Rankings. The Guardian has placed UCL in the 8th position. It is known for its academic excellence, a legacy maintained as is for more than a century now.
Other key department highlights include the UCL Institute of Education which has been ranked 12th in the world by the Times Higher Education rankings. And Bartlett, UCL's Faculty of Architecture, ranks number 1 in the Architecture and Built Environment field in 2023.
Some other UCL subjects that have topped the Times Higher Education Rankings are: Arts and Humanities (6th), Business and Economics (23rd), Law (11th), and Life Sciences (22nd).
2. Postgraduate Courses
UCL's huge variety of graduate degree programmes offers flexible learning options, allowing you to balance your study with professional and personal commitments. There are over 500 taught graduate programmes (MA, MSc, MRes) and 140 research programmes (MPhil, PhD) to choose from, and all graduate students will also automatically become part of the Postgraduate Association of Students' Union UCL.
Upon completion of your graduate programme, the UCL Careers team can also help you plan your next move and ensure you stand out from the crowd when you begin your new career.
UCL Careers benefits include:
One-to-one appointments with a Careers Consultant
Bespoke Careers Consultant-led workshops for graduate, international and Master's students
Employer-led events
Talks covering aspects of career planning and applications including finding and funding a PhD
Job vacancy information and a careers information library with information ranging across the UK and overseas
Work placement support
3. International Diversity
UCL is considered London's Global University for a reason - 48% of UCL students come from different parts of the world, which creates a diverse, welcoming and friendly environment.
Once you are enrolled at the University, the institute does everything to ensure your happiness and comfort. The International Student Team has a range of services to help you settle in. This includes assistance with healthcare, banking and transport, as well as orientation activities and drop-in sessions for any issue associated with your day-to-day life.
4. Facilities
The University is spending £1.25 billion over the next 10 years to create sustainable spaces and best-in-class facilities giving staff and students the tools to take their learning and discoveries further. Highlights include:
16 specialist libraries with more than two million books and subscriptions to more than 35,000 journals
The UCL Centre for Languages and International Education (CLIE) which offers courses in 17 languages, some of which can be taken for credits towards degree programmes
Three museums, the UCL Petrie Museum of Egyptian Archaeology, the UCL Grant Museum of Zoology, and the UCL Art Museum
The Bloomsbury Theatre and the Bloomsbury Theatre Studio with a seating capacity of around 500
Numerous sports and fitness facilities in and around London
The UCL Student Union which has a range of facilities available for students to use including cafés, bars, shops, an events venue, a gym, and a hair salon, as well as over 200 clubs and societies to join
5. Central London Location
UCL is located in the heart of London, one of the most diverse and multicultural cities in the world.
London is a vibrant global capital and you will be inspired by the unique combination of rich history and global innovation. At UCL you will never be far from things to do in a city which has an unrivalled range of museums, galleries and collections, many of which are completely free. Great transport links mean it is easy to navigate to the rest of the UK, Europe and the world.
UCL's main campus is in Bloomsbury, Central London, with the main Quad on Gower Street. In addition, a new campus opened in 2022, the largest expansion in the entire history of the university.
Study at UCL
Are you ready to take the next big step in your personal journey and study at University College London? Arrange a free consultation with SI-UK India today - the sole agency officially appointed by University College London to globally support postgraduate applications. Contact us now for any further questions or doubts about your UCAS application.