University College London is one of the top-ranked universities in the world, and it provides a dynamic and challenging environment for international students to learn across a broad range of undergraduate, postgraduate and research courses and programmes. More than 50 UCL academics have been included in the "1,000 Citation Elite" category on Clarivate's annual 'Highly Cited Researchers List' 2022. This list recognises the authors of the most influential research papers around the world.
UCL comprises 11 different teaching and research faculties, all of which are among the leading faculties in the world. Learn more about each of these faculties below, and if you want to apply for your choice of UCL courses, arrange a free consultation with SI-UK India today.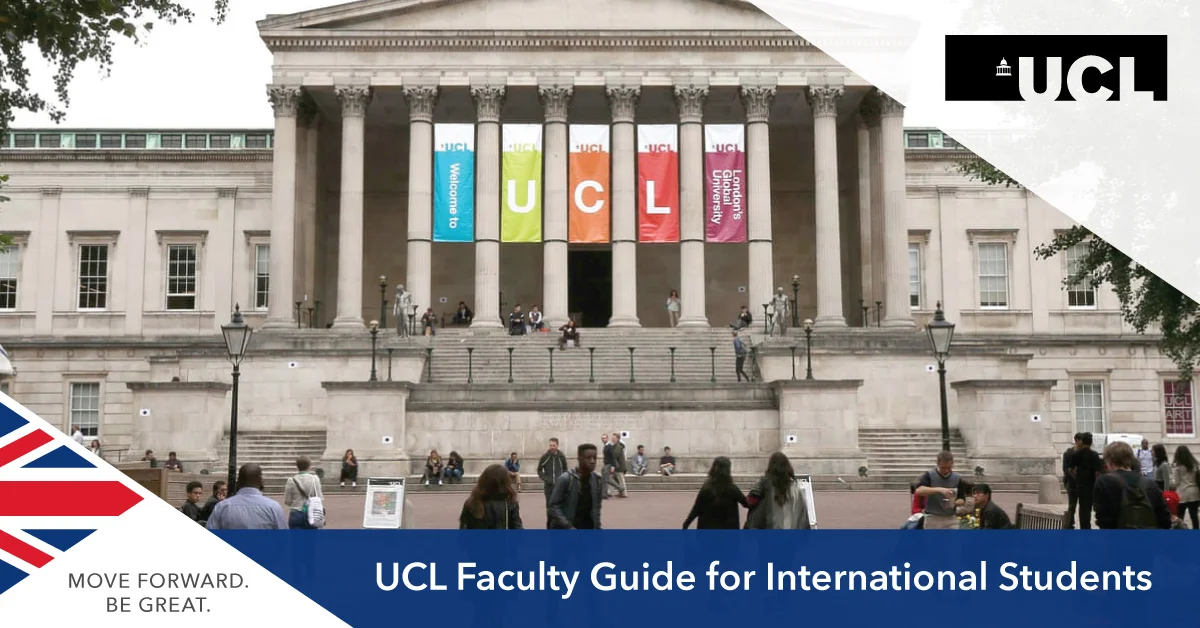 Indian Student Guide to UCL Faculties
Faculty of Arts & Humanities
The UCL Faculty of Arts & Humanities is ranked 6th in the 2023 Times Higher Education World University Rankings and it includes English, Classical, Fine Arts and Philosophy programmes, among others.
The Bartlett Faculty of Built Environment
According to the QS World University Subject Rankings, Bartlett, UCL's Faculty of Built Environment, ranks number 1 in the Architecture and Built Environment field in 2023. The Bartlett Faculty of the Built Environment team expects its students to consistently push the boundaries of modern-day architecture and grow further in the field.
Faculty of Brain Sciences
The Faculty of Brain Sciences is home to the world's most influential researchers in brain sciences. Around 8 UCL professors from the neuroscience and behaviour category have been included in Clarivate's 'Highly Cited Researchers 2022' list. This department offers a variety of programmes to study, including the MSc Orthoptics, MSc Clinical Neurology and MSc Audiological Sciences.
Engineering Sciences
Engineering at UCL is taught across ten teaching departments, and an excellent student-staff ratio means plenty of focused learning opportunities across a range of BSc, BEng, MSc, MRes (and more) courses at undergraduate and postgraduate taught levels.
Institute of Education
According to the Times Higher Education 2023 rankings, UCL Institute of Education has been ranked 12th in the world. It is the centre of attraction for international students willing to learn from the best research and teaching team in education and related social sciences.
Faculty of Laws
At UCL, undergraduate and postgraduate Law programmes offer an exciting combination and a number of innovative approaches towards the study of law. Centres and institutes within this department include the UCL Centre for Access to Justice, UCL Centre for Ethics and Law and UCL Institute of Human Rights.
Faculty of Life Sciences
The UCL Faculty of Life Sciences is ranked number two in London and 9th globally by the QS World University Rankings 2023. The Academic Divisions here include one of Europe's leading Schools of Pharmacy and two of the world's leading neuroscience institutes, the Gatsby Computational Neuroscience Unit and the Sainsbury Wellcome Centre for Neural Circuits and Behaviour.
Mathematical & Physical Sciences
The Faculty of Mathematical & Physical Sciences at UCL offers a broad range of single-subject science degrees at the postgraduate level, which includes subjects like Chemistry, Earth Sciences, Mathematics, Physics & Astronomy, Science & Technology Studies, Space and Climate Physics and Statistical Science.
Faculty of Medical Sciences
The UCL Medical School within the Faculty of Medical Sciences is number 1 in London and 6th in the world as per the QS World University Rankings by Subject 2023. This faculty works closely with several major teaching hospitals. Each of the six departments within the faculty provides world-class medical education with the help of innovative research and well-taught programmes.
Population Health Sciences
This faculty brings together eight divisions with a focus on the patterns of health and diseases across societies. Popular programmes in this faculty include M.Sc in Applied Infectious Disease Epidemiology and B.Sc in Population Health.
Social and Historical Sciences
The Social and Historical Sciences faculty at UCL ranks 14th in the world according to the 2023 Times Higher World University Rankings, while the Arts and Humanities disciplines rank 6th. This intellectually diverse faculty has some of the most popular subjects, such as Economics, History and Political Sciences, with some of the world's best researchers and teachers.
Study at UCL
Begin your UCL journey by arranging a free consultation with SI-UK India today.