Are you planning to study abroad or pursue higher education in an English-speaking country? If so, you might be wondering when is the right time to take an English Language Test. Learn below as we explore this important topic and provide you with a structured approach to determine the ideal timing for your English Language Test.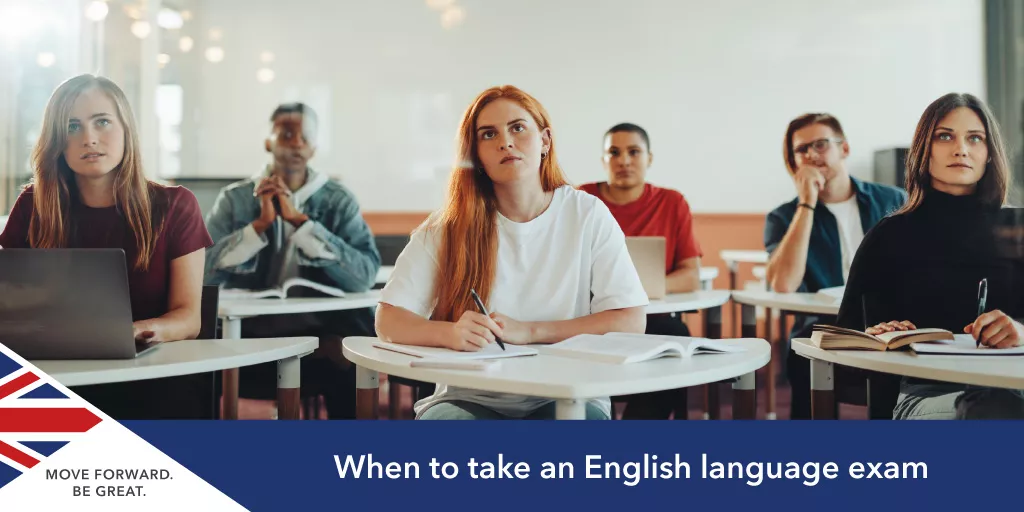 Timelines of Popular English Proficiency Tests
Since most English proficiency tests are available around the year, you can take them up before you start preparing for the university application, as it will help you to get your mind off of one task. Here is a brief comparison of the three most popular English Proficiency Tests; PTE, TOEFL, and IELTS.
| Parameters | PTE (Pearson Test of English) | TOEFL (Test of English as a Foreign Language) | IELTS (International English Language Testing System) |
| --- | --- | --- | --- |
| Scoring | Scored on a scale of 10-90 | Scored on a scale of 0-120 | Scored on a scale of 0-9 |
| Test Duration | 2 hours 15 minutes | Approximately 3 hours | 2 hours 45 minutes |
| Test Dates | Multiple test dates are available throughout the year | Multiple test dates are available throughout the year | Multiple test dates are available throughout the year |
| Score Validity | Typically valid for up to 2 years | Typically valid for up to 2 years | Typically valid for up to 2 years |
Understand the Requirements
When it comes to English language tests, it's essential to start by checking the requirements of the educational institution or organisation you're applying to. Here are a few key factors to consider:
- Minimum Score Requirements
Find out if the institution has a minimum score requirement for English Language Tests. This information will help you understand the level of language proficiency expected for admission.
- Programme or Scholarship Prerequisites
Some programmes or scholarships may have specific language proficiency prerequisites. Ensure you are aware of any additional language requirements that apply to your desired programme for the scholarship.
Assess Your Language Skills
Assessing your own language skills is a crucial step in determining when to take the English Language Test. Consider the following:
- Comfort Level in English
Evaluate your comfort level in communicating effectively in English. If you already feel confident in your language skills, you may be ready to take the test sooner rather than later.
- Need for Improvement
If you feel that you need more time to improve your English skills, it's perfectly okay to give yourself extra preparation time before taking the test. Be honest with yourself and set realistic goals.
Consider Test Availability
English Language Tests are offered throughout the year, but test centres can fill up quickly. Plan ahead by considering the following:
- Test Dates and Locations
Research the test dates and locations available in your area. Register early to secure your preferred test date and location. Keep in mind the application deadlines for the programmes or scholarships you're interested in.
Preparation and Practice
To increase your chances of success, it's important to dedicate time to prepare and practise for the English Language Test. Here's what you can do:
- Familiarise Yourself with the Test Format
Get acquainted with the format and content of the English Language Test you plan to take. Utilise resources such as sample test papers, study guides, and online preparation courses to familiarise yourself with the test structure.
Take Practice Tests
Taking practice tests is an excellent way to identify areas where you need improvement and build your confidence. Allocate time for regular practice sessions to strengthen your language skills and get comfortable with the test format.
- Find Your Balance
Ultimately, finding the right timing for your English Language Test is about striking a balance between feeling prepared and being mentally ready. Consider your level of readiness and avoid unnecessary stress or pressure.
Prepare for English Language Proficiency Tests with SI-UK
Determining when to take an English Language Test requires careful consideration of various factors. Contact SI-UK to learn more about the timelines to apply for an English Language Proficiency Test and begin your application for the upcoming intake.