Technology has brought a revolution in the modern era. Standalone Engineering degree is not sufficient to offer in-depth knowledge of the potential effects of technology and management; thus there is need of such a course that can closely align the needs of business and management with technology.
An Engineering Management degree aims to provide managerial education with a technological orientation. This course will inculcate business acumen in students so that they are efficiently able to handle complex decision-making problems or technology-driven problems. Engineering Management course focuses on performance analytics, transformation technology, analytical decision-making, to name a few. This combination of management and technology enhances the skills such as project control, supply chain management, risk management; students work on multiple projects, gain expertise on negotiation and collaboration, efficiently handle conflict and politics, and learn to manage change.
Learn more about the best universities to study Engineering Management in the UK below. If you need help applying to study in the UK, book a free consultation with SI-UK today.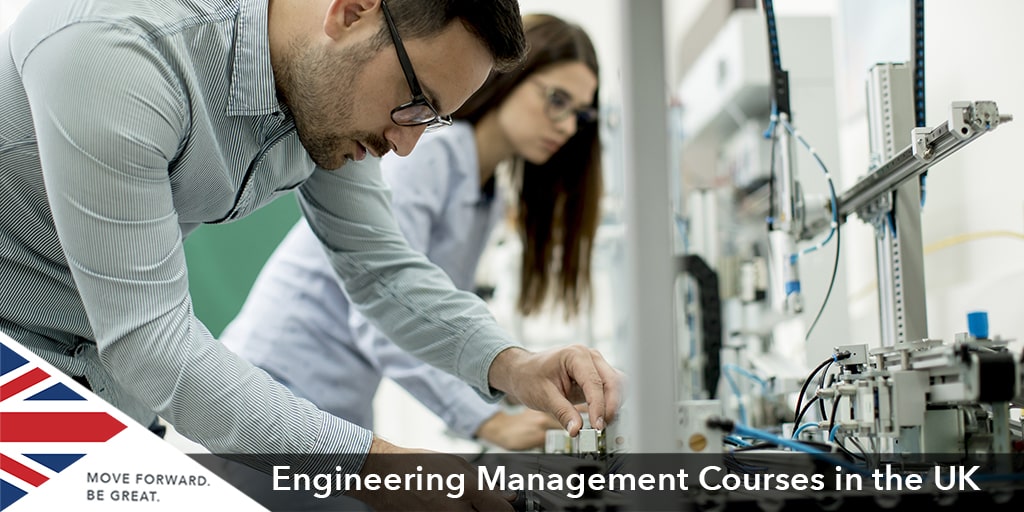 Career Prospects in Engineering Management
Graduates in Engineering Management can take lead roles as Management Innovators, Consultants, Technopreneurs, Operations Manager, Director, Production Manager, Production Team Leader at various companies.
Why Study Engineering Management Course in the UK?
The UK is an ideal study destination for the generations of international students in the context of quality education, high-ranking universities, warm welcome by universities, unparalleled academic and career support and life experiences.
The UK is home to various achievements, research and discoveries in the field of management. To master the subject of Engineering, Engineering Management course is an apt choice to make as global education in this subject will provide vast knowledge and international exposure.
The frequent visits of the guest lecturers sharing knowledge and skills of the field certainly equip the student with the technical knowledge and professional skills to manage big projects confidently.
Engineering Management course may provide a chance to get involved in internships, work placements, volunteering and dissertation placements that will lead to immense practical exposure that is most needed in Engineering Management field.
Top Five UK Universities for Studying Engineering Management Course
The top five universities in the UK for studying Engineering Management course as per the QS World Ranking are:
UCL
University of Edinburgh
The University of Manchester
University of Lincoln
Middlesex University
Apply to Study Engineering Management
If you are interested in studying Engineering Management in the UK, arrange your free consultation today. Don't forget the Premium Service will guarantee you at least one offer from a UK university!