Finding a job in the UK can be challenging if you are an international student and are studying abroad for the first time. However, it is not very difficult to find your dream job if you have access to the right resources and guidance and if you know where and what to look for.
Indian students can find work in the UK on a part-time basis while studying, as well as work as interns or volunteers with prospective employers and look for a regular job later on upon graduation. But before working or finding a job in the UK it is important for you to know about the work permit and visa regulations of the country and become aware of the job -hunting resources and the employability and career services available to international students.
Read below to learn more about finding jobs in the UK as an international student and if you want help applying to UK universities, consult with expert UK study counsellors at SI-UK today.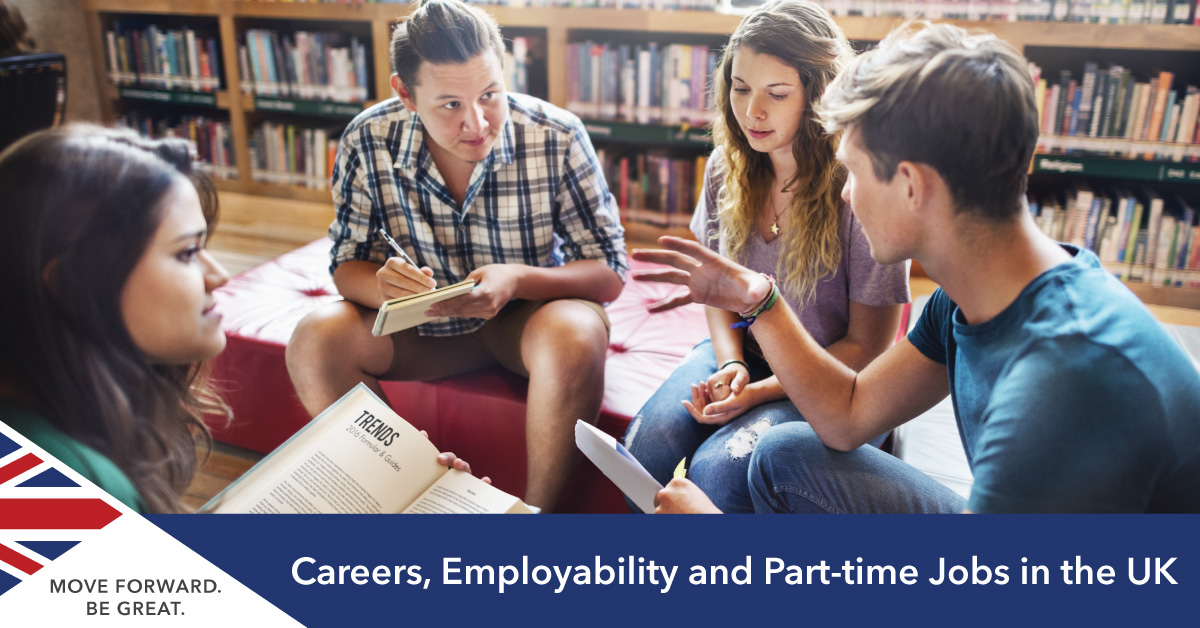 Part-time Jobs in the UK
If you are studying in the UK then working on a part-time job is a great way to develop your skills and earn some extra money alongside getting valuable industry experience boosting your CV and impressing your future employers.
Sign up with reputable and registered recruitment agencies
Search university career support services
Manage your time successfully to create a healthy balance between work and study
Part-time jobs are a great way to connect with future employers and make new friends
Before you start a part-time job carefully consider how much time you want to spend working so that your studies don't suffer. Working 15-hours a week is recommended for students
Stay organised and ensure that you submit your assignments on time as the focus should be on getting a university degree
Don't let your working hours clash with your lectures
Leave yourself enough time to socialise, eat properly and sleep enough
Employability and Career Support in the UK
Every university in the UK has its own employability and career support services to help students find jobs, internships and part-time work opportunities. Apart from placement support services, university career support also provides students with the necessary guidance to prepare for job interviews, make their CV influential, look for the right jobs, develop transferable skills and get valuable career advice.
UK universities have a high graduate employability rate and most students in the UK are in employment or further education within six months after graduation. UK universities have strong industry links with graduate schemes and sponsorships that help interested students find relevant jobs in the UK while studying and after graduation as well.
Internships and Degree Apprenticeships in the UK: Work While You Study
Internships and degree apprenticeships are other ways in which you can work in the UK as a student.
Internships
An internship not only helps you get the much needed practical experience but gets you a chance to learn new things on the job and develop network and connections.
Internships can help you see if an organisation or a job role is suitable for you or not and goes a long way in helping you find the right job after graduation.
Internships can be paid or unpaid but work as a test for job roles and career areas of interest.
Internships typically last for a duration of 4-12 weeks and are available as summer internships or other short-term internship programmes with large organisations available all round the year.
Degree Apprenticeships
Degree apprenticeship is a type of programme offered by universities where students gain a full bachelor's or master's degree as part of their apprenticeship which combines working with studying part-time at a university.
These programmes are developed and delivered by employers, universities and professional bodies in partnership.
Degree apprenticeship programmes for working professionals offered by UK universities may take around three to six years to complete.
Work Permit and Visa Regulations in the UK
Work Permit on Student Visa
Tier 4 UK student visa holders can work part-time in the UK as per the following conditions:
During the course term those studying at a degree level or more can work upto a maximum of 20 hours per week on paid/unpaid jobs
During vacations full-time work is allowed for a maximum of 40 hours per week
Those studying courses at language centres are allowed to work for a maximum of 10 hours per week on paid/unpaid jobs
Post Study Work Visa and Graduate Immigration Route for Indian Students
Indian students studying an undergraduate or postgraduate programme in the UK are eligible for post study work visa benefits under the new Graduate Immigration Route for international students in the UK from 2021 onwards with the following conditions:
Students must be enrolled for an undergraduate or postgraduate course with an approved higher education institution in the UK
Upon successful completion of the course international students are eligible to stay back in the UK and look for work upto 2-years
No minimum salary threshold is applicable for gaining a work permit under the new Graduate Immigration Route
STEM PhD students are eligible for an extension on the PSW visa upto 3-years after graduation
Earning Potential and Graduate Salaries
The UK labour market is one of the most competitive and advanced in the world and university students have great graduate prospects and career opportunities in the UK.
According to a High Fliers report, the median graduate starting salaries in the UK during 2020 are expected to be around £30,000. Sectors with higher earning potential include Banking, Computing and IT, Accounting, Buying and Merchandising, Human Resources, Language and Engineering.
Study and Work in the UK
Studying in the UK can be a huge step towards achieving your dreams and moving ahead in your career and a free consultation with SI-UK can help you begin the process.
Apply to any UK university of your choice with SI-UK and get complete assistance for application, scholarships, visa and accommodation.