UCAS, short for Universities and Colleges Admissions Service, is a UK-based organisation that annually helps thousands of students get admission to their dream universities in the UK. The organisation was formed in 1992 as an independent charity to operate the application process for British universities. UCAS works as an interface between students aspiring to study in the UK and the country's universities.
Although UCAS is known mainly for its undergraduate admission service, it offers several other admission services, including UCAS Conservatoires, UCAS Teacher Training (UTT), and UCAS Postgraduate. Most UK universities and educational institutions accept applications through UCAS, making it one of the most widespread media for applying to study in the UK.
UCAS Application Process
The UCAS application process consists of eight steps, as per the organisation's website:
Register with UCAS
Complete your details
Add your education history
Complete your employment history
Select your course choices
Write a personal statement
Submit your application
Get a reference, pay your application fee, and send your application
For upcoming entry, the UCAS application fee is £22.50 for a single course. You must pay £27 if you apply for more than one programme.
SI-UK can help you submit a high quality application ahead of the upcoming academic year. Begin your journey by arranging a free consultation with SI-UK India today.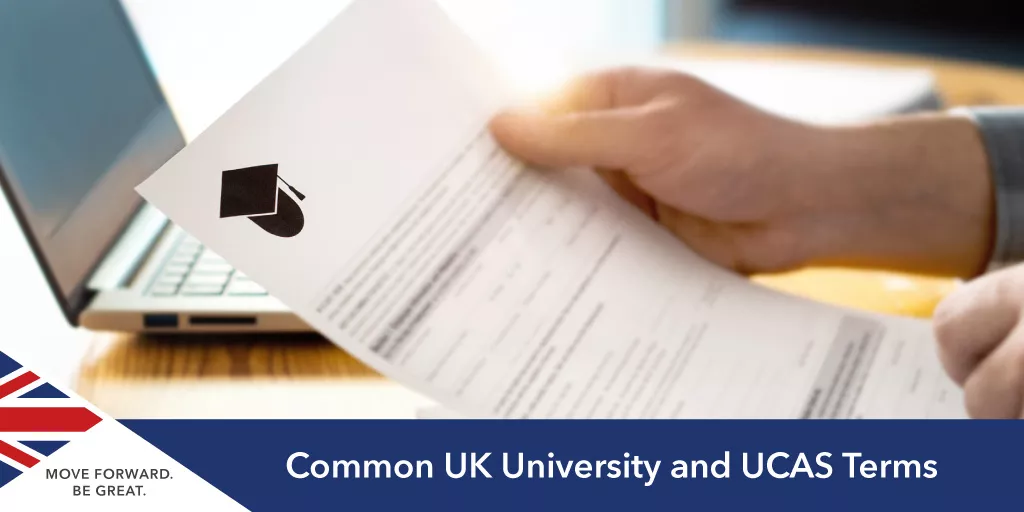 UCAS and University Terms and Glossary Guide
Admissions team
Each university has its admissions team who handles your application and answers your queries on the university, course, or events such as Open Days.
BMAT
The BioMedical Admissions Test (BMAT) is an aptitude test used as part of the admissions process for medicine, veterinary medicine, and related courses at universities in the UK. The test is typically taken by applicants in the final year of secondary school (or equivalent) and is intended to assess their potential for the demands of a biomedical or related course.
Campus university
A campus university is a type of UK university that is physically located on a single property, often with various faculty buildings and facilities such as halls of residence, lecture halls, cafes, libraries, and sports facilities.
City university
From accommodation to lecture halls and student facilities, at a city university, everything will be spread over a much wider area than at a campus university.
Clearing
If you can't find a place for the course you applied for when the results are rolled out, you can wait for Clearing, where you may find a place on a different course. Details on Clearing day are available on the UCAS website or the University's website.
Conditional and unconditional offer
A conditional offer guarantees your admission after meeting the university's requirements. An unconditional offer means that your place at the university is secured no matter your grades or whether you have met the requirements.
Firm choice and insurance choice
Your firm choice is the final choice of the university you need to make once you get your offers back. If you meet the conditions, you're definitely on their list of students they want to take.
Your insurance university is your second choice, upon which you can fall back on it if you don't make the conditions of your firm choice.
Gap year
You can choose to take a gap year before university starts. This is a year when you may choose to travel, work or volunteer but stay out of conventional education.
Halls of residence
Living in a university hall of residence means that you'll live with lots of other students. Halls are especially popular with first years because they can easily meet new people, and you won't have the hassle of trying to find independent housemates. Most halls are owned by their respective universities, but independent companies own some private halls.
LNAT
The LNAT (National Admissions Test for Law) is a test used as part of the admissions process for certain undergraduate law programmes at UK universities. The test is typically taken by applicants who have applied to a university that requires the LNAT as part of its admissions process, and is intended to assess their aptitude for the demands of studying law.
Open day
Universities host Open Days, where students can go and look around the university to feel what it would be like to live as a student at the university. SI-UK also host Open Days online and at our central London office, where you can meet universities one-to-one
Oxbridge
Oxbridge is an amalgamation of Oxford and Cambridge universities that is often used when referring to both universities at once.
Personal statement
Your UK university personal statement is crucial to your UK university application. A personal statement is an essay to explain why you want to study your chosen course, what makes you a great applicant, and your future ambitions.
Reference
Your reference is part of your UCAS application. Whoever you ask to be your referee – often a teacher – will upload a statement describing your academic abilities and suitability for a course.
Russell Group universities
The Russell Group is a collective of 24 research-intensive UK universities with a shared commitment and focus on research and outstanding teaching and learning experiences.
The Russell Group was originally founded in 1994, and in the QS World University Rankings 2023, four of the top 10 universities in the world - Oxford, Cambridge, Imperial College London and University College London - are Russell Group members.
UCAS Extra
UCAS Extra gives you a second chance to secure a place at a university if you haven't received offers from universities or declined the offers you received.
UCAS Tariff points
The grades you get in each qualification will earn you UCAS points. These points are later summed to finalise your total UCAS points. For example, when applying for a particular course, the course requirement could ask for AAB in A-levels or 136 UCAS points.
Applying through UCAS
To apply through UCAS, you must create an account and submit your application, including your details, qualifications, and a personal statement. You can apply to up to five universities or colleges at once through UCAS.
It is important to check the application deadline and keep in mind the universities you are applying to may have different application deadlines. Additionally, it is important to check the entry requirements for the institutions and courses you are applying to.
Study in the UK
Are you aspiring to study in the UK? Arrange a free consultation with SI-UK and get all your questions answered regarding programme selection, the university application process, and entry requirements.