In the UK education system, a master's is either one or two years (with placement) and is pursued in order to gain advanced knowledge in a subject. It is usually preceded by an undergraduate or bachelor's degree in the same subject but can be pursued in related subjects within the discipline as well. Master's programmes in the UK can be categorised as academic or professional, and academic programmes can be further divided into taught programmes and research-oriented programmes.
If you want to apply to a master's in the UK, get in touch by visiting SI-UK India or booking your free consultation today.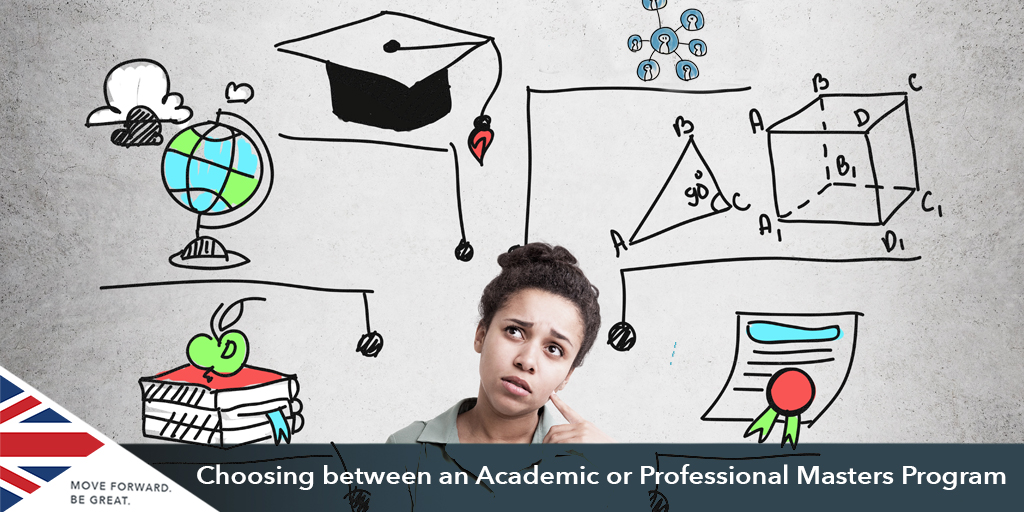 Differences between Academic and Professional Master's
Professional degrees and academic degrees have some important differences:
Purpose: Professional degrees are needed for specific jobs or professions, while academic degrees are more general and can be used in different fields.
Time: Professional degrees usually take longer to complete than academic degrees because they involve practical training and hands-on experience.
Requirements: Professional degrees often have additional qualifications like exams or licenses that need to be obtained, while academic degrees usually don't have these extra requirements.
Focus: Professional degrees focus on developing specific skills for a particular profession, while academic degrees provide a broader set of skills that can be applied in various settings.
Master's Degrees: A professional master's degree is not the same as a regular degree. Professional degrees are more specialised and geared towards professional practice.
| | Professional Degrees | Academic Degrees |
| --- | --- | --- |
| Programmes | Specialised programmes focused on specific professions or careers | Broad range of programmes covering various academic disciplines |
| Scholarship | Scholarships may be available, but they are often more limited or specific to certain professional fields | Scholarships are commonly offered across different academic fields |
| Fees | Tuition fees tend to be higher due to the longer duration and specialised nature of the programmes | Tuition fees vary depending on the institution and programme, but they are generally lower compared to professional degrees |
| Career Opportunity | Provides direct pathways to specific professions or careers, with higher chances of immediate employment in the chosen field | Offers versatility in career choices, allowing graduates to pursue various professional paths |
| Entrance Criteria | Admission criteria may include specific prerequisites, such as exams, portfolios, or interviews, to assess suitability for the profession. | Admission criteria typically focus on academic qualifications and may involve standardised tests or GPA requirements. |
Please note that the information provided in the table is general, and specific details may vary depending on the country, institution, and programme of study.
Academic Master's Degree
This degree involves the advanced study of a subject in order to specialise in it. It can be pursued for gainful employment or for further academic purposes such as a PhD.
- Taught Master's Degree
These involve studying modules, and attending scheduled lectures and seminars, much like you would have done when pursuing an undergraduate degree. The course is still broad in scope, is very structured and is led by the instructors. Students study on their own time based on guidelines provided by the academics. Most programmes are taught ones. These include Master of Arts (MA), Master of Science (MSc) and Postgraduate Certificates and Diplomas.
- Research Master's Degree
A research degree is not rigorously structured and in fact, may not be structured at all. Students focus on one or a few projects throughout the duration of their studies. They receive guidance and support from their supervisor from time to time but work on their own for the most part. Postgraduate Research programmes include Master of Research (MRes), Master of Philosophy (MPhil) and Master of Letters (MLitt).
Professional Master's Degree
This degree involves grooming students for a professional career in a particular sector. It is a vocational programme and includes a work placement in one or more of the semesters. Examples of popular professional master's include:
Master of Business Administration (MBA): An MBA is a degree that helps people learn about managing businesses. It teaches skills like finance, marketing, and leadership.
Master of Public Health (MPH): An MPH degree focuses on helping people stay healthy and preventing diseases. It teaches things like how diseases spread, how to create good health policies, and how to promote community health.
Master of Social Work (MSW): An MSW degree is for people who want to help individuals and communities in need. It teaches skills like counselling, advocating for fair treatment, and community development.
Study for a Master's in the UK
Students can choose their preferred master's degree based on whether they want to gain advanced knowledge, prepare for a specific profession, do academic research or build an academic career. There are certain pathway providers which can aid in changing your discipline, such as Kaplan and Navitas. They help students qualify to study a master's in an unrelated field by providing one-year pre-master's or foundation courses in the field of interest.
If you want to study a taught, research or professional master's in the UK, visit your nearest SI-UK India office for a free consultation today.