Studying economics in the UK means learning with the world's best minds and studying at top ranking universities recognised globally for their award-winning research in economics and its related fields.
Economics is an extensive field that is often studied with other subjects such as business, management, finance, accounting and law. Undergraduate degrees in economics in the UK are usually for three years and may extend up to 4 years with a placement year. These are also offered as dual degrees or joint honours degrees. For instance, a BSc Economics degree could be combined with science-based subjects such as mathematics or statistics; a BA Economics degree is offered with disciplines such as politics or psychology.
Studying economics with business or other subjects is useful for analysing the interaction between markets and people and governments' role in managing an economy's business activities.
Find out the top five UK universities for economics below (Guardian University Guide 2023) and if you want to apply to study economics degrees in the UK, arrange a free consultation with SI-UK India today. Our international application experts can help you submit applications to UK universities easily and without error.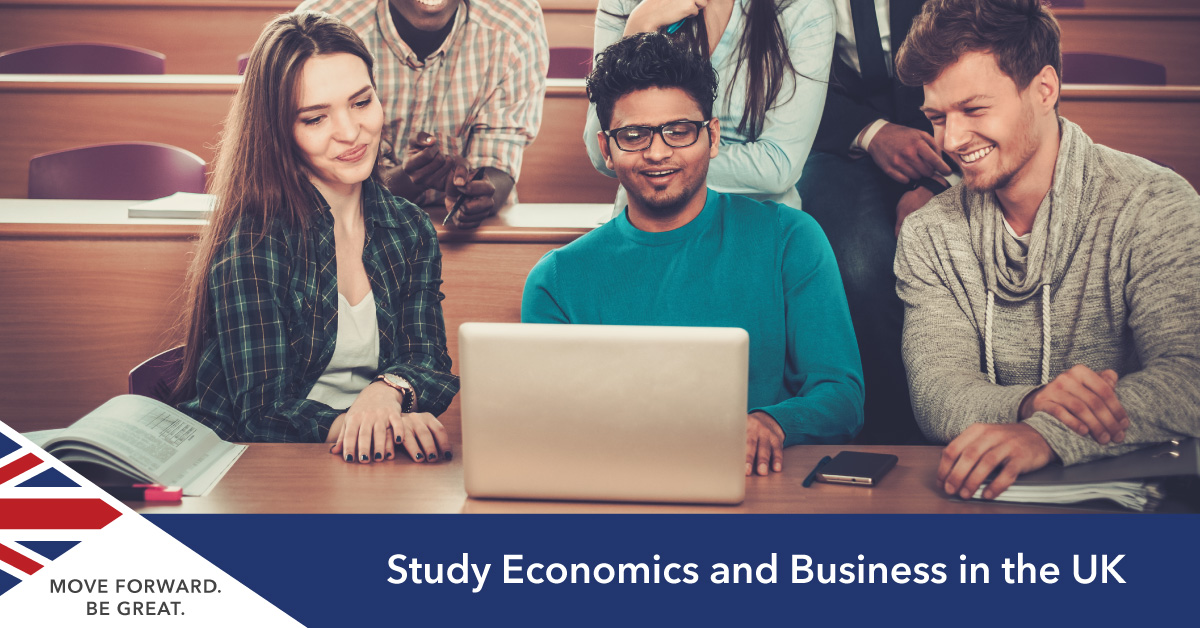 Top Five UK Universities for Economics
The University of St Andrews is considered the most prestigious UK university for Economics. St Andrews' BSc Economics is among the most sought-after degrees in the UK, thanks to its comprehensive coverage of several elements of economics and finance, including macroeconomic policy, behavioural economics, econometrics, and corporate finance. The four-year full-time programme is an ideal amalgamation of theoretical and practical teaching.
The programme's first two years are dedicated to building a solid foundation, including an introduction to microeconomics and macroeconomics. The next two years allow you to choose from various modules, such as Development Economics, Innovation Economics, Topics in Economic History, and International Trade. Students can undertake a dissertation or research project in the fourth year.
Undergraduate course to consider: BSc Economics
Entry requirements: Standard entry grades: AAAAB and Minimum entry grades: AABB. For more details, visit here
International fees: £28,190
The world's oldest university in the Anglosphere, the University of Oxford is home to a globally-renowned Economics department that offers a three-year bachelor's degree in Economics and Management. The programme intends to help students get acquainted with management principles concerning economics. You will learn how consumers, firms, and governments make decisions about resource allocation.
Students will understand how companies effectively use raw materials and human resources to reach the defined objectives by engaging in several seminars and projects. The curriculum also covers strategic management, the economics of industries, and development economics. Graduates will also have a hang of government economic policies; business conducts, and the importance of relationship building.
The BA (Hons) in Economics at the University of Cambridge is a three-year programme designed by top economists. The course curriculum includes key topics, such as the theory and practice of econometrics, political economy, the economics of developing countries, and quantitative methods in economics. Along with lectures, classes and supervision, students also engage in several project-based assessments.
The degree helps you understand the role of supply and demand in defining the market mood. Subjects like global inflation, monetary policy, and the operation of financial institutions are covered through academics and practice. You will also get acquainted with the role of finance in solving international conflicts around the globe.
Undergraduate course to consider: BA (Hons) Economics
Entry requirements: A Level: A*A*A, IB: 40-42 points, with 776 at the Higher Level
International fees: £24,507
LSE, one of the world's most prestigious business and economics study institutes, has the most advanced infrastructure. The University's BSc Economics programme looks at various global economic crises, including the 2008 Financial Crisis and the Wall Street Crash of 1929. Analysing the reasons for these challenges, the course aims to train students with the solutions to any form of financial risks within an organisation.
You will take the open-minded road to test economic hypotheses against proper data. The three-year full-time course incorporates several important subjects, including economics, elementary statistical theory, econometrics, and finance principles. In addition, the curriculum is designed to better students' ability to construct complex arguments and communicate with different stakeholders thoroughly.
Undergraduate course to consider: BSc Economics
Entry requirements: A strong set of GCSE grades, including the majority at A (or 7) and A* (or 8-9)
International fees: £26,592
The Bachelor's in Economics at the University of Warwick is a comprehensive course that helps students enhance their knowledge of microeconomics, macroeconomics and econometrics. The programme is an opportunity to get the hang of several macroeconomic issues, including consumption and investment theories, government finances, the Phillips curve, and monetary laws. The research-led teaching will expose students to different economic models followed worldwide and how countries fight back in times of crisis.
Moreover, Warwick's Economics course deals with the world economy's history and theory, including the impacts of domestic politics and foreign policies on a country's economy. International trade, industrial economics, exchange rate systems, mathematical concepts of analysis, etc., are part of the programme that offers an all-inclusive learning environment for better understanding.
Undergraduate course to consider: Economics BSc
Entry requirements: A*A*A including A* in Maths, grade 6/B in GCSE English Language.
International fees: £29,830
Study Economics in the UK
If you are interested in studying economics in the UK, arrange a free consultation with SI-UK to start with your applications.