Computers play a part in every aspect of life in the digital age opening up a world of possibilities for computer science professionals. Computer Science is a fascinating subject with high demand from industry for skilled graduates who can contribute towards creating dynamic solutions across a broad range of areas. Degrees in Computer Science from top UK universities ensure that you secure a fast paced and rewarding career in almost any part of the world.
See: Computer Science Subject Guide
Opportunities for computer science graduates exist in diverse fields such as finance, healthcare, pharmaceuticals, film, media, gaming, public services, consumer products and many more. Find out more about the most popular universities in the UK to study Computer Science below and learn about the most interesting courses offered there.
To receive professional support and guidance for applying to UK universities for studying undergraduate and postgraduate courses in Computer Science, book a free consultation with SI-UK, a trusted UK university partner in India.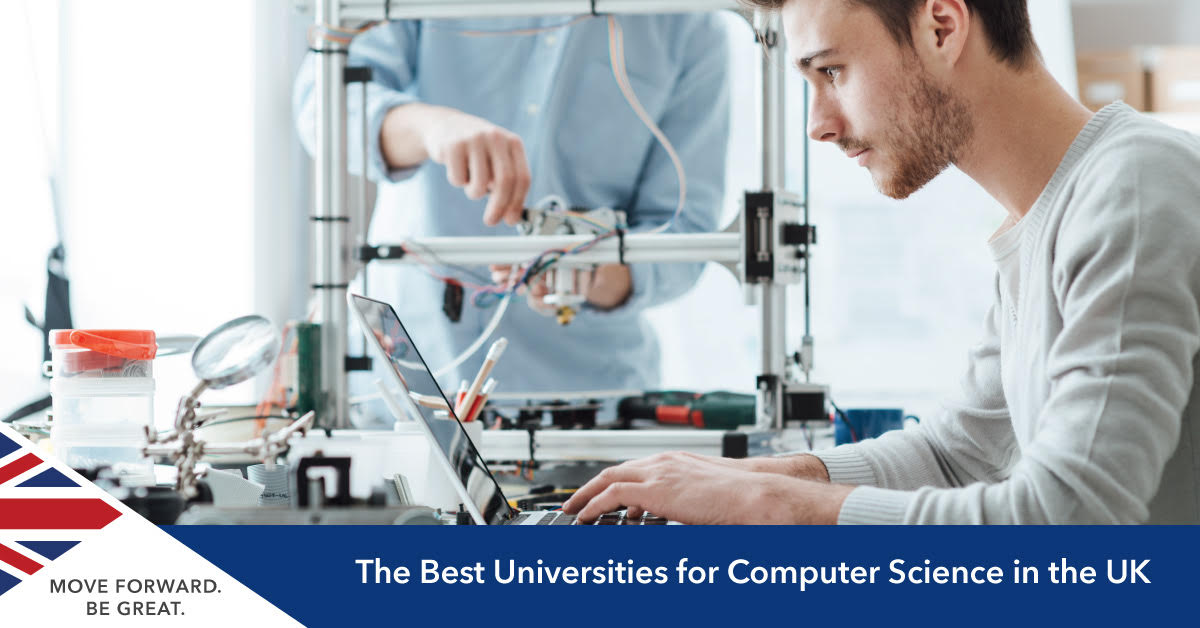 Top UK Universities for Studying Computer Science
University of Manchester
The University of Manchester has played a major role in the evolution of computers and the world's first stored-programme computer was developed here in 1948. The University is placed in top 10 UK universities for Computer Science in almost every University League Table for 2020.
The Department of Computer Science is one of the best in the UK. Around 88% of its students expressed satisfaction with the course while 92% students expressed satisfaction with their teaching quality.
Computer Science courses at Manchester University are broad and flexible allowing freedom to choose from a wide array of topics within the field. The course is a combination of gaining knowledge of the grounding underlying principles and acquiring the practical experience and skills to work with the latest technologies.
Recommended Course:
BSc Computer Science with Industrial Experience
BSc Computer Science (Human Computer Interaction) with Industrial Experience
BSc Computer Science with Mathematics with Industrial Experience
University of Edinburgh
The School of Informatics at the University of Edinburgh is ranked in top 5 in the UK for Computer Science (THE 2020) and is also considered amongst the best in the world. The informatics research centre at Edinburgh is the largest in all of Europe.
The University of Edinburgh encourages students to take control of their own learning and create a unique experience through tailored learning based on individual interests. Students can choose from 11 degree programmes offered by the School of Informatics which are theoretical as well as application oriented.
The university offers many joint programmes with strong interdisciplinary backgrounds to cover relevant topics in different fields such as Computer Science and Physics; Computer Science and Mathematics; Computer Science and Management Science; and Artificial intelligence and Computer Science.
Recommended Course:
Informatics (5-year undergraduate Masters Programme) (MInf)
University of Bristol
The University of Bristol is the fourth most targeted university by employers (High Fliers Research) and one of the UK's top 10 (QS World university Rankings 2020). Bristol is a great place to study Computer Science as students benefit from the high concentration of technology industries in and around Bristol providing unparalleled opportunities of working with the industry.
Bristol has strong links with the industry and local employers which helps to keep their course industry relevant. Students have access to state-of-the-art facilities while they learn from internationally renowned experts in the field.
Scholarships, summer internships, industrial seminars and exclusive employment opportunities with Bristol's technology industry make Bristol a popular university for studying Computer Science in the UK.
Recommended Course:
BSc Computer Science
MEng Computer Science and Electronics with Study Abroad
MEng Computer Science with Innovation
Study Computer Science in the UK
If you are interested in studying Computer Science in the UK, arrange a free consultation with experienced education counsellors at SI-UK today. We can help you apply to UK universities error free by guiding you throughout the application process.