In a world driven by data, safeguarding sensitive information is paramount. An information system course delves into the intricacies of information security, equipping students with the knowledge and tools to protect valuable data assets.
Information systems (IS) is a multidisciplinary field that explores the effective utilisation of technology and data to support organisational processes, decision-making, and overall strategic objectives. As technology continues to shape our world, the demand for skilled information system professionals is ever-growing. By pursuing your studies in this dynamic and evolving domain, you can position yourself at the forefront of the digital revolution.
The UK is home to some of the world's most prestigious universities, renowned for their cutting-edge research and high-quality education in technology-related fields. From London to Edinburgh, you'll find top-notch institutions offering diverse and well-structured IS courses. Learn more about studying information systems in the UK below, or book a free consultation with SI-UK India today to begin your application.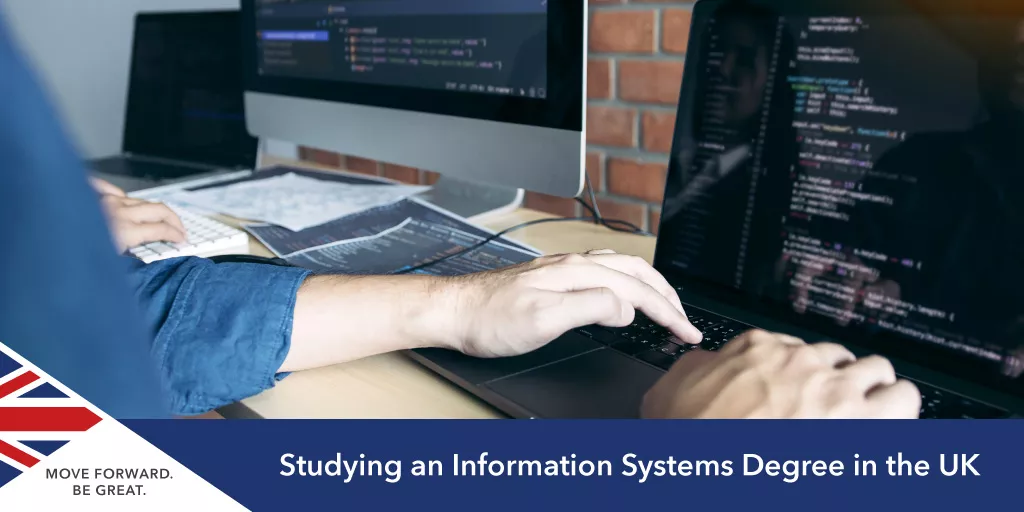 Top 10 UK Universities for Information Systems
The MSc Information and Process Systems Engineering at the University of Surrey is a transformative experience designed to equip students with a deep understanding of various technologies and systems in practice. Throughout the journey, students are exposed to a diverse range of key topics, including knowledge management, decision-making, and design in process systems and business information technologies.
This course caters to individual interests by offering a selection of modules tailored to students' preferences. The curriculum is carefully crafted to strike a balance between compulsory and optional modules, allowing students to tailor their learning experience.
The Computer Information Systems BSc (Hons) at Bangor University delves into the practical applications of technology in both business and industry. The curriculum encompasses various essential components, including computing, database systems, emerging technologies, systems administration, artificial intelligence, and business information systems. This diverse range of subjects ensures that students develop a solid foundation in the field of computer information systems.
The course focus extends beyond theoretical concepts, emphasizing hands-on experience and real-world application. By actively engaging with technology, students learn how to leverage it effectively in a business context, granting them a distinct competitive advantage. This practical approach enables graduates to tackle real-world challenges and opportunities confidently.
The Business Information Technology course at Queen's University Belfast bridges the gap between information technology and business management. Students gain a profound understanding of IT fundamentals while simultaneously developing a solid foundation in business concepts. In the final stage of the course, students can choose from an array of topics to specialise in areas of their interest. Whether it's project work, information systems, business ethics, innovation management, or public sector management, this flexibility empowers students to shape their academic journey based on their career aspirations.
The MSc in Computing and Technology at Northumbria University paves the way for a promising future in the IT industry or further academic and research-oriented paths. The course covers a diverse range of topics that are critical in today's digital age. From programming languages to big data, software life cycle modelling to information governance, and cyber security to leadership in a digital age, students gain a comprehensive understanding of essential concepts and practices.
Aberystwyth University's BSc Business Information Technology covers a wide range of essential topics, ensuring students receive a well-rounded education in Business Information Technology. From Systems Analysis to Database Applications, from Business Environment to E-Commerce/E-Business systems, and from Web programming to Web Tools, students delve into diverse areas that prepare them to tackle the complexities of the business world with technological prowess.
The University places a strong emphasis on employability, and the Business Information Technology course is a testament to this commitment. Access to dedicated Linux and Mac OS X laboratories, along with central servers, provides students with state-of-the-art technology to develop their skills.
If you are interested in enhancing your understanding of information technologies, the Faculty of Computing, Engineering, and the Built Environment at the Magee campus is the right place for you to get started. Ulster University's course has been meticulously designed to illuminate the foundational principles of IT, while simultaneously equipping you with the practical skills necessary for developing and maintaining computer-based systems in contemporary organisations.
SHU's Information Technology course doesn't just scratch the surface but delves into the nitty-gritty of the latest enterprise system applications, not forgetting the associated challenges and critical success factors, all brought to life through case studies. Blending theory with hands-on practical work, the course will equip you with a deep understanding and solid foundation for your future.
The University of Portsmouth's MSc Information Systems course lets you dive right into the deep end of complex scenarios, where you will learn to craft and articulate solutions that merge the best of business and tech concepts.
Portsmouth's information system course is designed with the advice of an industry advisory board, ensuring you gain the in-demand skills and knowledge the sector currently craves. You'll be learning from lecturers who actively partner with IT companies, adding an extra layer of industry insights to your learning journey.
Dive headfirst into a groundbreaking career in IT with BCU's multidisciplinary BSc (Hons) in Computing and Information Technology. This degree will arm you with not just the technical prowess but also the managerial acumen that are the keystones of a thriving IT career. Industry heavyweights like Microsoft, Cisco, and the Linux Professional Institute recognise BCU's information technology courses. They not only provide you with a degree but also facilitate you in achieving additional industry certifications during your study.
The University of Huddersfield aims to make its students adept in crafting, delivering and operating bespoke computer-based information systems, along with a robust foundation in information technology principles. In collaboration with the IT industry, the university provides a stepping stone towards your dream career. A placement year is designed to hone your experience, nurture your network and furnish you with the practical edge that sets you apart. This placement year, undertaken in your third year of studies, can be a game-changer, setting you ahead of the competition when it comes to attracting graduate employers. All IT courses at the University of Huddersfield are accredited by the British Computer Society (BCS).
Study Information System in the UK
Contact SI-UK India today if you want to learn more about studying information systems in the UK or to begin your application for the upcoming intake.
Information Systems Course FAQ
What are the admission requirements for studying information systems in the UK?
Admission requirements vary between universities, but typically, applicants for a degree in information systems are expected to have completed their secondary education with relevant subjects such as mathematics and computer science. Proficiency in English is essential.
Where can I study for a degree in computer information systems?
The United Kingdom boasts several prestigious universities offering degrees in Computer Information Systems or related fields. Some well-known institutions include the University of Cambridge, Imperial College London, University of Oxford, University of Edinburgh, and University College London.
What is the highest salary for information systems professionals?
In the UK, senior-level positions in Information Systems management, such as IT directors or Chief Information Officers (CIOs), can earn substantial salaries, often exceeding £100,000 per annum. However, entry-level salaries for graduates may range from £25,000 to £40,000, depending on the job market and the specific role.
What is the scope of information systems?
Graduates with expertise in information systems can pursue careers in finance, healthcare, e-commerce, government, consulting, and more. With the increasing reliance on technology in today's world, businesses continually seek professionals who can effectively manage data, implement innovative solutions, and enhance overall operational efficiency.