Forensic psychology is an intriguing intersection of the psychological and criminal justice spheres, offering an array of professional opportunities that combine an in-depth understanding of human behaviour with the practicalities of law enforcement. With its unique focus on criminal behaviour and the legal system, forensic psychology provides invaluable insights that play a pivotal role in our justice system.
Forensic psychology courses equip students with the essential skills needed to analyse offending behaviour, develop treatment strategies, and understand the overall impact of crime on victims and society. Professional roles awaiting graduates of forensic psychology can be working directly in prisons and rehabilitation centres, collaborating with law enforcement, and offering expert insights into legal proceedings. Forensic psychologists can also engage in research or academia, contributing to the development and dissemination of knowledge in this specialised field.
Learn below more about studying forensic psychology in the UK or book a free consultation with SI-UK India today.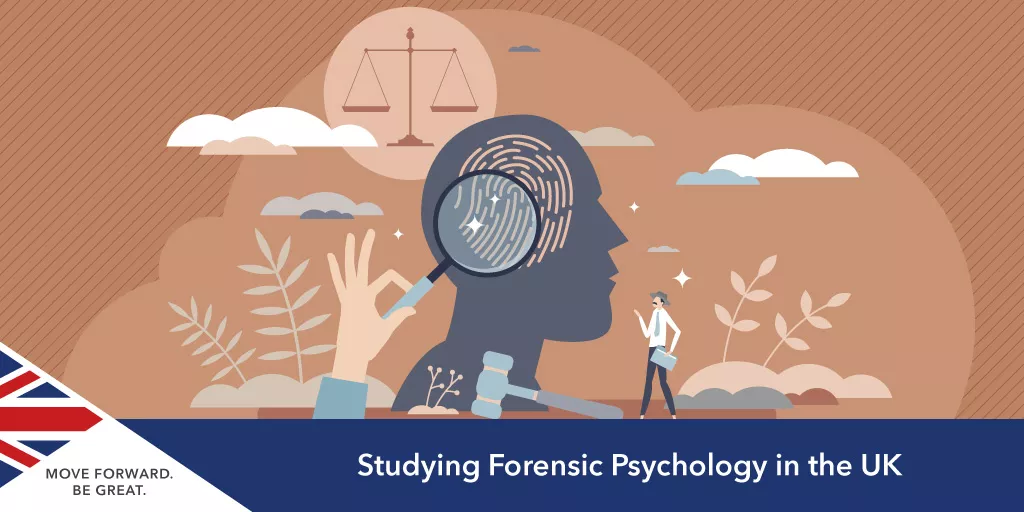 Top 10 Universities for Forensic Psychology Courses in the UK
Forensic Psychology Practice Doctorate (ForenPsyD) at the University of Birmingham delves into the minds of offenders, learning how their actions affect victims, and you'll be trained to develop treatment plans.
The course is based on real-world evidence and is dedicated to promoting diversity and equality. You'll sharpen your research abilities, paving the way towards your BPS Chartered Psychology status. Plus, you get the chance to join the Division of Forensic Psychology and even register as a Forensic Psychologist.
The Masters in Forensic Psychology and Mental Health at the University of Manchester, a British Psychological Society (BPS) accredited degree, is built upon the study of how psychology applies to legal and investigative processes, explores offender behaviour interventions, research methods, and learn about personality disorder assessment and treatment. By the end of the programme, you'll be all set for a career as a Chartered Psychologist.
The MSc in Investigative and Forensic Psychology at the University of Liverpool takes you right into the heart of the forensic world. It covers a broad range, from crime reduction strategies and forensic interviewing to court processes and rehabilitation. The course helps you understand criminal behaviour using statistical analysis and equips you with research skills for conducting detailed studies in the field. You'll also get a glimpse into the world of policing and emergency response and understand the role they play in forensic scenarios.
The University of Nottingham's forensic psychology course, accredited by the British Psychological Society (BPS), sets you on the path to becoming a Chartered Psychologist and follows the standards set by the Health and Care Professions Council (HCPC).
The three-year programme starts with various modules like Forensic Mental Health, Legal Psychology, and Forensic Practice Interventions in the first year. You'll also work on a Forensic Psychology Research Dissertation and learn about Advanced Forensic Analytical Methods.
The MSc Forensic Psychology at Newcastle University brings together the knowledge of academics and practitioners, ensuring you learn the most current and evidence-based content. Modules include topics like Legal Psychology and the Criminal Justice System, Forensic Mental Health and Criminal Behavior, and Forensic Assessment and Case Formulation. These modules will equip you with an understanding of the criminal justice system, assessing mental health in criminal behaviour, and applying forensic psychology in professional practice.
The forensic psychology master's degree at Royal Holloway, jointly delivered by the Department of Law and Criminology and the Department of Psychology, is built on a strong foundation in scientific research methods, learning how to design, conduct, and analyse psychological research. You'll gain skills in integrating concepts and communicating across disciplines from teachers in Psychology, Criminology, and Law. The course also equips you with knowledge of qualitative and quantitative methods and ethical issues in research and practice.
The Criminology with Forensic Psychology BSc at the University of Leicester is an exciting opportunity to delve into criminological theory and forensic psychology's practical role. In your final year, modules like Using Psychology in Secure Settings and Criminal Justice and Mental Disorder will be on the menu. You'll also work on your Student Research Project. Plus, you'll have the chance to customise your degree with a range of optional modules. This course is your stepping stone into the intriguing world of criminology and forensic psychology.
Swansea University's forensic psychology master's degree is designed to give you a deep understanding of Forensic Psychology as per Stage 1 training requirements set by the British Psychological Society. The course has strong connections with probation, prison, forensic mental health, and third sector services. Staff from these areas actively contribute to teaching and offer research opportunities, making this programme both engaging and hands-on.
NTU's forensic psychology degree, accredited by the British Psychological Society (BPS), delves into our psychological responses to criminal behaviour, encompassing police work, courts, prisons, and offenders.
This course covers all BPS-required core areas of Psychology, including brain functioning, human thought processes, feelings, behaviour, and the practical applications of psychological research and therapy. You'll explore how these aspects relate to forensic psychology.
The BSc (Hons) Psychology with Forensic Psychology at Lincoln blends the scientific study of behaviour, the mind, and brain functions to unlock the secrets of human thinking. It offers both a broad understanding of general psychology and specialised knowledge in forensic psychology.
The course provides a realistic peek into the daily life of a forensic psychologist. In forensic-specific modules, you'll explore the motivations and behaviours of various offenders and learn about assessing and treating offence-related risk factors.
Forensic Psychology Course FAQ
What are the admission requirements?
Typically, for a Bachelor's degree, you'll need to have completed high school with good grades, particularly in subjects such as psychology or science. For a master's, you'll need a Bachelor's degree in psychology or a related field.
Why should I study forensic psychology?
Studying forensic psychology equips you with a unique set of skills at the intersection of psychology and the legal system. You'll learn to apply psychological principles to legal questions, handle offender treatment, and victim support.
How many years does it take to become a forensic psychologist?
Becoming a forensic psychologist typically requires around 6-8 years of study. This includes a 4-year Bachelor's degree, a 2-year Master's degree, and potentially a 2-3 year Doctoral degree.
Is forensic psychology a good career option?
Yes, forensic psychology can be a great career option. It offers a variety of challenging roles within law enforcement, legal institutions, correctional facilities, and academia. The demand for forensic psychologists is growing, and the field offers competitive salaries.
What is the most common job for a forensic psychologist?
The most common jobs for forensic psychologists include working in prisons, rehabilitation centres, police departments, law firms, schools, government agencies, or private practice. They often perform duties such as assessing offender risk, providing therapy, offering expert testimony in court, and conducting research.