Studying business administration in the UK opens up a world of opportunities and equips you with essential skills to thrive in today's dynamic business landscape. But what makes the UK an ideal destination for business education?
Students pursuing business administration courses in the UK gain a comprehensive understanding of various business disciplines, including finance, marketing, management, and entrepreneurship. The course encompasses a multitude of opportunities, exceptional faculty, diverse student communities, and industry collaborations. The UK's academic excellence, global reputation, and close ties with industry make it a fertile ground for aspiring business professionals. The average business administration salary in the UK is £27,335 for candidates with an undergraduate degree.
Keep reading to learn more about the best universities for business administration and how they can help you build a successful career in this industry. Arrange a free consultation to begin your application today.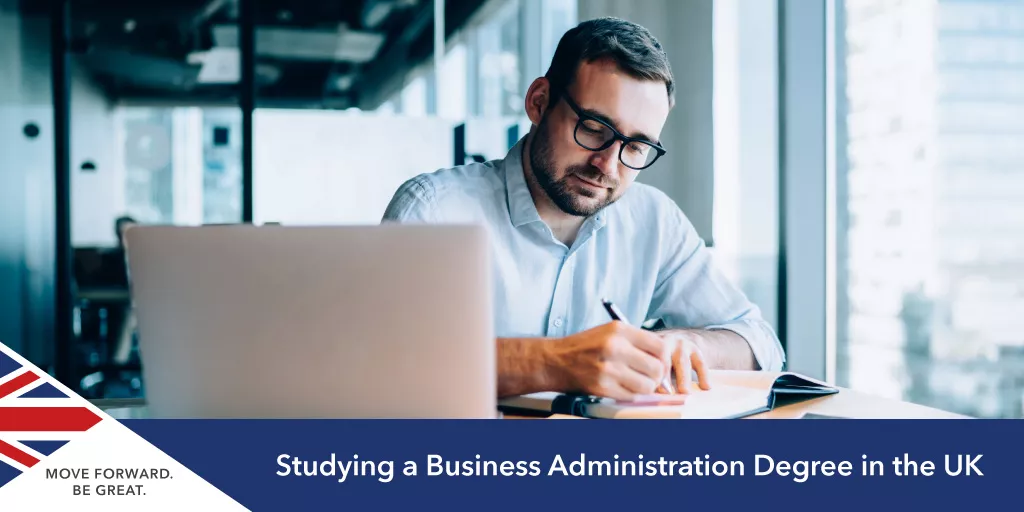 Top Five UK Universities for Business Administration Course
The BBA Hons (Bachelor of Business Administration) programme at the University of Strathclyde is an all-encompassing undergraduate degree that lays a solid foundation in business administration for students. In the first year, students are obliged to take mandatory classes that encompass various aspects of business and finance. The "Introduction to Finance" module provides students with a fundamental understanding of the functioning of finance and how businesses analyse the operating environment.
Moreover, the "Academic Skills" class assists students in cultivating vital skills necessary for their academic and future professional endeavours, including research, data analysis, critical writing, teamwork, and communication.
Experience a dynamic and inclusive learning environment with Coventry University's Bachelor in Business Administration course. Coventry's Bachelor of Business Administration features global modules that utilise case studies to enhance students' understanding of theoretical and practical aspects of business administration. In the second and third years, students delve into specialised modules within their chosen field, focusing on technical skills, global awareness, and professional development.
The final year offers the opportunity to consolidate knowledge, engage in professional practice, or pursue higher education, culminating in a significant project guided by a mentor and academic personal tutor.
The University of Essex's Bachelor of Business Administration (BBA) degree offers a deep understanding of diverse business and management aspects, equipping students with practical managerial skills across different functional areas.
From business creation and growth to international business management, from marketing principles to principles of operations and supply chain management, the curriculum ensures students develop a solid foundation. The degree culminates in advanced topics like business strategy and marketing communications, along with the opportunity to undertake a research project in business administration. Students are also encouraged to gain practical experience through a paid placement year, fostering industry connections and enhancing their employability.
Designed to equip students with the skills and knowledge necessary for success in diverse organisational roles, the BA (Hons) Business Administration course at the University of Hertfordshire ensures effective and efficient operation with a focus on essential business disciplines. Choose from a diverse modules portfolio that includes business strategy, leadership, global business, creative problem-solving, cross-cultural trends, digital economy, project planning, and business ethics, and pave the way for a successful future.
The BBA (Hons) Bachelor of Business Administration at Heriot-Watt University offers a deep understanding of business administration and management, combining practical skills development with theoretical knowledge.
The programme spans four years, each divided into two semesters. The first year introduces students to foundational subjects such as Management in a Global Context, Accounting and Finance, Marketing, and Academic Skills. In the second year, students have the option to choose between Human Resource Management and Fundamentals of Marketing as their core modules, supplemented by a variety of optional courses. As the journey progresses to the third year, students dive into advanced topics, including Strategic Management, Business Research Methods, and a range of elective courses.
Business Administration FAQ
What are the admission requirements?
Common prerequisites typically include a high school diploma or its equivalent, satisfactory academic performance, and the completion of prerequisite coursework, such as mathematics, economics, or accounting. It is important to consult the specific requirements of each institution to which you are applying.
What is the highest salary for a business administrator?
The salary of a business administrator can vary depending on factors such as level of experience, industry, geographic location, and the size and nature of the organisation. While it is challenging to provide an exact figure for the highest salary, business administrators with substantial experience and in senior executive positions can earn significant remuneration.
What are the benefits of studying business administration courses?
Studying business administration courses offers numerous benefits to individuals interested in pursuing a career in the field. Key advantages include versatility, job opportunities, entrepreneurship, networking opportunities and transferable skills.
Which degree is eligible for business administration?
Business administration degrees typically accept applicants who have completed an undergraduate degree in any discipline. While specific eligibility requirements may vary among educational institutions, individuals with a bachelor's degree in fields such as business, economics, finance, accounting, marketing, or related areas are often eligible to pursue a master's degree or other higher-level courses in business administration.
How many years are there in a business administration course?
The duration of a business administration course can vary depending on the level of education pursued and the educational institution. Generally, undergraduate degrees in business administration typically span four years of full-time study, leading to a bachelor's degree.