A career in engineering is exciting and valuable, finding solutions to some of the newest and oldest challenges we face in the 21st century. UK engineering graduates continue to be in high demand thanks to the best engineering colleges in the UK providing a world famous culture of innovation.
The UK was globally ranked fifth for innovation by OECDiN's Worldwide Innovation Survey and has pioneered ground-breaking engineering marvels for hundreds of years. As one of the leading scientific nations on earth, UK engineering graduates are always ready to tackle the most complex engineering challenges. Issues that are complex and involve alternative ways of thinking across multiple disciplines like energy, transport and space, are our strong points.
Popular engineering courses in the UK include Aeronautical Engineering, Chemical Engineering, Civil Engineering, Computer Engineering, Electrical Engineering and Mechanical Engineering.
Want to grow your career as an engineer by studying at the best engineering universities in the UK? Begin your application and talk to SI-UK India today with a free consultation.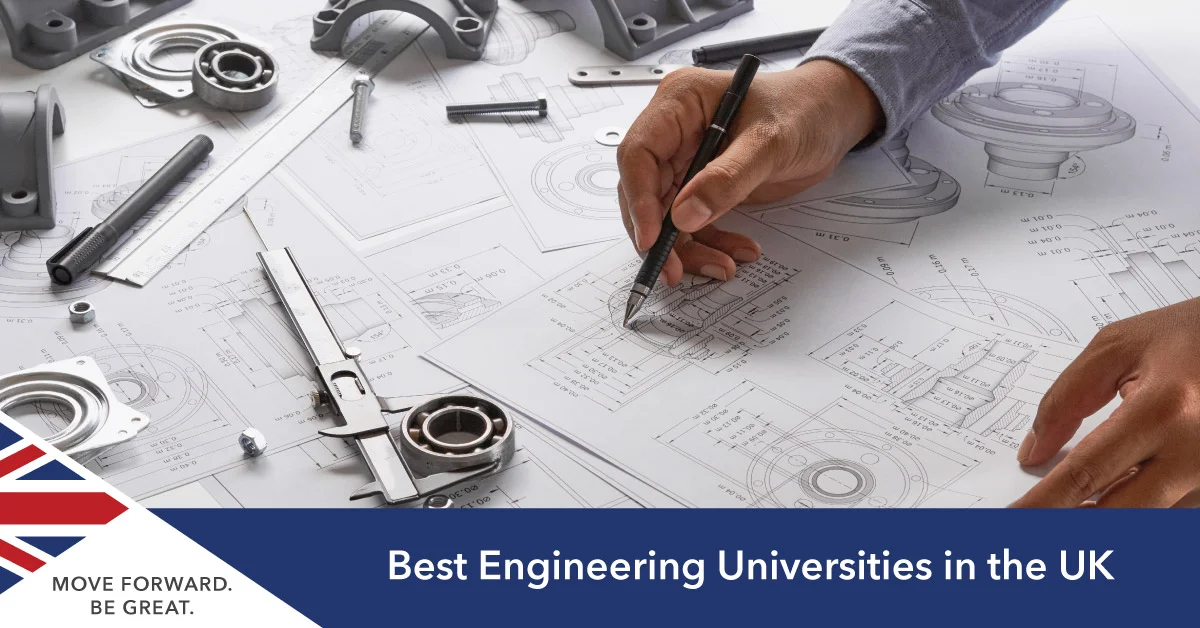 Top 10 Universities for General Engineering in the UK
One of the world's premium universities, the University of Cambridge offers a broad-based four-year Engineering programme, providing students with a strong foundation in principles and practices of engineering. The degree equips you with all the analytical, design and computing skills that nurture modern engineering ideas.
Cambridge's Engineering course is divided into two parts — Part I (Years 1 & 2) furnishes comprehensive education in the fundamental principles of engineering, and Part II (Years 2 & 3) helps students go deep into their chosen areas of engineering. Specialisations you will be studying are Electrical and Electronic Engineering, Mechanical Engineering, Energy, Sustainability and the , etc.
BEng Mechanical and Electrical Engineering at the University of Bristol is a joint honours degree programme that aims to give you the fundamental knowledge and tools to satisfy the strong industrial demand for skilled engineers in a unique way. The course follows elements of the mechanical and electrical disciplines, while getting acquainted with various other topics, including design and integration of electro-mechanical systems, energy conversion and actuation systems, embedded systems and control, energy management, and power electronics and electric drives.
The three-year degree equips you with the knowledge and skills needed to innovate technologies in renewable energy microgrids, robotics, electric vehicles, etc.
Oxford's four-year MEng in Engineering Science is a state-of-the-art degree programme that encompasses a vast range of subjects, from energy systems to mathematical applications and from microelectronics to offshore oil platforms. Students will get the knowledge, skills, and experience to solve real problems.
The first two years follow the fundamentals of engineering technology, while the last two years will give you the option to choose one of the six branches of engineering: biomedical, Chemical, Civil, Electrical, Information and Mechanical. Oxford believes in the importance of industrial experience and, thus, encourages students to spend a year with a sponsoring company.
Engineering education at Imperial has always been popular; however, in recent times, thousands of students from all across the world have shown interest in its Design Engineering programme, which aims to amalgamate design thinking with engineering principles and practice. Delivered by the Dyson School of Design Engineering, the course helps you explore an engineer's point of view on manufacturing techniques, product development, and technical design.
In addition to getting introduced to the fundamentals of scientific computing, you will understand engineering mathematics, finite element analysis, thermofluids, and the theory of robotics. This degree is a great opportunity for you to learn the idea of sustainability in design engineering, while exploring entrepreneurial thinking styles to develop radical innovation.
The Faculty of Engineering at the University of Sheffield is among the most popular in Central England. The faculty offers programmes in several subjects, including Materials Science, Computer Science, Mechanical, and Civil Engineering. Among them, Software Engineering is probably the most sought-after course. The three-year programme focuses on training students in the art of complex software systems.
Along with the state-of-the-art software design and programming technologies, you will hone transferable skills in project management, teamwork and relationship management. Some important course modules include Jawa Programming, machine and intelligence, algorithms and data structures, and computing device networking. Graduates will also be equipped with knowledge and experience in web and internet technology.
KCL's General Engineering degree helps you build a strong foundation in the basic elements of engineering to address modern challenges in the field. The programme aims to enhance your ability to work with engineering design, computer software, and system modelling through mathematical and analytical approaches. King's College London is known for its strong emphasis on project-based learning. Thus, it has designed the course with a unique blend of cutting-edge engineering specialisms to make graduates industry-ready.
From Thermofluids to Signal Systems and from Electronics Principles to Power Circuits, you will get acquainted with several key topics while pursuing the three-year degree course. Working with internally-acclaimed tutors, students will have the opportunity to engage in practical sessions on a range of projects, including finite element analysis and Mechatronics.
The school with 92% of its Engineering research internationally excellent (REF 2021), the University of Exeter is popular for its BEng in Engineering and Management. The degree course amalgamates the principles of engineering and management and is ideal for students who take keen interest in project coordination and aims to strengthen their leadership qualities.
The three-year programme is taught in partnership with Exeter's triple-accredited Business School. It includes several modules such as Engineering Mathematics and Scientific Computing, Fundamentals of Mechanics, Materials and Electronics, Economics and Company Finance, and Manufacturing Systems. You can take a placement year, which will be spent in the industry, learning important elements of professionalism and working life.
The high-quality BEng General Engineering degree is designed by globally-recognised industry professionals to offer you the knowledge and skills necessary to succeed in the engineering world. The three-year course prepares you for a range of careers in modern engineering, with the ability to cope with transforming technologies. The compulsory modules for the first two years include Solid Mechanics, Mathematics for Engineers and Scientists, Thermodynamics, and Engineering Design.
In the third year, you can choose one of the three specialised streams: Civil, Electrical, Electronic or Mechanical Engineering. An optional placement year in industry (between 2nd and 3rd year) will help you gain invaluable professional experience through the Industrial Partnership Committee (IPC), which consists of various British and multinational companies.
The industrial city of Leeds is among the best places in the world to study engineering and explore innovative ways to succeed in the industry. The University of Leeds is ranked in the top five in the UK for Civil Engineering (Guardian University Guide, 2023).
The three-year full-time Civil Engineering programme is an opportunity to explore all major subjects you need to understand as a civil engineer. You will get acquainted with topics such as structures, fluids, environmental impact, and geotechnics – all supplemented with high-quality research. Along with getting the heed of Civil Engineering's fundamental subjects, students will gain skills in structural design, engineering mathematics, and modelling techniques.
Having recently celebrated 100 years of women engineers at Loughborough University, the university campus is among the most inclusive and highly diverse in the UK. The Bioengineering degree at Loughborough gives you a thorough grounding in various subjects, including engineering systems and mathematical methods in bioengineering. In addition to exploring the fundamentals of human anatomy, physiology and biological functions, students will master the art of implementing engineering principles to designing and innovations.
Located near Birmingham, an industrial and economic centre, the university has collaborated with several market giants, offering students multiple opportunities to have real-time experience and technical experience. The course opens the door to overseas placement opportunities and options to spend between 3-12 months at an international university.
Study Engineering in the UK
Book a free consultation with SI-UK India to begin your engineering application to study in the UK.