Studying abroad in the UK provides you with quality education, but it does not come cheap. The competition for securing admission in UK universities is tough and even more so when it comes to acquiring an attractive scholarship. Scholarships are awarded to students based on their application, statement of purpose, previous academic records and extracurricular activities. Students must excel in any one of these to secure a scholarship to study in the UK.
When planning a budget to study at top UK universities, there are several living expenses which also need to be taken into consideration. Studying with a scholarship in the UK helps students reduce their overall expenses and even allows them to study at prestigious and expensive UK universities.
Learn about some of the best international scholarships available for Indian students to study in the UK below, or apply with our expert consultants by booking a free consultation with SI-UK India today.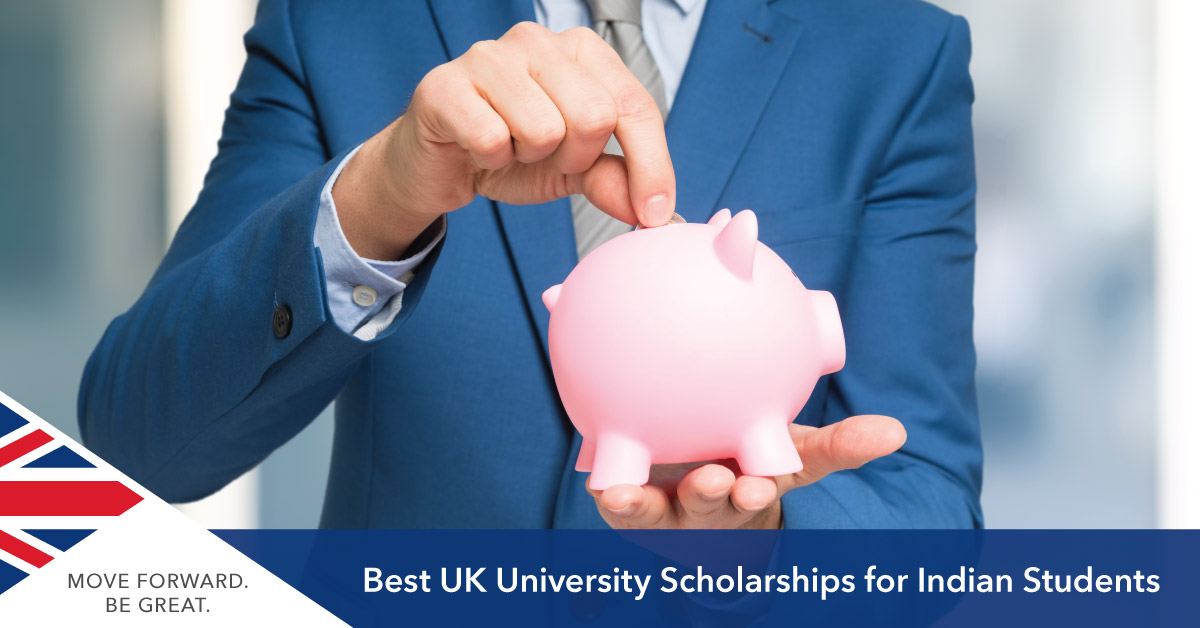 Top Five Scholarships for Indian Students to Study in the UK
1. GREAT Scholarships
GREAT Scholarships are awarded to meritorious students to pursue a postgraduate degree in any course available at partner UK universities. These scholarships are jointly funded by the British Council and the UK government's 'GREAT Britain' campaign, under the 'Study UK' campaign.
This year UK universities are offering 60 GREAT scholarships to international students to study a one-year postgraduate course in any of the participating universities. Scholarships range from a minimum of £10,000 to the entire one year tuition fees.
2. Chevening Scholarships
These scholarships are awarded by the UK government to outstanding students with proven academic merit and to talented professionals with demonstrable achievements in their field as well as high leadership potential. Students can apply for a scholarship or a fellowship and selections are made by the British high commission.
Chevening Scholarships are generous fully funded scholarships which go beyond the tuition fees to cover all other major expenses such as airfare and living expenses.
3. Commonwealth Scholarships
Awarded by the UK's Commonwealth Scholarship Commission (CSC), Commonwealth Scholarships aim to assist students who belong to low or middle-income countries that are a part of the British Commonwealth such as India to get access to quality education. Scholarships are offered at all study levels to students who would otherwise not have been able to afford to study abroad in the UK.
The scholarships aim at promoting the UK's overseas interests while ensuring sustainable development, attracting outstanding talent to the UK, and sustaining the principles of the Commonwealth. Scholarships are based on academic merit and a prospective student's inclination to aid in the improvement of lives back in their home countries.
The CSC covers the tuition fees, airfare and living expenses and offers PhD, Masters and Distance Learning scholarships to Indian students.
4. Charles Wallace India Trust Scholarships
These scholarships are meant to aid professionals who are in the early or mid-stage of their career and are experienced in arts, humanities or heritage conservation. The scholarships include:
Fully funded awards - These range from two months to up to a year and cover everything from fees to fares and living costs.
Visiting fellowships - 10 fellowships are awarded to writers and academics to spend a few months at host universities, carrying out research or work activities
Research grants and doctoral study grants - these are short term grants amounting covering short research or a period during the final year of doctoral studies.
Summer School grants - offered at universities in Scotland
5. University Scholarships
Almost all UK universities offer certain early-bird discounts or subject-specific merit-based scholarships to international students. Scholarships or financial aid are mentioned on the university website under the 'fees and funding' or 'scholarships' section.
Students can avail scholarships ranging from £1,000 to up to 50% of the tuition fees, depending on their academic records, in most UK universities. All UK universities also provide financial aid to international students in the form of student loans and bursaries.
Find a UK Scholarship
Study in the UK with scholarship by applying through SI-UK India. Find the list of participating universities and eligibility criteria for the abovementioned scholarships by booking your free consultation with our expert consultants today.
Related Articles: