Teaching quality is one of the most significant factors that influence the choice of a university when considering studying abroad. Universities in the UK have a strong reputation for teaching quality and enjoy high student satisfaction rates for great teaching across undergraduate and postgraduate level.
Which are the best UK universities for teaching quality? Find out below about the top five UK universities for teaching quality according to the Times and Sunday Times Good University Guide, which is a trusted indicator of UK university quality and uses results of the National Student Survey for calculating teaching quality percentage.
If you wish to begin your application to study in the UK at top universities, arrange a free consultation with SI-UK India online or at your nearest office today.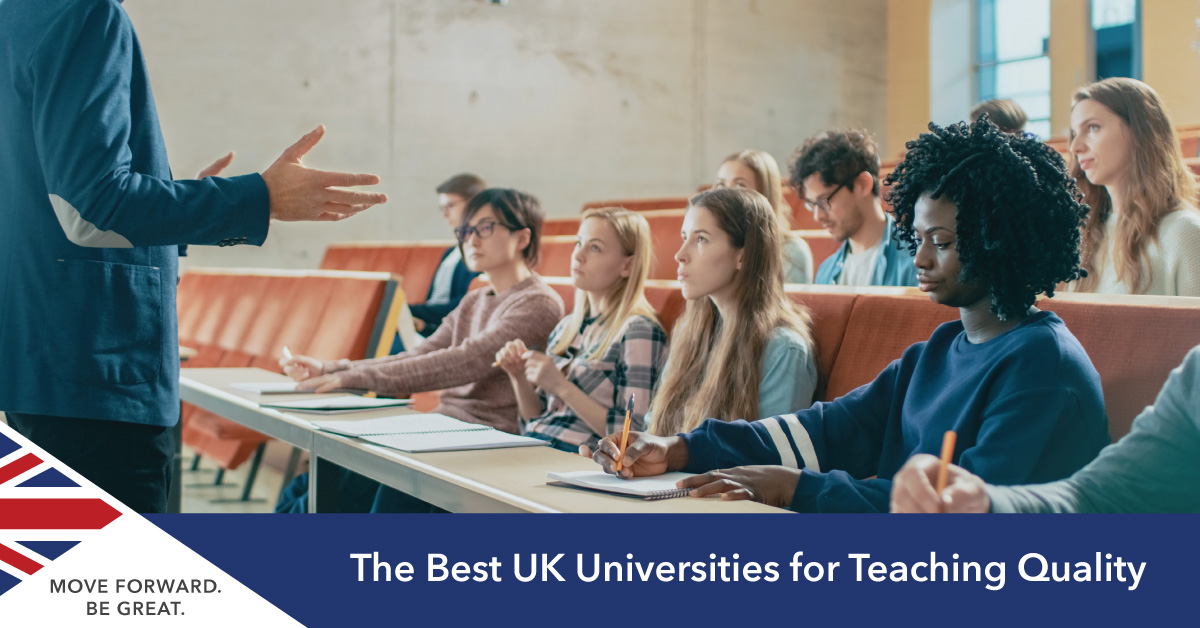 Top 10 Universities in the UK for Teaching Quality
Which are the best UK universities for teaching quality? Find out below about the top 10 UK universities for teaching quality according to the Times and Sunday Times Good University Guide, which is a trusted indicator of UK university quality and uses results of the National Student Survey for calculating teaching quality percentage.
The University of West London stands as a beacon of excellence in the realm of higher education. Not only is it renowned for its superior education quality, but it also intricately ties its academic offerings to real-world employment prospects. This dynamic approach ensures that students are theoretically prepared and equipped with practical skills essential for the modern workplace.
Driven by a mission to mould students into innovative professionals, the university creates an environment where creativity, critical thinking, and hands-on experience are deeply valued. This fusion of theoretical and practical learning methods encourages students to push boundaries and think outside the box, preparing them to be trailblazers in their respective fields.
The University of St Andrews is one of the world's most venerable educational institutions. Its longstanding tradition of academic excellence dates back centuries, making it a storied pillar in the annals of global academia.
The university's prestige is further amplified by its commendable achievement of securing the 'University of the Year' title from the Times University Guide not just once but twice. Such accolades underline its consistent dedication to imparting top-tier education.
St Andrews isn't just about historical significance or laurels; it's about the living testament of its current student body. The students at St Andrews consistently express immense satisfaction with their academic journey, making them among the most contented scholars in the UK.
Aberystwyth University, nestled in the heart of Wales, is a testament to consistent academic excellence and unparalleled student engagement. Its commendable achievement of being recognized as the leading university in Wales for student satisfaction for a remarkable five consecutive years is no small feat. This consistent recognition illuminates its unwavering commitment to fostering an environment where students feel heard, supported, and empowered.
Further amplifying its accolades, Aberystwyth University proudly wears the Gold-standard badge from the Teaching Excellence Framework. This distinction underlines the university's dedication not just to impart knowledge but to do so with an exceptional standard of teaching that resonates with, and benefits, every student.
Bishop Grosseteste University, nestled in the heart of the UK, is a beacon of academic distinction. Renowned for its student satisfaction, it offers more than just a traditional educational experience; it promises a journey where individual growth, both academic and personal, is at the forefront.
One of the standout features of Bishop Grosseteste University is its intimate, close-knit community setting. Unlike vast, sprawling campuses, this university cherishes the benefits of a smaller environment. It's a place where faces become familiar, educators know students by name, and learning transcends classroom boundaries.
St Mary's University, Twickenham, stands as a paragon in higher education, deeply committed to imparting knowledge and doing so with a pedagogical excellence that ensures positive student outcomes. This commitment is manifested in the effective teaching practices they employ, tailored to foster holistic student development and guarantee academic proficiency.
Hartpury University has made a remarkable mark in the realm of teaching quality. As evidence of its outstanding commitment to educational excellence, the university was ranked number one in the UK for its lecturers and teaching quality based on student feedback, as highlighted at the Whatuni Student Choice Awards in 2022.
This commendation is further supported by The Times and Sunday Times Good University Guide for 2023, where Hartpury secured the 6th position in the entire UK for teaching quality. Notably, it proudly holds the top spot in the South West region.
Plymouth Marjon University has carved a distinctive niche for itself in the sphere of higher education, gaining recognition for its exceptional teaching quality and unmatched student satisfaction. Based on prominent academic evaluations from the WhatUni Student Choice Awards and The Times and Sunday Times Good University Guide, Plymouth Marjon University stands out, ranking fourth in the UK for its promising career prospects and sterling education.
Wrexham Glyndwr University stands as a beacon of excellence in the realm of higher education, with its distinctive focus on teaching quality and ensuring an unparalleled student experience.
A significant aspect of this student-centric approach is the proactive support tutors at Glyndwr offer. The accessibility and assistance they provide are pivotal in creating a nurturing academic environment, greatly contributing to the university's stellar satisfaction ratings.
London Metropolitan University is deeply committed to academic excellence and continuous improvement, as underscored by its Strategic Plan. A key component of this commitment is the university's unwavering dedication to upholding internationally acknowledged benchmarks that ensure the highest teaching, learning, research, and knowledge exchange standards.
London Metropolitan University employs a systematic and timely approach to quality assurance to ensure consistent and exceptional quality.
Robert Gordon University (RGU) stands as a beacon in vocational education, priding itself on a contemporary and highly relevant curriculum to the ever-evolving job market. This dedication has been instrumental in fostering a strong graduate employability record, with RGU consistently finding itself among the UK's elite institutions in this domain.
Study in the UK
Are you interested in studying in the UK? If so, arrange a free consultation online or in-person with SI-UK in Delhi, Mumbai, Bangalore, Chennai, Pune, Coimbatore, Hyderabad, Ahmedabad, Jaipur and Lucknow today.
UK Teaching Quality FAQ
Which city in the UK has the best education system?
The UK is home to numerous cities with strong educational infrastructures. While Oxford and Cambridge are traditionally associated with academic excellence due to their world-renowned universities, cities like London, Edinburgh, and Manchester also host multiple top-tier institutions. The "best" education system can vary based on specific metrics or fields of study.
Where can I study teaching in the UK?
For prospective teachers, courses typically culminate in a Postgraduate Certificate in Education (PGCE). Some of the prominent institutions offering PGCE and other teaching qualifications include the University of Cambridge, University College London (UCL), and the University of Manchester, among others. It's advisable to research individual university offerings and accreditations to find the best fit for your aspirations.
Which university ranks the happiest students in the UK?
In recent years, institutions like Loughborough University and the University of St Andrews have been noted for high levels of student satisfaction.