The UK is widely regarded as one of the best countries in the world for studying unique and rewarding Performance Arts degrees in subjects such as drama, theatre and acting. In a highly competitive but creative field, pursuing an undergraduate degree in Drama can be a challenging but rewarding labour of love.
With the main focus of learning by doing, you will study a combination of theory and practice in order to develop both knowledge and skills when studying Drama in the UK. Studying Drama at UK universities will teach you how to communicate with an audience through performance and educate you in the history of drama and acting.
Moreover, talented and qualified professionals in Performing Arts such as Drama are in demand in the UK and are even mentioned in the latest UK Shortage Occupation List.
Learn about studying drama and theatre at the best UK universities and conservatoires below (Guardian University Guide 2023), or start your application by arranging a free consultation with SI-UK India today.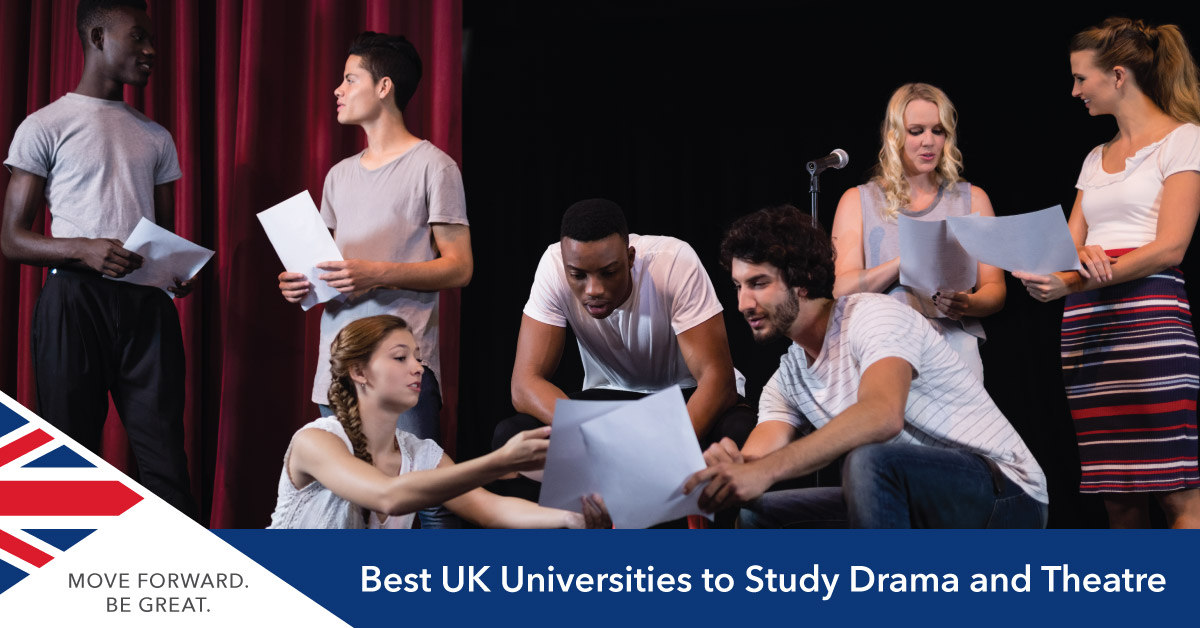 Top Five Universities for Studying Drama in the UK
Below are some of the best Drama schools in the UK offering popular drama and theatre programmes according to the latest Guardian University Guide Rankings.
1. University of Exeter
The University of Exeter is one of the UK's top modern universities with a strong focus on employability. Studying Drama at Exeter will give you hands-on practice-based learning offered by active performing practitioners in the field. You will be trained to work as actors and performers with touring companies, creative artists and directors. the University has a 98% student satisfaction rate for Drama studies and has links to international festivals, offering the chance to perform at them as part of your studies.
2. University of West London
Located in the heart of the UK's vibrant and cosmopolitan capital, the University of West London is home to one of the leading drama departments in the country.
The school offers quality professional training from leading international practitioners and access to industry links post-training. At West London University you will enjoy a strong focus on craft, attention to individual student development, interdisciplinary collaboration and superior performance facilities.
3. Royal Conservatoire of Scotland
The Royal Conservatoire of Scotland consists of world-leading professionally experienced staff and offers a supportive and nurturing environment. It offers a range of undergraduate degree programmes in drama and you will get to learn the theories of acting as well as the techniques and skills needed to become a technically strong actor, performer and writer.
4. University of Warwick
Ranked in the top 15 in all major UK league tables, the University of Warwick offers drama and acting programmes that are designed to nurture talent and provide a mix of practical and theoretical knowledge. You will get to study innovative 20th and 21st-century theatre and will gain knowledge of the history and different modes of acting. You will develop creative and critical skills that will make you highly attractive to a range of employers.
5. University of Essex
The University of Essex offers an environment of creative and technical excellence where you are encouraged to push your artistic boundaries. With strong industry links and ongoing relationships with a large number of experienced practitioners in the field, you will enjoy drama school-level training aimed at moulding you into a versatile performer and launching your career. With an emphasis on practical experience, you will be taught through intensive technical training, extensive studio time, collaborative projects and performance opportunities.
Suggested course: BA Acting
Careers in Drama
Drama graduates find all manner of stage and TV work. Apart from the Performing Arts, other industries in which they usually find employment are arts administration, welfare and tourism.
Besides working as artists in films, tv shows and theatre and musicals, drama graduates can work as tv presenters and drama therapists or teach in theatre academies and as subject teachers in regular schools. Freelancing is common in this profession and strong networking is required to find good employment opportunities and stand out in the crowd.
Study Drama in the UK
Turn your passion into your profession by studying Drama in the UK. Book a free consultation today to connect with our expert consultants and enquire about Drama courses, entry requirements, scholarships, post-study work visas and more.
Related Articles