Interior design involves creating aesthetically pleasing, functional and safe indoor spaces by determining space requirements and selecting appropriate decorative and utility based items. It requires a good understanding of spaces and how to optimise them using colour, lighting, materials and furnishings and interior designers have to work in close contact with architects and civil engineers.
Interior design as a profession has gained a lot of popularity in recent times and is being taken more seriously now than ever before with several countries and top companies now hiring interior designers based on a licence, degree or formal education in the subject.
UK universities hone creativity and offer rigorous training as well as valuable work opportunities to set students up for success. If you are interested in becoming an interior designer, you must consider studying in the UK, which has some of the best interior designing colleges in the world.
Learn about the best UK universities for studying interior design below and book your free consultation to apply with SI-UK India today.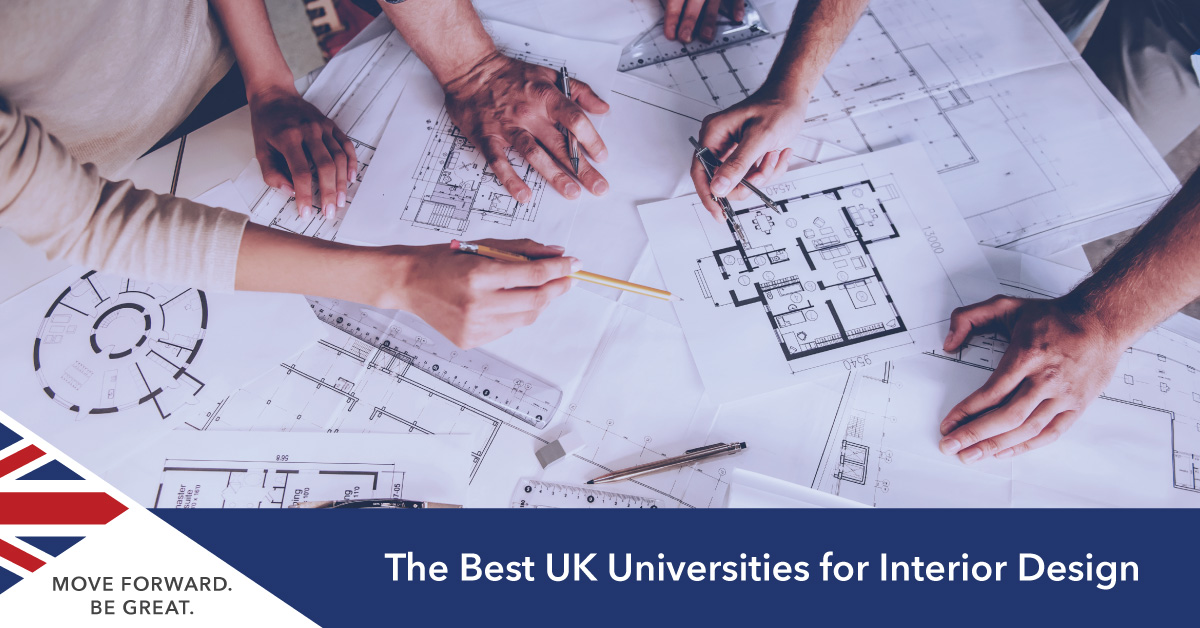 Best Interior Design Colleges in the World
1. Royal College of Art
Royal College of Art is a wholly postgraduate art and design institute that ranks topmost in the UK for Art and Design. The MA in Interior Design challenges students to formulate critically independent responses to conceptualising and working on interiors.
With studio and workshop oriented studies, live projects to work on and a practice mentor, the course promises to make students industry-ready.
2. University of the Arts London
University of the Arts London is a leading provider of creative courses in performance arts, photography and interior design. The BA (Hons) Interior Design offered at the university's Chelsea School of Arts works in partnership with key individuals and organisations in the design industry.
The wide ranging programme is recognised by the Chartered Society of Designers and involves working on live projects.
3. Glasgow School of Art
The prestigious University of Glasgow's Glasgow School of Art offers undergraduate and postgraduate interior design programmes that are highly rated by collaborators and employers in the UK. The BA (Hons) Interior Design programme promotes both a critical and creative outlook and focuses on exploring the many ways of creating and defining interiors.
4. Goldsmiths, University of London
The Department of Design at Goldsmiths, University of London promotes a thoughtful and experimental approach to design practice. The internationally reputed BA (Hons) Design inspires students to explore the possibilities of design and discover how it affects the environment as a whole. Students will get to work on live briefs and present their work to design professionals for real insight.
5. Loughborough University
Loughborough University's Design School ranks first in the UK for creating the most employable design graduates. The BA (Hons) Design degree is interdisciplinary, including the design of products and spaces.
A creative and intellectually stimulating course, it allows students to make individual judgements and take creative risks and students can benefit from an additional optional placement year during their studies.
6. University of Oxford
The historic and internationally reputed University of Oxford is a leading provider of courses in several subjects and design is one of them. An interesting course offered at the university is the MSt in the History of Design which is a two year postgraduate part-time degree.
The focus is on studying design produced worldwide since 1851 amidst the advent of modernity by examining a variety of forms of design including the designed space of interiors, the built environment and landscape.
Study Interior Design in the UK
Study in the best colleges for interior design in the UK to make a successful career out of something you're passionate about. Arrange your free consultation to connect with our expert consultants today and enquire about programme details, entry requirements, scholarships, post-study work visa and more, in some of the best interior design schools in the world.