When you study English literature, you dive into a world of creativity and imagination. It not only helps you develop crucial skills for today's global society but also sparks inspiration for positive change and new ideas. Through studying English literature, you gain a deeper understanding of our world in all its social, political, economic, and cultural aspects. Stories, novels, poems, and plays become our tools to explore and comprehend the world around us.
Those who assume that English literature is less significant than STEM subjects have failed to understand literature's potential to enlarge and enhance our own minds. And studying English literature in the country where the language was born will help you to understand and excel in the subject like no other place in the world.
Keep reading to learn about the top 5 universities for studying English Literature in the UK (Guardian University Guide 2023) or book a free consultation with SI-UK India today to begin your application.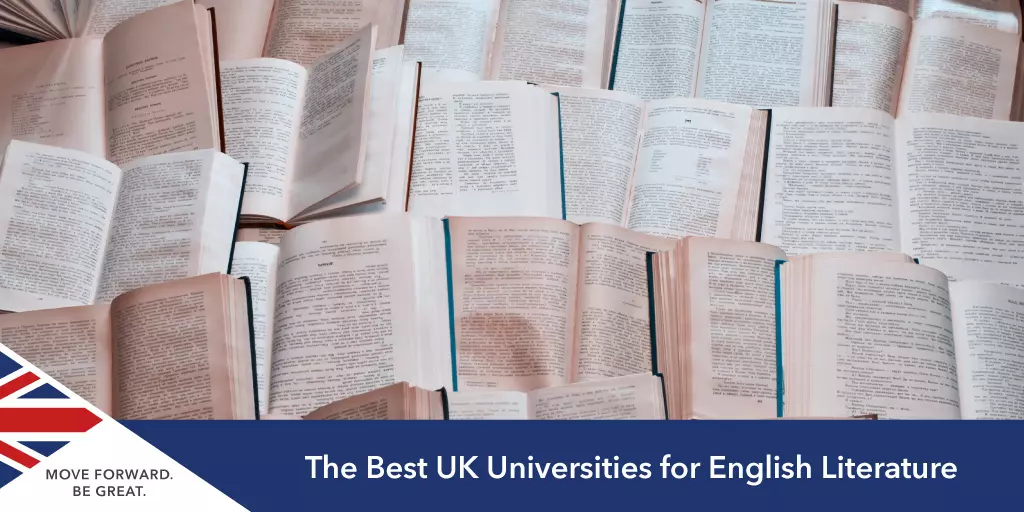 Top Five UK Universities for English Literature
The BA (International Honours) at St Andrews is a unique four-year undergraduate degree that combines Scottish and American educational approaches. The School of English at St Andrews University provides instruction on writing in poetry, prose, drama, and creative writing, spanning from Old English to the present.
The departments have distinct focuses, although there are shared interests between St Andrews and William & Mary, such as Romantic and Victorian literature, Shakespeare, and Jane Austen. William & Mary excels in American literature, including specialised strands like African American literature. On the other hand, St Andrews specialises in Scottish and Irish writing, offering research-led teaching on a wide range of classic and innovative topics.
Generally, the American component of the degree encompasses broader subjects, while the British side delves deeper into specialised studies during the latter two years of the program.
The English Language and Literature course at Oxford University offers a diverse and comprehensive curriculum. Students explore English writing from its earliest roots to the present, including works from around the world and texts in other languages.
The English literature course allows flexibility, with options to specialise in areas such as literature and revolution, postcolonial literature, and film criticism. Studying literature at Oxford involves developing advanced reading skills and understanding literary form and technique within broader contexts.
The English Faculty at Oxford is the largest in the UK, providing personalised tutorials and access to exceptional library resources, including the renowned Bodleian Library. Alternatively, you can specialise in Medieval Literature and Language, covering English literature from 650-1550 and the history of the English language up to 1800. You'll also choose a special options paper and write a dissertation on a topic of your choice.
English literature studies at Durham provide students with a solid foundation in the classic works of English literature, from Chaucer to contemporary pieces, while also exploring innovative and research-driven modules.
The comprehensive English literature syllabus in the UK combines traditional and emerging areas of literary study, fostering your analytical and conceptual abilities through exposure to diverse literary-critical approaches. This cultivates clarity, persuasiveness, and the development of subject-specific and transferable skills. You have the option to enhance your degree by applying for a placement year or a year abroad, extending the course to four years.
Cambridge University's English literature course offers a balanced approach, combining a solid foundation in English literature with opportunities to explore other art forms and intellectual traditions. Renowned critics and thinkers guide students, providing expertise in various aspects of literature and fostering critical thinking, scholarly rigour, and exceptional writing skills.
Students can access extensive resources, including the University Library and the Faculty Library, housing a vast collection of books, computer facilities, skills training, and a welcoming environment. The modern faculty building features a drama studio and garden, enhancing the learning experience. Many English students engage in creative writing, journalism, and the performing arts outside of academics, further enriching their time at Cambridge.
Pursuing an English Literature degree at Warwick will ignite your lifelong passion for reading and writing, nurturing it into an expert knowledge of literary culture. Whether your interests lie in ancient texts, contemporary works, or everything in between, you can shape your degree accordingly.
As an English student at Warwick, you'll have the exciting opportunity to spend your third year at one of Warwick's esteemed partner institutions in the USA, Europe, China, Australia, or Japan. Upon returning to Warwick, you'll complete your final year of study. If you're in your second year at Warwick, you can also apply to transfer to the four-year course, contingent upon availability of places through the University's International Office.
Study English Literature in the UK
Contact SI-UK if you want to learn more about studying English literature in the UK, or book a free consultation with SI-UK India today to begin your application for the upcoming intake.