Law and finance (or financial law) is an interdisciplinary field of study that combines legal and financial knowledge. It aims to prepare students to navigate the complex legal and financial systems that govern modern business and finance and involves understanding the legal frameworks that shape financial markets and transactions and the economic principles underpinning corporate decision-making. Topics covered may include corporate law, securities regulation, banking law, financial derivatives, and risk management.
A finance master's can be pursued at both the undergraduate and postgraduate levels, with many universities offering specialised programmes in the field. Graduates of law and finance MSc programmes may work in various industries, including banking, finance, consulting, and law. They may also pursue careers in academia or government.
Learn more about the best law and finance MSc courses in the UK below (Guardian University Guide 2023) and begin your application to study a finance master's by arranging a free consultation with SI-UK India.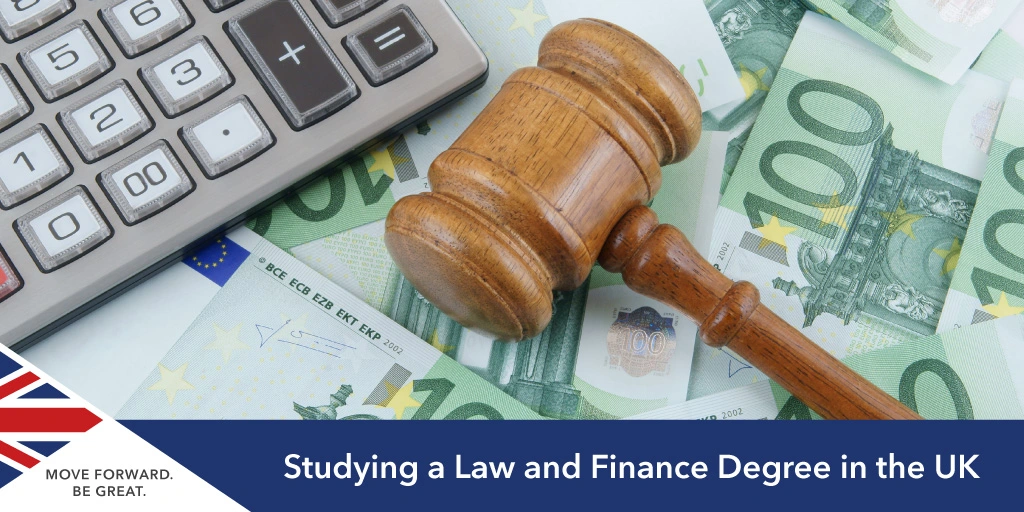 Best Universities for Law and Finance MSc in the UK
The University of Cambridge's Master of Commercial Law is a highly flexible and diverse nine-month master's programme aimed at students interested in pursuing further legal studies in corporate law. The MCL has a combination of academic rigour and flexibility, allowing students to tailor their course selection to their specific requirements. Students are required to take a combination of full-year courses and one-term modules during the academic year.
The course focuses on the legal and economic structuring of corporate transactions. In addition, students select one full-year LLM paper from a variety of corporate papers on offer, such as Corporate Finance, Corporate Governance, and International Financial Law. Along with these full-year papers, students also take four one-term MCL-specific modules, usually two in the Michaelmas Term and two in the Lent Term, which allow students to study specialist areas of corporate law such as shareholder litigation and international merger control.
The Law and Finance MSc at the University of Oxford is a highly regarded programme that blends the disciplines of law and finance, providing students with a comprehensive understanding of the intersection of these two fields. The programme is designed for individuals seeking careers in corporate law, banking, private equity, asset management, and financial regulation.
The law and finance MSc programme focuses on topics such as corporate finance, financial markets and regulation, securities law, and corporate governance, among others. The curriculum is taught by faculty members from both the Faculty of Law and the Saïd Business School, ensuring that students receive a well-rounded education.
Throughout the programme, students are encouraged to engage in critical thinking and analysis and to apply the knowledge and skills they have gained to real-world scenarios. Students also have the opportunity to participate in various activities, including industry visits, guest lectures, and moot courts, which provide practical experience and help prepare them for their future careers.
The International Financial and Commercial Law LLM/PG Dip/PG Cert programme offered by The Dickson Poon School of Law is an online postgraduate course that provides students with a comprehensive understanding of financial and commercial law, and the skills and analytical tools necessary to apply and analyse the law critically. The programme covers key financial and commercial law areas, such as global trading, free flow of capital and investments, financial regulation, emerging market actors, financial products, and trading techniques.
The course is designed for individuals who wish to pursue a career within financial or commercial law or people working in finance and business whose role has a legal focus. Students will benefit from the world-renowned teaching of King's College London and learn alongside world-leading academics and lawyers with decades of experience. Upon completion of the programme, students will have an in-depth understanding of the legal structures that govern our financial world and be well-equipped to pursue a career in financial or commercial law.
The University of Glasgow offers a Master's degree in Corporate and Financial Law for students interested in furthering their legal studies in the area of corporate and financial law. The programme provides students with the skills and knowledge necessary to understand and analyse the complex legal and regulatory environment in which corporations and financial institutions operate. The programme consists of compulsory and optional courses covering a wide range of topics, including company law, securities regulation, banking law, and international finance law.
The faculty members are experts in the field of corporate and financial law and are actively involved in research, providing students with up-to-date knowledge and insight into the subject matter. Students can choose their courses, allowing them to tailor their studies to their individual interests and career goals. They can also engage in independent research and gain practical experience through a variety of methods, including internships, clinics, and moots.
The LLM in International Trade and Commercial Law offered by Durham University is a postgraduate course that allows students from different backgrounds to develop their knowledge and skills in trade and commercial law. The programme focuses on international aspects of trade and commercial law. The course structure comprises one core module, Applied Research Methods in Law, and several optional modules, ranging from competition law to international investment law. Students can select the modules according to their interests and career aspirations.
The internationally-oriented law and finance master's programme is taught through a mix of lectures, seminars, and tutorials. The course also requires students to write a dissertation on a topic of their choice, which allows them to pursue independent research under the supervision of an expert in the field. The School of Law is also home to the Institute of Commercial and Corporate Law, which provides additional opportunities for students to participate in activities related to their field of study. The university has students from different countries and academic backgrounds, making it a diverse and enriching learning experience.
Study Law and Finance MSc in the UK
If you want to study Law and Finance LLM in the UK, arrange your free consultation today.