Studying public health in the UK provides an excellent opportunity to delve into a broad range of health-related topics, including health promotion, health policy, disease prevention, global health issues, and health systems. Public Health courses offer a comprehensive understanding of public health principles, including epidemiology, health promotion, health protection, and health services research and management.
For Indian students, undergraduate course fees generally range between £14,000 and £38,000 per year, depending on the university. For postgraduate courses, international students might expect to pay between £15,000 and £30,000 per year.
Learn more about the best public health courses in the UK below (Guardian University Guide 2023), or book a free consultation with SI-UK India today to begin your application.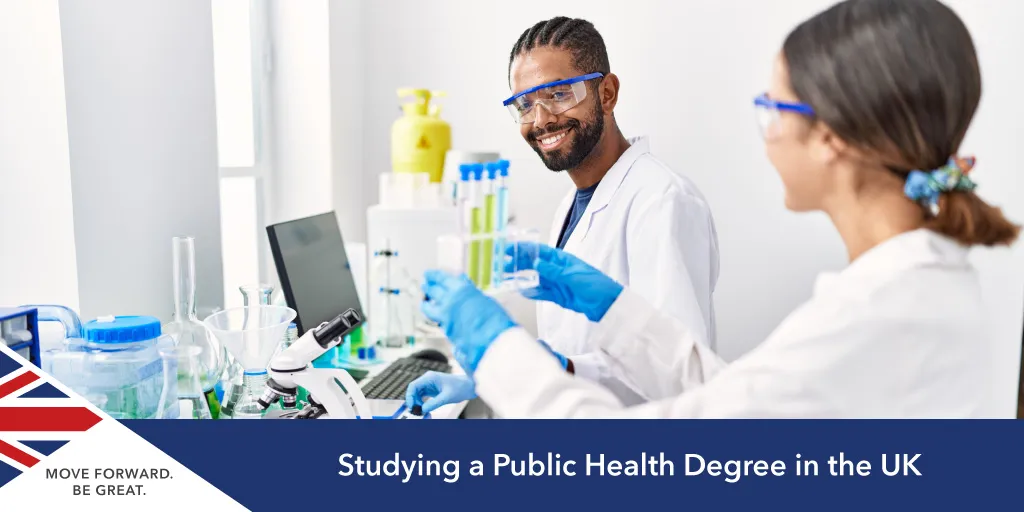 Top 10 Universities for Studying Public Health in the UK
The University of Strathclyde's PhD in Public Health and Health Policy course provides a comprehensive research environment that delves into theoretical insights, assesses public policy impacts, scrutinises social health determinants, and explores health promotion strategies.
The Strathclyde Doctoral School, boasting expertise in mental health, health inequalities, and health communication, fosters a student-centred research environment. The course enhances the student experience through extensive training and support, cultivating the research talents necessary for postgraduate researchers.
The Master of Public Health (MPH) degree at Aston University provides an in-depth understanding of diverse public health strategies, preparing students for thriving careers. The master's in public health course is a fitting choice for existing public health experts and those wishing to enter the field, fostering skills essential for effectively steering healthcare teams and tackling global health issues.
Through interdisciplinary collaboration, students penetrate into local, national, and international public health issues, understand sociological consequences, and get to grips with health policies. Fundamental modules, including Research Methods, Epidemiology, and Health Promotion, offer a robust foundation, culminating in a dissertation project.
The University of Nottingham's Master of Public Health (MPH) empowers students with the blend of theoretical acumen and practical capabilities vital to making a mark in the field. The public health masters courses embrace a collaborative style, where students profit from the university's expansive alliances with organisations like Public Health England, WHO, and local governing bodies. Offering optional modules for flexibility, the public health course enables students to customise their learning journey aligning with their interests and career ambitions.
The public health course at Oxford Brookes University is open to students from both clinical and non-clinical backgrounds. The course's focus lies in enhancing community health and well-being. The course plunges into the nuances of individual biology, the influence of social and environmental factors on public health, and the collection and analysis of evidence for practical implications.
Students venture into a diverse range of research methods and policy formulation, addressing areas such as health promotion, leadership in public health scenarios, and contagious diseases. The course ends with a dissertation on a subject, for which students can pick a topic of their choice, exploring issues like empowering disadvantaged communities, combating childhood obesity, and assisting victims of intimate partner violence.
The MSc in Public Health at the University of Southampton provides a strong foundation in public health, empowering students to pursue careers as practitioners, researchers, or analysts. The course's core modules cover essential topics, including project development and evaluation, health behaviour change, epidemiological studies, and quantitative analytical techniques.
Optional modules allow students to specialise in areas like advanced statistics, global health, or health economics. The dissertation enables students to delve into a subject of their choice, addressing real-world challenges in public health, such as offender management, tuberculosis treatment, or well-being interventions for junior doctors.
Swansea University's MSc Public Health and Health Promotion (PHHP) course intervenes in theory and practice with a distinctive emphasis on health promotion. The course readies students to make meaningful contributions to public health services at local, national, and international levels.
The degree explores both medical viewpoints and the socio-economic factors influencing health. The curriculum aligns seamlessly with local, national, and global policies, thereby ensuring its relevance for students from diverse backgrounds and arming them with the skills and knowledge to thrive in the ever-evolving global health landscape.
The University of South Wales' MSc Public Health degree focuses on the negotiation, planning, implementation, and assessment of policy and practice initiatives. The course encompasses both theoretical knowledge and practical application and encourages a critical evaluation of ethical considerations and decision-making processes in public health.
Key modules cover diverse topics, including sustainable public health, leadership change, research methods, health protection in varied environments, epidemiology, biostatistics, and a hands-on public health project. Through on-campus health promotion activities and practical skills training, graduates are prepared to step into professionals equipped to influence public health policy and practice.
Coventry University's BSc (Hons) Public Health degree targets health discrepancies and inequalities at local, national, and global scales, readying students to design, launch, and assess effective health interventions for improved results. The course provides an exhaustive study into disease prevention, health enhancement, and health safeguarding strategies to tackle the rising challenges in public health.
Run by the Nuffield Centre for International Health and Development, the University of Leeds' Public Health (International) MPH programme offers public health specialists a complete understanding of worldwide health needs and strategies.
The course lays stress on a deep-seated understanding of pertinent techniques, including epidemiological and statistical research skills. A unique highlight of the course is the opportunity for participants to attend workshops and meetings with health-related UN and international organisations during a study trip to Geneva.
Leveraging a global student community and proficient tutors, the MBA in Public Health Management course at the University of Cumbria offers students the flexibility to learn at their own rhythm and according to their time zone. This flexibility enables professionals to further their studies without disrupting their ongoing careers.
With an emphasis on leadership and management theories, the online MBA course delves into essential domains, such as organisational behaviour, financial management, information management, and strategic management, culminating in a dissertation.
Public Health Courses in the UK FAQ
What universities are good for health and social care?
All MBBS (Bachelor of Medicine, Bachelor of Surgery) programmes in the UK are academically rigorous and challenging. However, some universities may have slightly lower entry requirements, making them potentially more accessible for certain students. Universities such as the University of Sunderland or the University of Central Lancashire have been known to have lower entry requirements compared to other institutions, but this should not be taken as a reflection on the quality of the course or the difficulty of the studies.
Which health courses are in demand in the UK?
The University of Oxford and Cambridge offer medicine courses that are well-respected worldwide, providing a theoretical foundation coupled with early clinical exposure. Likewise, the University of Cambridge's Medicine course offers a traditional curriculum with an emphasis on problem-based learning and clinical practice.
Other notable programmes include Imperial College London's MBBS/BSc Medicine, known for its integrated course structure, and University College London (UCL)'s MBBS Medicine, which has a strong focus on medical research and prepares students for a research-oriented career if they choose.
What is the number one medical school in the UK?
The University of Cambridge is the top-ranking university in the UK for medical studies. The university offers a robust programme that is both research-intensive and designed to equip students with the clinical skills necessary to excel in the medical field. The course combines pre-clinical studies, where students gain an in-depth understanding of the science of the human body, with clinical studies involving patient contact and practical experience from the very beginning of the course.
Which is the easiest MBBS in the UK?
Pursuing a degree in medicine requires dedication, rigorous academic work, and practical training. However, in terms of accessibility, some universities might have less stringent entry requirements than others.