Due to the range of courses available and high-quality teaching and research, the UK is one of the best places to study a pharmacology course in the world.
Those with a Bachelor's degree in pharmacology can find roles as junior research scientists, clinical trial coordinators, or regulatory affairs associates, to name a few. Typical starting salaries for Bachelor graduates usually range from £20,000 to £25,000 annually, though this can vary based on location and company. Master's graduates, with their advanced knowledge, are well-suited for roles such as pharmacologists, biotechnologists, or even lab managers. Their enhanced qualifications often bring in higher salaries, with average starting figures from £25,000 to £30,000 and the potential to increase considerably with experience. Some of the top pharmacology recruiters in the UK are:
GSK (GlaxoSmithKline)
AstraZeneca
Pfizer
NHS (National Health Service)
MHRA (Medicines and Healthcare products Regulatory Agency)
Learn below more about the best-ranking pharmacology courses in the UK (Guardian University Guide 2023) below or book a free consultation with SI-UK India today.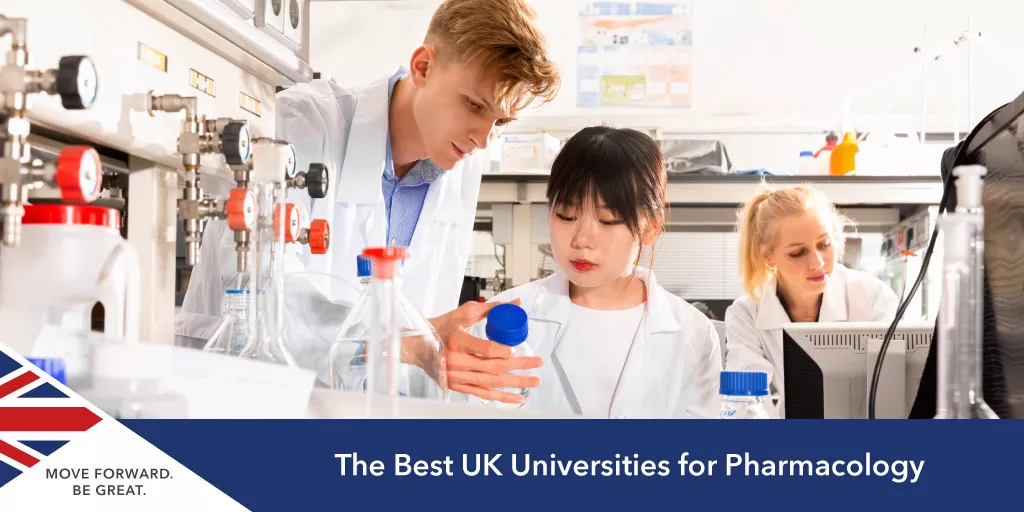 Top 10 Universities for Studying a Pharmacology Course in the UK
Immerse yourself in cutting-edge teachings encompassing drug discovery to development and precise formulation, all while studying MSc Pharmaceutical Sciences at Ulster University. This rigorous course offers a range of diverse elective modules to tailor your expertise. After completing your master's in pharmacology courses from Ulster, you'll not only formulate astute hypotheses but also masterfully manage research projects and discerning data.
Course to consider: Pharmaceutical Sciences - MSc
Entry requirements: A honours degree in subjects such as pharmacy, pharmaceutical sciences, pharmacology, biochemistry, biotechnology, chemistry, biomedical sciences or in a course with significant amounts of chemistry and biology.
International fees: £15,840
The pharmaceutical sciences courses at the University of Lincoln focus on comprehensive drug discovery, development, and management education. The BSc degree in pharmacology aims to equip students with the necessary skills so that they can spearhead transformative changes in healthcare and shine in the pharmaceutical and biotechnology sectors. Dive deep into the intricacies of drug structure, learn about their effects, master research techniques, and uphold the highest regulatory standards.
The curriculum comprises multiple practical sessions and elaborate lectures from industry experts to equip students with solid industry connections and knowledge that they can use to address real world healthcare challenges.
Course to consider: BSc (Hons) Pharmaceutical Science
Entry requirements: A Level: BBC, to include a minimum grade C in biology, chemistry or physics (112 UCAS Tariff points from a minimum of 3 A Levels or equivalent). International Baccalaureate: 29 points overall to include higher level grade 4 in biology, chemistry or physics.
International fees: £16,200
Developed alongside industry experts, the BSc in Clinical Pharmacology at St George equips students for the professional realm, emphasising leadership, communication, and academic honesty. Real-world applications enhance learning through case analyses and hands-on tasks. In their second year, students benefit from a six-week industry placement, courtesy of affiliations with entities like the British Pharmacological Society and leading pharmaceutical firms. Additionally, they undertake a comprehensive six-week research project.
Course to consider: BSc Clinical Pharmacology
Entry requirements: A-level: BBB. International Baccalaureate: Overall score of 32 and 15 points at Higher Level, including a minimum grade of 5 in biology or chemistry.
International fees: £19,250
The University of Portsmouth pharmacology course delves into the impact of drugs on living organisms. With state-of-the-art facilities, you'll enhance your grasp of chemistry and biology, exploring how substances, from painkillers to caffeine, influence the body. While studying the pharmacology degree at Portsmouth, you will be working alongside researchers tackling diseases like Cancer, Alzheimer's, and Asthma at high-tech laboratories.
Course to consider: Pharmacology BSc Hons
Entry requirements: ABB-BBC in A levels, with biology or chemistry and other science subjects or mathematics. IB score of 31.
International fees: £18,900
The BSc (Hons) Pharmacology degree at NTU boasts accreditation from the Royal Society of Biology, signifying its relevance and esteem within the industry. Dive deep into the drug discovery journey, enriched by guest lectures from industry experts, including esteemed NTU pharmacology graduates, and hands-on sessions reflecting real-world pharmaceutical assays. Beyond invaluable practical insights, you'll earn a distinct qualification endorsed by the UK Government, addressing the gap in pharmacological proficiency.
Course to consider: Pharmacology BSc (Hons)
Entry requirements: 112 - 120 UCAS Tariff points from up to four qualifications, including A-level equivalent biology grade C.
International fees: 16,500
The BSc in Pharmaceutical Sciences at Queen's University Belfast aims to mould the forthcoming wave of pharmaceutical scientists skilled in every phase of drug development, working collaboratively in research teams.
While studying for your bachelor's degree in pharmaceutical science at Queen's, you will dive deep into drug discovery, formulation, and the creation of small molecule medicines while exploring innovative research set to influence future pharmaceutical endeavours. The School of Pharmacy at Queen's boasts exemplary teaching and a renowned international research reputation. With top-notch facilities, the School is complemented by well-furnished labs spanning pharmaceutical engineering, analytics, molecular biology, advanced microscopy, and microbiology.
Course to consider: BSc Pharmaceutical Sciences
Entry requirements: A level - BBB including biology and chemistry + GCSE mathematics grade C/4. International Baccalaureate Diploma - 32 points overall, including 6,5,5 at Higher Level, including chemistry.
International fees: £23,100
The University of Glasgow's MSc in Pharmacology degree is among the few UK postgraduate courses that dive deep into clinical pharmacology, positioning you to consider a career in this field. During this course, your practical skills in molecular methods and genomic literature interpretation equip you to devise personalised patient care plans.
Accreditation from the Royal Society of Biology helps you partially fulfil the criteria for Membership and Chartered Biologist (CBiol) status. Get equipped with the foundational knowledge of molecular and population genetics relevant to pharmacogenetics and gene therapy.
Course to consider: MSc in Clinical Pharmacology
Entry requirements: A 2:1 Honours degree or equivalent in your subject.
International fees: £27,930
Cardiff's BSc Medical Pharmacology offers a profound understanding of bioactive compounds, especially those vital for treating human ailments. Such comprehensive training equips you with capabilities sought after in both academia and broader industries, suitable for biomedical research and product creation roles.
Students can opt for the extended four-year course, incorporating a Year 3 Professional Placement Year (PPY). Upon completion, graduates can delve into diverse career paths. While many proceed with advanced research training in academia or the private sector, others venture into the pharmaceutical realm or other biomedical disciplines.
Course to consider: Medical Pharmacology (BSc)
Entry requirements: A level - AAB-ABB. Must include chemistry and one other science subject from biology, maths, physics, or statistics. International Baccalaureate 34-32 overall or 666-665 in 3 HL subjects.
International fees: £25,450
The Cancer Pharmacology MSc at Bradford offers insights into cancer's molecular facets, and novel 'target-oriented' therapeutic interventions have emerged. These are distinct from traditional chemotherapy and offer the potential for personalised cancer treatments tailored to individual tumour profiles. Cancer pharmacology, pivotal in drug evolution, has adjusted to modern drug development by employing experimental models and target-centric strategies.
This course furnishes a cutting-edge curriculum in contemporary cancer pharmacology, aligning with employer needs and offering insights into existing cancer medicines and emerging therapies.
Course to consider: MSc Cancer Pharmacology
Entry requirements: An undergraduate honours qualification (minimum 2: 2) or equivalent in a scientific discipline, usually within chemistry, biology, pharmacy, biomedicine, or related fields.
International fees: £23,028
The University of Sunderland Pharmacy course starts with a comprehensive foundation in core pharmaceutical and biological sciences. As you progress, you'll progress into specialised areas such as medicinal chemistry, pharmaceutics, therapeutics, clinical management, and patient-centric clinical skills.
Spanning across four years, this course culminates in a Master of Pharmacy degree. The MPharm remains the sole UK undergraduate pathway to professional pharmacist registration, a crucial profession. Data from the General Pharmaceutical Council (GPhC) consistently ranks the University of Sunderland among the top-tier Pharmacy Schools based on the National Registration Assessment outcomes.
Course to consider: Pharmacy MPharm
Entry requirements: A Levels include chemistry and one other science subject at Grade B or above, excluding general studies
International fees: £14,000
Study Pharmacology in the UK
If you want to study Pharmacology in the UK, arrange your free consultation today. Remember the Premium Service will guarantee you at least one offer from a UK university!
Pharmacology Course FAQ
What is pharmacology?
Pharmacology is the branch of science concerned with the study of drug action, where a drug can be broadly defined as any man-made, natural, or endogenous molecule that exerts a biochemical or physiological effect on the cell, tissue, organ, or organism.
What is the study of pharmacology?
The study of pharmacology revolves around understanding how drugs interact with our bodies and how our bodies respond to those drugs. It explores the sources, chemical properties, biological effects, and therapeutic uses of drugs.
What is the best way to study pharmacology?
The best way to study pharmacology is through a combination of theoretical learning and practical experience. This includes attending lectures, reading textbooks, engaging in laboratory experiments, and discussing case studies. Regular revision, using flashcards, mnemonics, and real-world applications, can also be beneficial.
What qualifications do I need to study pharmacology?
To study pharmacology at the undergraduate level, you typically need A-levels or equivalent qualifications, preferably in sciences like biology and chemistry. For postgraduate studies, a relevant bachelor's degree is generally required. Individual universities may have specific entry requirements.
Is pharmacology a useful degree?
Pharmacology provides a deep understanding of drug actions and interactions, essential for numerous careers in research, medicine, drug development, regulatory affairs, and more. With the continuous quest for new medicines and understanding of drug effects, skills gained from a pharmacology degree remain in high demand.