Travelling abroad, especially for higher studies, often serves as the first encounter with managing finances for many young individuals. However, many students find themselves ill-equipped to handle their own finances effectively.
Regardless of the city you choose to live in, managing your money effectively is crucial, as living expenses in the UK can be overwhelming if you don't keep a close eye on your finances. Like any other skill, financial literacy can be learned, and it brings with it long-lasting advantages.
Learn below more about the best money-saving tips for international students while living in the UK, or book a free consultation with SI-UK India today.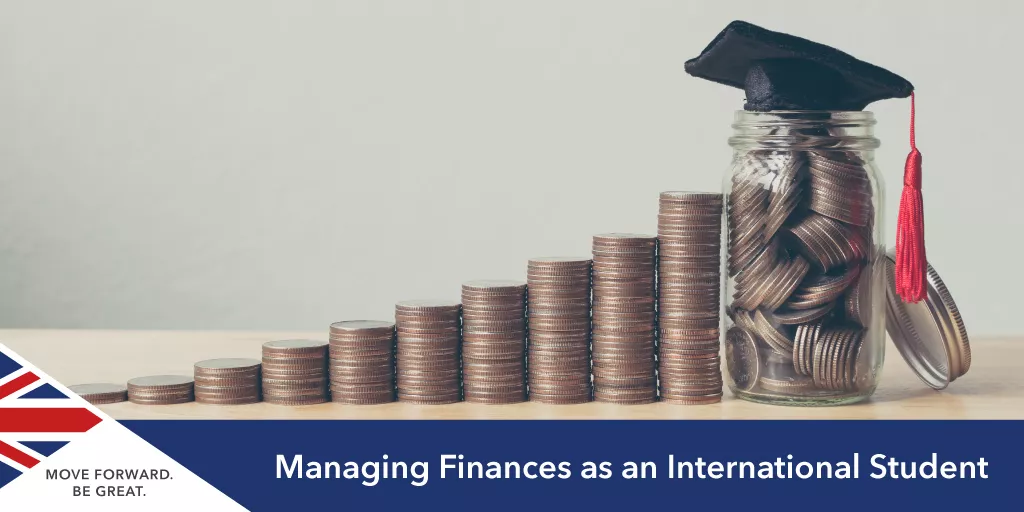 8 Easy Ways To Manage Finances As A Student In The UK
1. Make A Budget
Studying abroad can be expensive, especially as an international student in the UK. One of the simplest and most effective things a student can do to gain control over their financial lives is to create a spending plan. This will help you understand how much money you have available and allocate it wisely. Consider your tuition fees, accommodation costs, transportation expenses, groceries, textbooks, and other necessities.
Be realistic about your spending habits and identify areas where you can cut back to save money. There are many apps available for the tech-savvy that make tracking your spending habits easy.
However, having a budget does not mean you need to be stressed about it all the time. It's important to stay calm and avoid getting overwhelmed by financial matters. If you need to adjust your spending habits, consider it a thrilling achievement rather than a disheartening reality. Embrace the satisfaction of sticking to a budget and making wise choices with your money.
2. Research and Plan
Getting ready to study in the UK as an international student involves doing your homework and making plans. From finding affordable flights and suitable places to stay to explore different neighbourhoods, thorough preparation sets the stage for a successful and enjoyable adventure.
Doing thorough research on airfare options is vital. By comparing prices, looking for deals or discounts, and booking your flights ahead of time, you can save a lot of money while still ensuring convenience and affordability. Most airlines have a loyalty program, and the points collected could be used towards future flights.
While researching various accommodation options, it's important to consider factors such as location, amenities, rental costs, transportation accessibility, safety, and proximity to essential facilities and your university. Your choice between staying in Halls of Residence or off-campus will depend on your priorities and preferences. Shared accommodation is often more affordable, but it also entails additional responsibilities such as paying utility bills.
By planning in advance, comparing costs and making informed choices, you can find a living arrangement that fits your budget and potentially negotiate better terms.
3. Cook at Home
Eating out often gets pricey, so try cooking meals at home instead. Plan your grocery shopping, prepare your own meals, and pack lunches when you can. Cooking at home saves money, lets you manage your diet, and gives you control over nutrition. Look for cheap and healthy recipes, buy ingredients in bulk, and cook with friends to split the costs. Also, check out local markets and supermarkets for discounts on fresh food. By cooking at home, you'll cut down on food costs while staying healthy.
4. Local Bank Account
When you arrive in the UK, make sure to open a local bank account. It will simplify managing your finances, receiving payments, and paying bills, while also saving you from exchange fees and other expenses. Research different banks, compare their services and fees, and consider student account options that offer perks like lower fees, overdraft facilities, and rewards.
5. Supplement Your Income
Another way to manage your living expenses in the UK is to explore scholarships, grants, and part-time work opportunities. There are numerous UK-specific scholarship and grant opportunities for international students to reduce tuition fees and cover expenses. Research and apply for scholarships aligned with your field, background, or achievements well in advance to secure financial aid.
You could also supplement your income and gain work experience by working part-time while studying. Utilise university job portals and career services to find flexible opportunities on or off campus. However, do keep in mind that international students may have limitations on working hours during term time, so familiarise yourself with regulations.
6. Get Thrifty
Unlocking the secrets of thrifty living in the UK is like discovering a superpower that allows you to make every penny count. With savvy saving tips and smart spending tricks, you can stretch your budget further and enjoy a wallet-friendly student life. Here are some ways you can make the pound go further.
Save money on textbooks by buying secondhand or used books, or consider digital copies.
Join a library to access a wide range of books for free.
Opt for local transportation or rent a bicycle to save on transportation costs.
Take advantage of sales and use your student card for discounts on your purchases.
Support community stores for affordable and unique shopping options.
Explore free activities such as museums, parks, and cultural events to have fun without spending money.
7. Don't Forget Insurance
Having insurance coverage is crucial for international students in the UK. It provides financial security and peace of mind, allowing you to focus on your studies and enjoy your time abroad. Insurance safeguards you against unexpected medical expenses, travel-related incidents, loss of belongings, liability claims, and disruptions to your education.
While the National Health Service (NHS) provides healthcare services, additional health and travel insurance are advisable to ensure comprehensive coverage. Research reputable insurance providers, compare policies, and consult with your university or insurance experts to make sure you have the right coverage during your stay in the UK.
8. Seek Student Support Services
UK universities offer various support services designed specifically for international students, including financial advice and budgeting workshops. Don't hesitate to contact your university's student support office or international student services for assistance.
They can provide valuable guidance, answer your questions, and help you navigate the financial aspects of student life in the UK, ensuring a smoother financial journey throughout your studies. Managing your finances as an international student in the UK requires careful planning, budgeting, and making informed choices. Developing good money habits may be challenging, but with practice, patience, and confidence, students can achieve financial success and feel positive about their money management skills.
Money Saving Tips FAQ
Q. How do I manage my money while travelling abroad?
To manage your money while travelling abroad, create a budget, know more about local currency and exchange rates, use a mix of payment methods, track expenses, avoid unnecessary fees and notify your bank. Using travel apps may also help, as with its proper guidance on places to visit and details about those places, it makes your journey more convenient, and you can save a lot of money and time.
Q. How do I manage my living expenses while studying abroad?
To manage living expenses while studying abroad, you can create a budget, find affordable accommodation options, cook your meals instead of eating out, take advantage of student discounts, use public transportation or use bicycles instead of relying on expensive taxis. You can also look for a part-time job to supplement your income if permitted by your visa.
Q. How do I adjust to living abroad?
While living abroad, you can try a number of things to adjust there, such as being open-minded and embracing new experiences and cultures. You can make an effort to learn the local language, connect with locals and other expatriates, participate in local activities and events, maintain contact with friends and family back home, explore the surroundings, be patient with yourself during the adjustment period, and seek support from international student services.
Q. Which country is the cheapest for studying and living?
The affordability of studying and living in a country depends on factors such as exchange rates, tuition fees, accommodation costs, and the local cost of living. Although the primary thing to focus on while studying abroad is the quality of education. For this, factors like top-ranking universities, research courses, career prospects etc, must be considered.