Mechatronics is an interdisciplinary field that combines mechanical, electrical, and software engineering to design and develop intelligent systems. The history of mechatronics education in the UK can be traced back to the late 1980s when the first mechatronics engineering programme was introduced at the University of Leeds. Since then, the field has snowballed, with many universities offering courses and establishing research centres to advance the field's knowledge and expertise.
Mechatronics engineering courses in the UK usually last between three to four years for undergraduate level and one to two years for postgraduate programmes. Students are equipped with mechanical, electrical, and software engineering knowledge, as well as computer science, robotics, and automation. They also gain hands-on experience through laboratory work, projects, and internships.
UK universities have established strong research centres in the sphere and have produced graduates who have gone on to work in various industries, including automotive, aerospace, robotics, and manufacturing.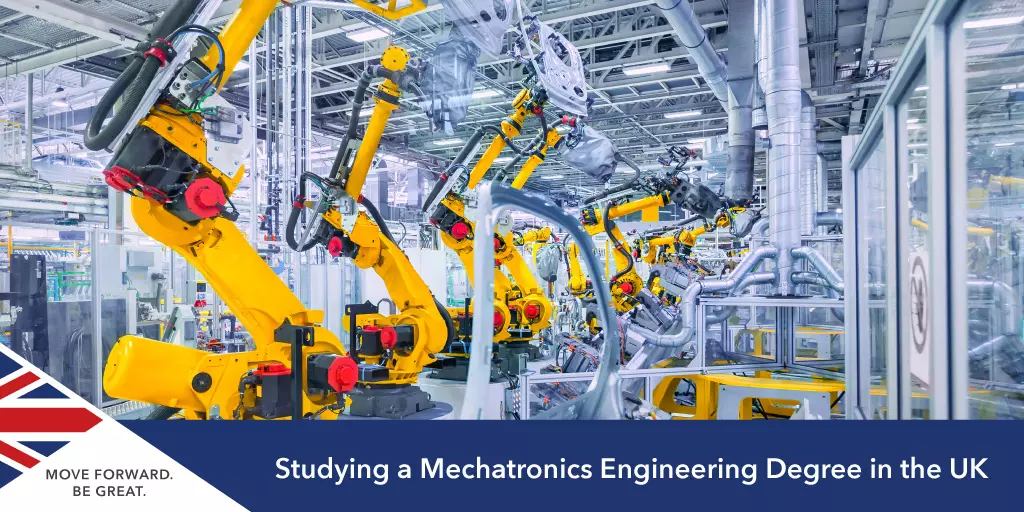 Best Mechatronics Universities in the UK
The Robotics, Mechatronics, and Control Engineering MEng offered by Loughborough University covers a range of modules across its four-year duration. Students will learn how to design and build complex robotic systems, develop control algorithms, and integrate various sensors and actuators. The course also strongly emphasises practical skills development, and students will have access to state-of-the-art facilities and equipment, including industrial robots, motion capture systems, and 3D printers.
In the first year, students will study foundational modules such as Mechanics and Materials, Electronics, and programming. In the second year, students will take Control Systems, Mechatronics, and Engineering Mathematics modules. These modules build on the foundational knowledge gained in the first year and provide students with more advanced skills in robotics and automation.
In the third year, the curriculum shifts towards more specialised and advanced topics, such as Digital Signal Processing, Control Engineering, and Robotic Vision. Finally, in the fourth year, students will undertake an individual research project on a chosen topic in addition to modules such as Robotics, Mechatronics Technology, Machine Learning, and Automation Systems Engineering.
The Mechatronics MEng degree at Lancaster University provides students with a comprehensive education in mechatronics engineering. Students will develop skills in mechanical, electronic, and computer engineering skills, focusing on designing and integrating complex systems, including robotics, digitally controlled engines, and autonomous vehicles.
The programme is accredited by the Institution of Engineering and Technology (IET) and the Institution of Mechanical Engineers (IMechE), meaning that graduates will have the academic qualifications necessary to pursue Chartered Engineer status.
In the first year, students will take common engineering modules that introduce them to the interdisciplinary nature of engineering. In the second year, they will work on a team project to design, build, and test a small mobile robot. In the third year, students will take more specialised modules, such as Engineering Management and Digital Systems Design, and undertake an individual dissertation project. In the final year, students will complete two industry-linked projects and a group project that will apply all of the skills they have developed throughout the course.
The Mechatronic Engineering MEng degree at the University of Southampton provides students with a multidisciplinary education that combines mechanical, electrical and computer engineering, preparing them for a career as a Chartered Engineer. It is accredited by professional bodies, ensuring that students receive a degree that meets the academic requirements for Chartered Engineer status.
Students are introduced to mechanics, electronics, programming, and electrical engineering fundamentals in the first year. In the second year, students cover mechatronics essentials such as control and communications, electrical machines, mechanical power transmission, and power systems technology. Year three allows students to choose more specialist areas such as bionanotechnology, robotics, or automobile systems and in the final year; students have a wide choice of modules to tailor their learning to suit their interests.
The Mechatronic and Robotic Engineering MEng programme at the University of Birmingham is a four-year course that combines mechanical, electrical, and software engineering to create intelligent systems. The course is designed to provide students with a deep understanding of mechatronics and automation, which is essential in developing systems such as robots and advanced manufacturing equipment. Students will learn the essential elements of mechanical engineering, electrical engineering, and computer science, with an emphasis on control systems, software, and electronics.
In the first two years, students cover foundational topics in engineering, including calculus, mechanics, programming, and electrical circuits. In the third year, they will take advanced control engineering, digital signal processing, and computer-aided engineering modules. In the final year, students will participate in a group design project and work on individual research projects in robotics and automation.
The University of Leeds' Mechatronics and Robotics MSc is designed to equip students with the skills and knowledge needed to design and develop advanced mechatronics systems and robotic devices for various industries, including manufacturing, aerospace, automotive, and healthcare.
The programme is divided into two parts: taught modules and a research project. The taught modules cover topics such as robotics, control systems, artificial intelligence, advanced sensors, and actuators. Students will also be able to explore the practical and theoretical aspects of robotics and mechatronics engineering through hands-on laboratory sessions.
Study Mechatronics Engineering in the UK
If you want to study mechatronics engineering in the UK, arrange your free consultation today.
Mechatronics Engineering FAQ
Is the UK good for a Master's in Mechatronics?
Many UK universities offer high-quality courses in mechatronics, providing a blend of theoretical knowledge and practical skills. The UK has a strong engineering tradition, and students can benefit from access to state-of-the-art facilities and research opportunities.
What are the admission requirements?
To apply for a Master's in Mechatronics in the UK, you will need a relevant undergraduate degree in engineering, mechatronics, or a related field. Some universities might accept applicants with degrees in physics or mathematics if they have a strong background in relevant subjects. Additionally, you will likely need to provide academic transcripts, letters of recommendation, a statement of purpose, and, for international students, proof of English language proficiency (e.g., IELTS or TOEFL scores).
Does mechatronics have a bright future?
Mechatronic systems are becoming increasingly prevalent in various industries, including manufacturing, automotive, aerospace, robotics, and healthcare. As technology continues to advance, the demand for professionals skilled in mechatronics is expected to grow, making it a field with ample opportunities for innovation and career development.
How much a mechatronics engineer earns?
In the UK, a mechatronics engineer can earn an average of £35,000 to £55,000 per year. However, this amount can go up with more experience. As engineers gain more skills and work in higher positions, their salary increases too. Some may even earn up to £80,000 if they specialise in specific fields or work in industries with higher demand for their expertise.
How much time it takes to become a mechatronics engineer?
To become a mechatronics engineer, you need a 3 to 4-year bachelor's degree in engineering, focusing on mechatronics or related subjects. You can choose to do a 1 to 2-year master's degree for more specialised knowledge. Getting practical experience through internships or entry-level jobs is also beneficial. Overall, it may take around 4 to 6 years or more to become a mechatronics engineer, depending on your educational choices and career plans.