Marketing courses in the UK give students access to transferable skills useful across a wide range of business sectors and the ability to tackle unique and challenging issues in different business landscapes. Marketing degrees in the UK are focused on analysing trends, development, planning, promotion and communication skills, while modules cover digital marketing, strategic management, e-business and branding.
Learn more about the top five UK universities for studying Masters in Marketing (QS Business Masters Rankings 2023: Marketing) below and arrange a free consultation with SI-UK India today if you want to apply to study marketing in the UK.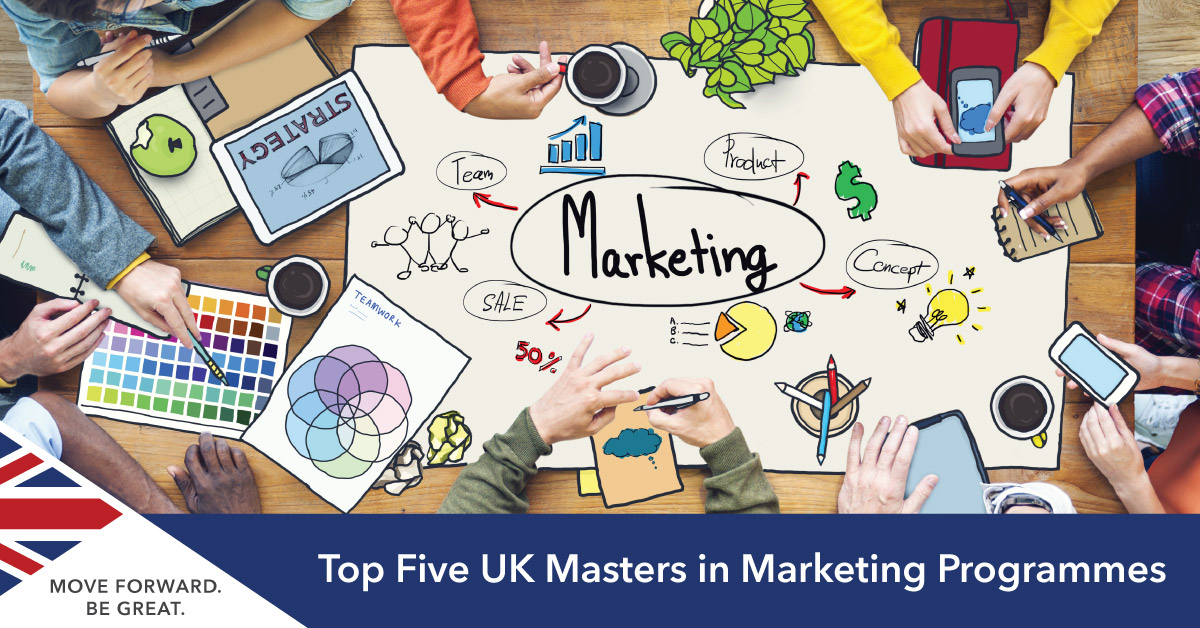 Top Five UK Universities for Masters in Marketing
1. Imperial College London
The MSc Strategic Marketing course delivered through the Imperial College Business School is ranked 3rd in the world by QS Business Masters 2023 rankings. The course helps to understand the science behind complex marketing strategies using the latest technology and innovation with data-driven decision making.
Imperial College London is a top 10 global university which has a global reputation which extends beyond the classroom and provides excellent entrepreneurial and business opportunities worldwide.
2. University of Warwick
The MSc Marketing and Strategy at the University of Warwick is a dual-focus business masters programme which explores two disciplines at the heart of business strategy. Taught at the Warwick Business School (WBS) and ranked 11th globally, this programme combines theoretical background with practical application of learned techniques in real-life situations.
Warwick Business School is part of an elite group of global business schools with triple accreditation from AACSB, EQUIS and AMBA.
3. University of Manchester
The MSc Marketing at the University of Manchester's Alliance Business School is the third best marketing masters programme in the UK. The course offers the opportunity to choose specialist pathways to learn specific marketing skills as also an option for international exchange programmes which allows students to enhance their global employability.
The University of Manchester has a global reputation for innovation and education and was ranked 3rd in the world for societal impact (Times Higher Education University Impact Rankings).
4. University of Edinburgh
The Master's in Marketing provided at the University of Edinburgh Business School enables students to address marketing challenges in critical and creative ways. Marketing graduates from the University of Edinburgh are highly sought after globally and work in a multitude of roles including brand managers, advertising managers, marketing fundraisers, digital marketing, data analysts, public relations and sales.
The University of Edinburgh, one of the oldest in the UK, is currently ranked in the world's top 15 universities as per the QS World University Rankings 2023.
5. Cranfield University
Cranfield School of Management's MSc Strategic Marketing course is designed with senior marketing practitioners and follows an interactive teaching approach by leading international faculty. The Strategic Marketing MSc at Cranfield is also one of the only few master's degrees in the UK accredited by the Market Research Society (MRS).
Cranfield University has a high graduate employment rate and its Strategic Marketing MSc graduates have secured jobs in diverse sectors including companies such as Vodafone, Henkel, Ernst & Young, Estée Lauder, Coca-Cola, KPMG and Microsoft.
Masters in Marketing FAQ
Study Marketing in the UK
If you wish to study a master's in marketing in the UK, arrange a free consultation at your nearest SI-UK India office today or connect with us online. Our UK university application experts can help you submit your application without error and realise your dream of studying in the UK.