The media has always been one of the most powerful entities in the world. This, along with its social impact, dynamism and ever-changing nature, inspires a student to study a journalism course in the UK. A course in Journalism helps students gain the necessary skills required for the profession, such as effective communication, content accuracy, objective outlook and ethical treatment of social and political issues. Journalism courses in the UK are practice-based, covering wider aspects of the field through theoretical and experiential learning.
As well as this, a journalism degree in the UK will cover a wide range of areas, including Electronic Media, Digital Media, Print Media, Multimedia Journalism, Journalism Practice, Conflict and Crisis Reporting and Multimedia Journalism, including Radio and Television.
Learn more about the best journalism universities in the UK below (Guardian University Guide 2023), and if you would like to begin your application, arrange a free consultation with SI-UK India today.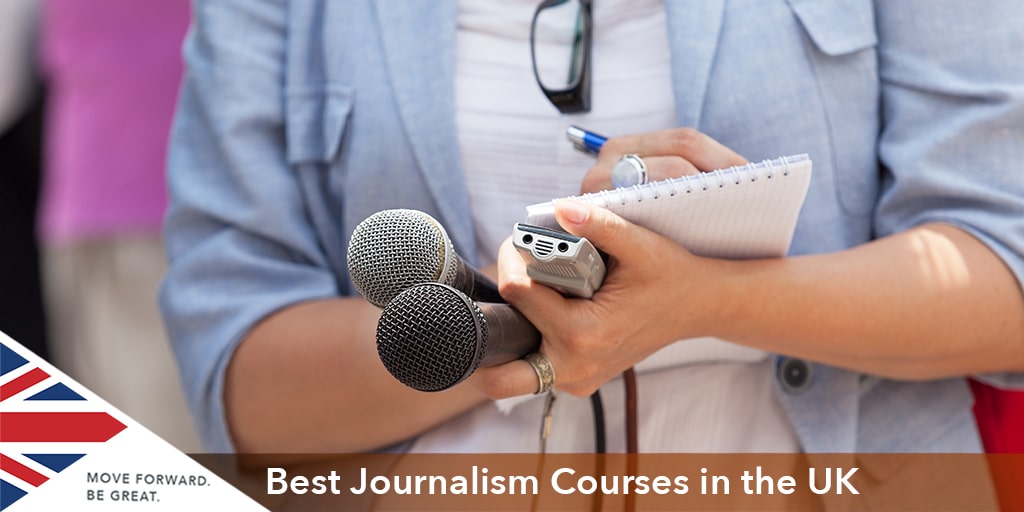 Top Five Universities for Journalism in the UK
City, University of London is a highly regarded Journalism School in London, known for its strong academic programmes in various fields, including journalism. As a journalism student at City, you can develop your skills and knowledge through hands-on projects and assignments, working with industry-standard equipment and software, and engaging with professionals in the field. The programme curriculum covers several key topics, such as Introduction to News Writing, Digital Journalism, and Humanitarian Reporting.
After completing the three-year full-time degree, you will be well-prepared for a wide range of careers in the media industry, including positions in print, broadcast, and online journalism, public relations, and corporate communications. Whether you are interested in pursuing a career in investigative journalism, covering breaking news, or working in a specialised area like sports or technology journalism, a degree from City, University of London can help you achieve your goals.
Oxford Brookes University's Department of Journalism is considered one of the world's most respected. Located in Oxford, England, Oxford Brookes is known for its deep focus on practical teaching through internships, work placements, and other real-world projects. As an undergraduate studying journalism at Oxford Brookes University, you will get acquainted with the art of writing and developing content and storytelling.
A wide range of topics is discussed during the programme, including media marketing, essential journalism, and media laws. In addition, students will develop skills in book publishing. You can also get the hang of the Chinese Language and Culture, International Publishing, and Oxford City's Creative Industry. You'll learn practical editorial, design, video, and marketing skills.
The BA (Hons) Journalism course at Edinburgh Napier University is a comprehensive programme that aims to prepare students for careers in journalism and media industries. The course covers various topics and skills, including news writing and reporting, media law and ethics, broadcast journalism, magazine production, etc. In addition, students learn how to use various media to tell stories, including text, audio, video, and photography.
The four-year course reflects a lot on the social development of students since the university believes a journalist must be an intrinsic part of society. Throughout the course, students have opportunities to put their skills into practice through hands-on projects and work placements, allowing them to gain real-world experience in the field. Edinburgh Napier has excellent links with universities worldwide, allowing students to study in Canada, Denmark, the Netherlands, Spain or the USA.
The University of Sheffield is known for its strong reputation in journalism and media studies, and the undergraduate journalism programme is known for producing well-rounded and successful graduates. The three-year journalism programme is taught by experienced journalists, academics, and media professionals, providing students with a wealth of knowledge and traditional skills like spotting big stories, news writing, and digital skills like video editing.
The National Council accredits the BA Journalism Studies course for Training Journalists and the Professional Publishers Association. The course ensures students get hands-on experience by practising real-time journalism, covering news and stories in the city. The curriculum includes important journalism modules, such as Essential Journalism, Court Reporting, Media Laws for Journalists, and News Projects.
Through optional modules, students can get a detailed picture of society by learning about free speech and censorship, feminism, global justice, queer theory and the media.
Studying journalism at the University of Portsmouth can provide you with extensive education in the field, preparing you for challenging roles in the media world. In addition to learning about news writing and reporting fundamentals, students will learn the art of gathering information, conducting interviews, and storytelling. You will also explore journalism's legal and ethical aspects, including defamation laws, privacy, and freedom of speech.
Students will be able to understand governance and how local and central governments operate and interact. Investigative reporting, mobile journalism, and newsroom production are among the most crucial course modules. The degree is an ideal combination of theoretical knowledge and practical experience to prepare you for a successful career in journalism and related industries. Portsmouth's strong links with the media industry are vital in providing students with opportunities to network and gain practical experience through work placements and internships.
Study Journalism in the UK
If you want to study a journalism course at a UK university, arrange your free consultation with SI-UK today.