Universities in the UK are globally renowned for their international outlook and have a strong international community of students and teachers from all over the world. UK universities offer a diverse learning environment and are famous for providing outstanding student experience. An ever increasing number of international students apply to study bachelor's or master's degree programmes at the UK's most international universities each year.
The Times Higher Education World University Rankings, one of the most acclaimed university league tables in the UK and the world, release the Most International University Rankings each year. These rankings give reliable information based on multiple factors including international student score, international staff score, international co-authorship score and international reputation metrics and are thus considered a strong indicator of UK universities.
Learn more about the top five most international UK universities (THE Rankings 2020) below and if you wish to begin your application to study in the UK, arrange a free consultation with SI-UK India today.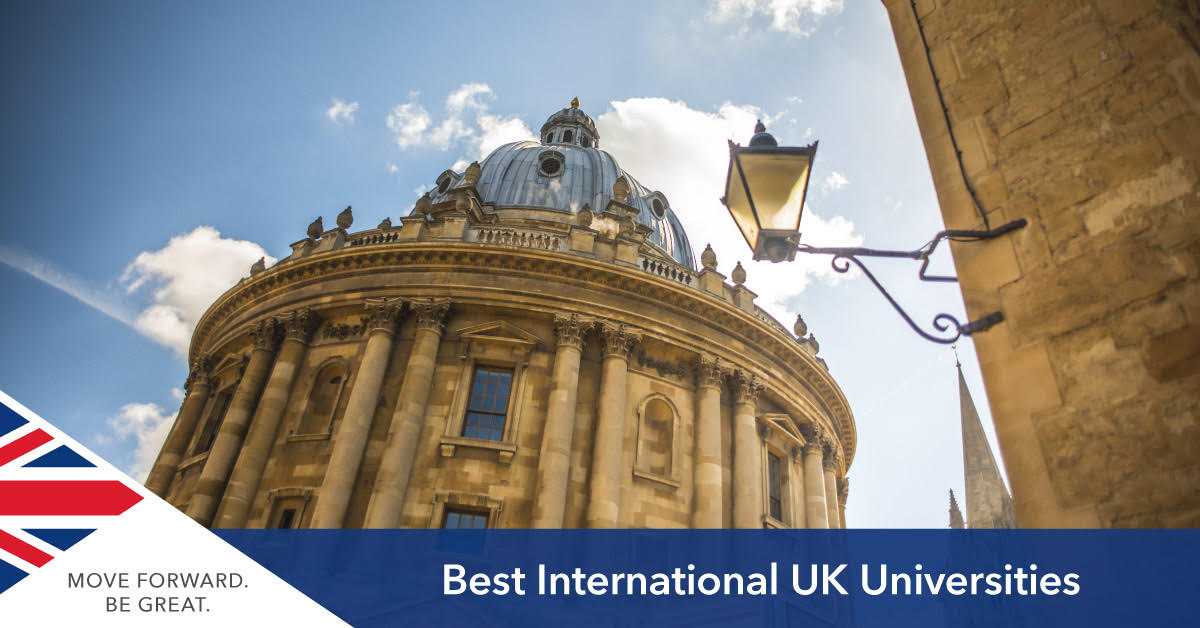 Most International UK University Rankings 2020
1. Imperial College London
Imperial College London is a public research university in the UK ranked in the world top 10 universities and as the top most international university in the UK. Established in 1907 by the royal charter, Imperial Colleges exclusively focuses on science, technology, medicine and business courses.
Imperial has a strong international community with more than 59% of its students from outside of the UK representing over 140 different countries. It has several affiliations and international partnerships with reputable global institutions such as Massachusetts Institute of Technology to provide its students with access to a global education and excellent exchange programmes to students and academic staff with the world's best institutions.
2. University of Oxford
The University of Oxford is not only one of the best universities to study in the UK but is largely considered the best university in the world (THE 2020). It is also the world's oldest English university Oxford comprises 44 colleges and over 100 libraries. More than one third of Oxford's student body is international with 10,000 students from across 150 countries and territories.
The University offers a wide range of degree programmes in Humanities, Mathematical, Physical, and Life Sciences, Medical Sciences, Social Sciences for bachelors and masters level study in the UK. With a distinct reputation for cutting-edge research, Oxford University has a strong international profile and significant impact in the world through international research collaborations and global partnerships. Oxford students enjoy substantial support for international internships, study abroad exchange programmes and independent research abroad.
3. University of Cambridge
University of Cambridge offering a large variety of courses has a reputation for intellectual achievement and groundbreaking research. The university attracts thousands of international students worldwide each year for courses in Arts and Humanities, Biological Sciences, Clinical Medicine, Humanities and Social Sciences, Physical Sciences, Technology. Cambridge is a global community with 25% of undergraduates from outside of the UK.
4. King's College London
King's College London is a leading UK university located in the heart of London known for its large variety of undergraduate and postgraduate study level programmes. KCL is the most central university with five campuses in the capital city of London and is home to a diverse community of 30,000 students from 150 countries.
KCL is one of the top UK universities for graduate employability and students benefit from its global connections and reputation with employers, universities and organisations ranging from different sectors including government, business, industry, sports and culture. The University's international partnerships provide a stimulating learning environment.
5. University College London
University College London is an innovative place to study attracting talented students and staff from over 150 different countries. Founded in 1826 it was the first university in England to admit women on equal terms as men. UCL is ranked 10th in the world (QS World University Rankings 2021) and is highly acclaimed for its research strength. Situated in the heart of London, UCL comprises 11 faculties across various disciplines with state-of-the-art facilities.
Around 53% of its student population is international and it is also the first British university to open a campus in Doha, Qatar. UCL also has a presence in Adelaide, South Australia and is a truly global university with courses focussed on internationally relevant topics.
Study at International Universities in the UK
The UK is home to the world's best global universities with innovative and internationally relevant degree programmes and a vibrant community of students and staff from across the world. Arrange a free consultation today with SI-UK India if you wish to study at one of the above international universities or apply for September 2021 intake.
Other Related Articles: