Industrial engineering is the study of manufacturing operations, design, practices and techniques. It is the most ubiquitous branch of engineering and plays a major role in the manufacturing and development process of almost every product and every industry. Industrial engineering involves the optimisation of processes in different industries through the integration of various resources such as people, money, knowledge, materials, energy, equipment and information.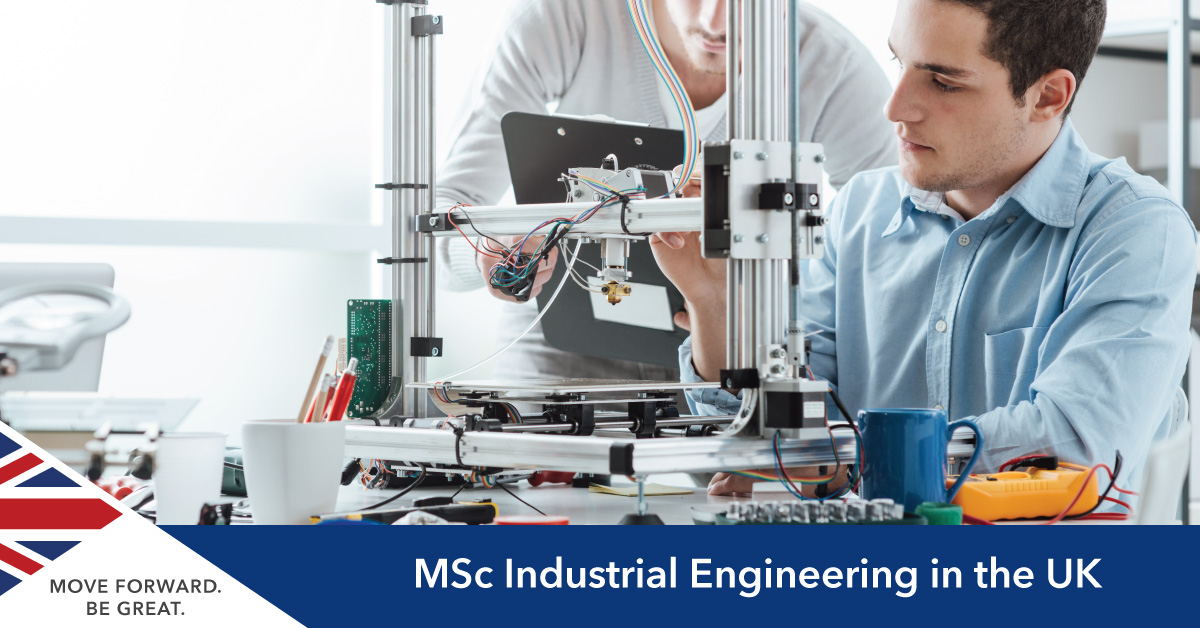 Difference between Industrial Engineering and Mechanical Engineering
Mechanical engineering is a field of specialisation focussed on the study of designing and building machines to solve problems of different industries. In contrast, industrial engineering is closely related to the optimization of business solutions to improve profitability and business processes by combining engineering and business principles.
Mechanical and industrial engineers have a deep understanding of mathematics and physics and use analytical skills to develop machines and systems. While mechanical engineers specialise in the manufacturing and production of complex machinery using thermodynamics, industrial engineers are responsible for ensuring efficiency in production and designing the workflow for optimisation.
Careers in Industrial Engineering
Industrial Engineering degrees are multi-dimensional, interdisciplinary and overlap with other engineering specialisations such as manufacturing engineering, product engineering, supply-chain engineering, financial engineering, ergonomics, management science and operations research. Industrial engineers have interesting career prospects in multiple industries such as finance, marketing, hospitals, banking, information systems and social services. They work in diverse roles as Health and Safety Engineers, Management Analysts, Project Managers, Logisticians, Cost Estimators, Quality Control Engineers etc.
Top Five Industrial Engineering UK Universities
The MEng in Design Engineering at Imperial College London is a four-year course that provides students with the skills and knowledge they need to succeed in a career in design engineering. The course covers a broad range of topics, including:
Creativity
Computer-aided engineering tools
Optimisation
Human factors
Design process
Enterprise skills
Industrial experience
In the second year, students will study industrial design engineering, which is built around a single substantial project brief. This project aims to integrate a human-centred design approach with creative design engineering of a complex electromechanical product. Benchmark products will have multiple components, materials, manufacturing, and market factors to consider.
Popular course: Design Engineering (MEng)
Entry requirements: A* A A to A* A* A with A* in Mathematics
International fees: £37,900
The MSc in Operations Management at the University of Nottingham is a one-year master's that also covers industrial engineering. The course provides students with the skills and knowledge they need to excel in a global operations management role.
The course covers a broad range of topics, including supply chain planning, decision-making, operations management, and quality control. Students also have the opportunity to tailor their degrees to match their individual career goals and specialise in areas relevant to their chosen field. In addition, students can take industry-recognised digital qualifications by Microsoft and SAP alongside their course, which will develop their digital skills and help them stand out to future employers.
Cambridge's Industrial Systems, Manufacture, and Management (ISMM) is a one-year postgraduate industrial engineering degree that combines traditional academic teaching material with industrial visits, industrial seminars, skills development and projects in the industry.
The programme is designed for students with a bachelor's degree in manufacturing engineering or equivalent qualifications. It covers a broad range of specialist subjects, including:
Advanced manufacturing processes
Manufacturing systems engineering
Manufacturing operations management
Manufacturing quality management
Manufacturing environmental management
Manufacturing safety management
The ISMM is a valuable qualification for those wanting to pursue a manufacturing engineering career. It will give you the skills and knowledge you need to succeed in this competitive field.
The MEng Mechanical Engineering with Industrial Placement is a 4-year course that provides students with a comprehensive education in mechanical engineering and the opportunity to gain valuable work experience in the industry. The first three years of the course are identical to the MEng Mechanical Engineering course, covering a wide range of topics in mechanical engineering, such as:
Mechanics
Thermodynamics
Fluid mechanics
Heat transfer
Mechanics of materials
Manufacturing processes
Engineering design
Engineering economics
Engineering management
In the fourth year, students complete a year-long industrial placement with a company in the mechanical engineering industry. This gives students the opportunity to apply their engineering knowledge and skills in a real-world setting and to gain valuable experience working in a professional engineering environment. The industrial placement is a valuable addition to the MEng Mechanical Engineering course, and it can make students more competitive candidates for jobs in the mechanical engineering industry.
The MSc in Manufacturing Engineering is a newly developed course that aims to equip well-qualified students with the skills they need to be employed as professional engineers across a wide range of the Manufacturing Engineering industry. The course structure is designed for students who have a good bachelor's degree in manufacturing engineering or an equivalent qualification. It covers a broad range of specialist subjects, including advanced manufacturing processes, manufacturing systems engineering, manufacturing operations management, manufacturing quality management, manufacturing environmental management, and manufacturing safety management.
The course also allows students to develop a range of transferable skills, such as communication, teamwork, problem-solving, critical thinking, and research skills.
Study Industrial Engineering in the UK
If you want to get more information about studying for a master's in engineering in the UK, book a free consultation with SI-UK today. Our expert team of international education consultants will help you find the best engineering courses to study in the UK and guide you through the application process.