Dentistry combines science, artistry, and patient care, allowing you to diagnose and treat dental issues, improve smiles, alleviate pain, and promote oral hygiene. With the strong demand for dental professionals worldwide, studying dentistry provides stability, job security, and the chance to contribute to the health and happiness of individuals and communities.
Studying dental courses in London provides a unique and rewarding educational experience. The city is renowned for its esteemed universities and dental colleges, such as King's College London and Queen's University, where you can find comprehensive dental courses at undergraduate and postgraduate levels.
London's status as a research hub offers abundant opportunities for dental students to engage in research projects. Completing an accredited dental course in London ensures professional recognition by bodies such as the General Dental Council (GDC), allowing graduates to pursue a fulfilling career as dentists in the UK. Studying dental courses in London not only offers a top-quality education but also provides an enriching lifestyle. The city's international environment also provides opportunities for networking and cultural exchange with peers from all over the world, enhancing the overall student experience.
Learn more about studying at the top dental schools in London or book a free consultation with SI-UK India today.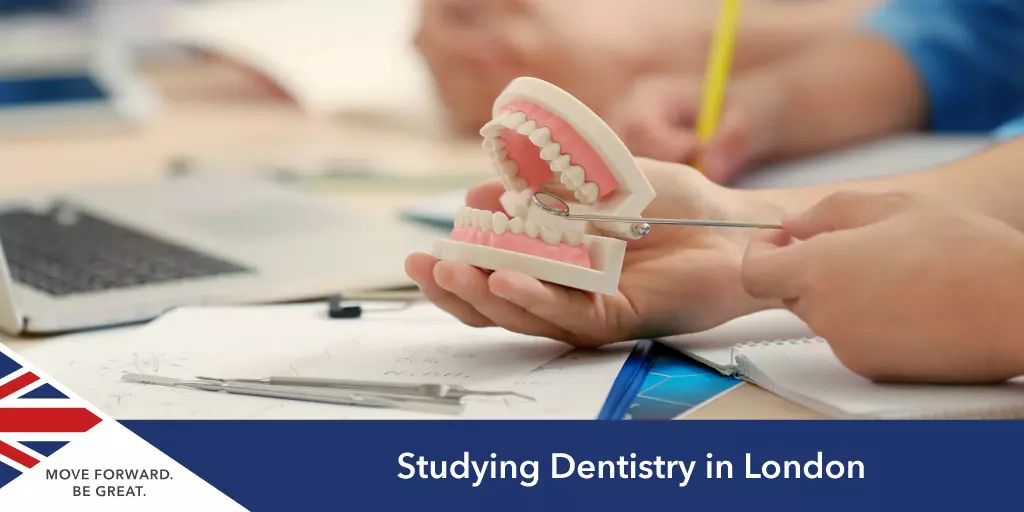 Best Colleges for Dentistry in London
The Institute of Dentistry at Queen Mary University of London (QMUL) combines the rich histories of St Bartholomew's Hospital, established in 1123, and The London Hospital Medical College, founded in 1785, as the oldest and one of the best colleges for dentistry in England and Wales.
Located in different parts of London, students benefit from exposure to a wide array of people and their unique dental challenges, providing an unmatched learning experience. QMUL's comprehensive five-year degree courses in Dentistry is meticulously designed to cultivate the skills required for dental professionals and the Institute of Dentistry at Queen Mary University of London proudly implements an innovative curriculum that encompasses various aspects of oral care.
From disease prevention and treatment, oral cancer screening, trauma management, and orthodontics to oral surgery, we equip you with a well-rounded foundation. Early patient exposure and the chance to work in QMUL's outreach clinics in Canary Wharf and Stratford further enhance your practical experience.
Course in focus: Bachelor of Dental Surgery
Entry requirements: A*AA in Biology or Chemistry and a second science subject
International fees: £44,250
QS world ranking: 125th
King's College London's Dental Therapy & Hygiene BSc course offers a comprehensive curriculum and early clinical exposure to prepare you for registration with the General Dental Council (GDC) and a successful career in dental therapy. Over three years of full-time dentistry course in London at King's dental college, you will learn critical dentistry techniques with hands-on clinical experience. The spiralled modular curriculum employs evidence-based teaching methods and diverse assessments to foster an engaging and enriching learning environment.
Blending knowledge acquisition with the development of clinical skills and professional values, this course ensures you are equipped with the skills and expertise demanded by the field. The course emphasises student and patient-centred scholarship, encouraging authentic training through problem-based learning and inquiry-based approaches. This approach not only enhances employability but also prepares you for primary care settings and allows you to explore secondary, tertiary care, and translational career pathways.
The first year lays the groundwork, focusing on biomedical sciences and simulated clinical skill development. You will also gain insights into dental specialties, developing a nuanced understanding of local and global contexts. The final year consolidates your learning, fostering competence in both technical and leadership skills while cultivating research abilities.
KCL's integrated model, where Dental Therapy & Hygiene BSc students train alongside Dentistry BDS students, provides the added benefit of inter-professional learning. This collaborative approach reinforces the value of teamwork and allows you to appreciate the unique contributions of dental therapists and hygienists within the dental profession.
Dental Scholarships in the UK
Dental universities in the UK offer bursaries or scholarships for domestic and international students. Dentistry scholarships for both undergraduate and postgraduate can be found on the university's website. Some professional organisations, foundations, or charitable bodies may provide scholarships or financial support to dental students, including the British Dental Association (BDA) and the Royal College of Surgeons.
Dental Job Opportunities
The UK has a strong demand for dental professionals, with a number of job opportunities available in both the National Health Service (NHS) and private sectors. After completing a degree in dentistry, students can work in various settings, including general practice, hospitals, and dental schools. UK dental schools also offer candidates to specialise in areas such as orthodontics, paediatric dentistry, and oral and maxillofacial surgery.
The average salary of dentists in the UK is around £35,000 for fresh graduates, whereas for experienced dentists, the salary is between £50,838 to £70,000.
Study Dentistry in London
Contact SI-UK to book a free consultation for studying dentistry in London or begin your application ahead of the upcoming intake.