An undergraduate degree in cyber security provides students with a comprehensive understanding of safeguarding digital systems, networks, and data from cyber threats, as well as the theoretical knowledge and practical skills to identify vulnerabilities, implement protective measures, and respond effectively to cyber incidents. The curriculum covers a wide spectrum of topics, including cryptography, network security, ethical hacking, risk management, and digital forensics. Students gain hands-on experience through simulated scenarios, lab exercises, and real-world case studies.
The degree also emphasises legal and ethical considerations, ensuring graduates are well-prepared to address complex challenges in the dynamic field of cyber security. In the UK, a cyber security degree aligns with industry standards and may offer certification opportunities, such as CISSP or CEH. Graduates find career prospects in various sectors, including government agencies, financial institutions, technology companies, and consulting firms, contributing to the nation's cyber resilience.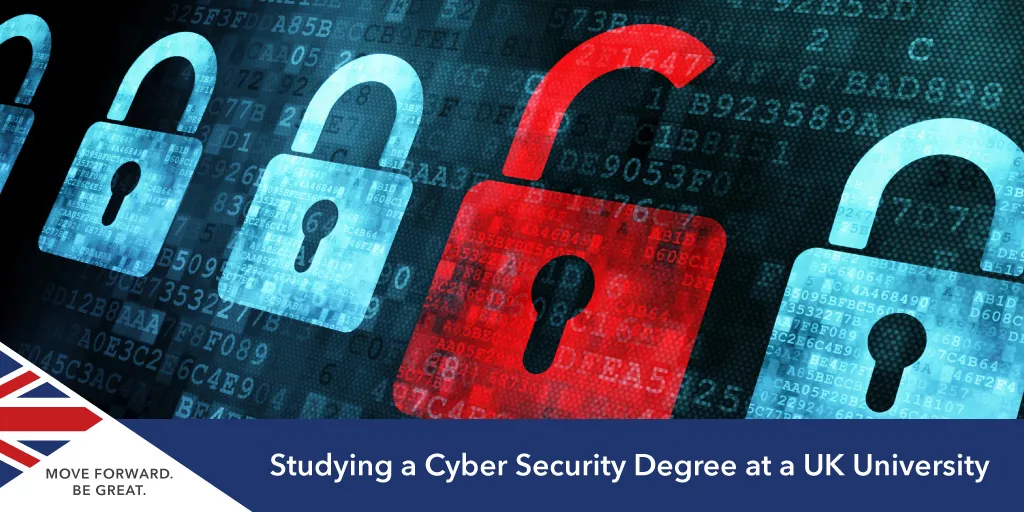 Top 10 UK Universities to Study Cyber Security
The BSc Cyber Security at Birmingham City equips students with advanced technical knowledge, management skills, and practical expertise to address modern cybersecurity challenges. In the digital era, safeguarding data, crucial for business operations, is pivotal for the digital economy's success. With the rise of complex systems like IoT, protecting data across networks gains urgency.
The course, backed by industry ties, imparts in-demand skills and knowledge. It covers key areas such as computer systems, security fundamentals, programming, and network technologies and students engage with real-world scenarios, fostering competence in cyber forensics, system security, and operations.
The Cyber Security BSc at West London University revolves around safeguarding information and systems. With exposure to Amazon Web Services Academy's latest solutions, you'll learn diverse security technologies, management processes, and control systems. Gain skills to tackle modern secure systems, understand commercial and open-source cyber security tools, and grasp essential management concepts. The curriculum blends computing principles, software engineering, mathematics, and computer architecture.
The University of Southampton's MEng Computer Science with Cyber Security equips you with essential digital skills and practical industry exposure to combat the escalating threat of cybercrime. With a recognised expertise in areas like blockchain and IoT, you'll learn to design, develop, and secure software systems. The UK government's National Cyber Security Centre acknowledges Southampton as a hub of excellence in cyber security research.
This BCS-accredited programme offers individual and group projects, placing you at the forefront of cutting-edge research. Upon graduation, your proficiency will be in high demand due to the global shortage of cybersecurity professionals. The degree is provisionally certified by the NCSC and accredited by the Institution of Engineering and Technology, paving the way for Chartered Engineer registration.
The BEng/BSc (Hons) Computer Science with Cyber Security at York cultivates skilled professionals adept in cybersecurity principles and practices. With a focus on computational thinking and engineering skills, graduates emerge as versatile leaders in the field. The programme combines foundational Computer Science concepts with specialised cyber security training, encompassing identity, trust, and real-world implementations.
The BSc Hons Cyber Security at Lancaster prepares future cyber security engineers and architects. Built on a solid foundation of modern computer science, it offers specialised knowledge in security, penetration testing, forensics, cryptography, and network security. Advanced topics cover AI security, cyber-physical systems, and large-scale infrastructures.
The BSc Cyber Security at Warwick prepares you to contribute effectively to the protection of cyberspace, bridging the gap between theory and practice. Emphasising robust software construction, data communication, cryptography, and processes, the course covers technical and human aspects of cyber security. The curriculum addresses both digital and physical factors influencing cyber security.
Cardiff Metropolitan University's BSc Computer Security delves into technologies safeguarding networks, computers, and data from unauthorised access. It covers offensive and defensive security, as well as information security governance, catering to the demand for cyber security expertise across industries. The curriculum encompasses foundational principles, threat management, legal aspects, secure systems, cryptography, and ethical hacking.
The BSc (Hons) in Cyber Security & Digital Forensics at Kingston University London focuses on using technology to prevent, investigate, and manage cyber attacks. You'll learn web programming, encryption, network security, and digital forensics. The course covers ethical hacking, security operations, and practical tools. In the first year, you'll gain skills in computer security, programming, and specialised tools—year two delves into ethical hacking techniques.
Leeds Beckett University's BSc (Hons) Cyber Security programme empowers students to become experts in safeguarding organisations from cyber threats. With a comprehensive curriculum, students develop broad computing knowledge alongside specific cyber security expertise, learning practical skills such as secure coding, ethical hacking, and penetration testing. The course utilises a unique Hacktivity system to simulate real-world scenarios and attacks.
The BSc Hons Computer Science (Cyber Security) degree equips students with cutting-edge tools and techniques for a career in cryptography, data security, and forensics. This specialised programme provides a strong foundation in computer and software systems, including modules like Penetration Testing, Ethical Vulnerability Scanning, and Computer Forensics. Practical experience with latest technologies prepares graduates to work independently, adapting skills throughout their careers.
Study a Cyber Security Degree in the UK
If you are interested in studying cyber security undergraduate degree in the UK, arrange your free consultation with SI-UK India today.