Computer engineering in the UK has a rich history and reputation for excellence. The country boasts some of the world's top universities, known for their esteemed faculty and cutting-edge computer engineering courses. A standout example is the University of Manchester, where Alan Turing, a pioneering figure in the field and often referred to as the Father of the Modern Computer, once taught. Turing's contributions have laid the foundation for all computer engineering degrees in the UK, creating a strong historical connection to the subject.
Today, the UK continues to excel in providing high-quality education and training in computer engineering, with its universities offering rewarding degrees in this rapidly evolving field. As technology becomes increasingly integral to all aspects of modern life, the demand for skilled computer engineers grows exponentially. With the UK's impressive academic institutions and a legacy of innovation, aspiring computer engineering students can be assured of a dynamic and enriching educational experience that equips them with the knowledge and skills to thrive in the ever-expanding world of computer engineering.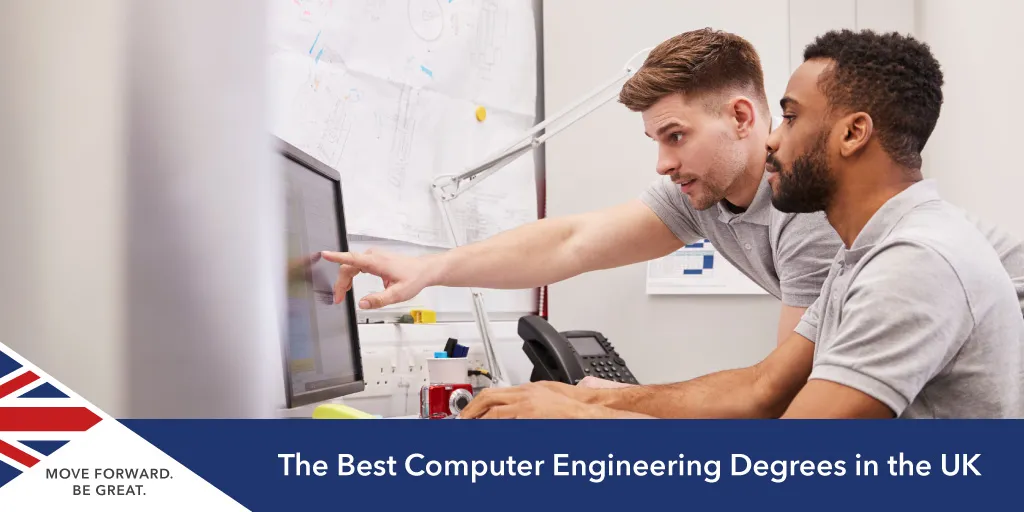 Top 10 UK Universities to Study Computer Engineering
Learn more about a selection of the best universities for computer engineering in the UK below, and begin your application by arranging a free consultation today.
The MSc in Software Engineering imparts modern software engineering principles, tools, and techniques to working professionals. The course at a renowned university covers various subjects, including agile methods, risk management, and database design. To earn the degree, students must complete courses in ten different subjects, emphasising software engineering. Dedicated teaching facilities with Apple computers and relevant software are provided by the Department of Computer Science, ensuring an excellent learning experience for the students.
The Cambridge Computer Science BA (Hons) is taught through lectures and practical classes. In the first year, you learn foundational topics like computer science basics and programming. You study theory, systems, programming, and human aspects in the second year and work on a group project. In the third year, you can choose specific topics of interest and complete a big project. You can do a fourth year focusing on advanced research.
Imperial's BEng Computing provides an understanding of modern computer and communications systems, their applications, and their adaptability. It covers basic concepts, technological changes, and practical experience in applied computing. Special focus is on fundamental computing principles, system design, hardware, and software. It offers a strong background in discrete mathematics and relevant classical mathematics and statistics. The course includes laboratory sessions, problem-solving classes, and project work for practical learning.
The BEng Computer Science at Edinburgh is divided into four years. In the first year, you learn the basics of programming and how computers work. In the second year, you go deeper into programming and data structures, along with learning about the social and ethical aspects of computing. In the third year, you can choose specific courses related to computer science, like robotics or machine learning. In the fourth year, you have more choices to study advanced topics and work on a project with guidance from a supervisor.
UCL's Computer Science MSc uses a mix of lectures, tutorials, and lab classes for teaching, along with online resources. Assessment methods vary based on module choices and include coursework, projects, exams, and a final research or industrial project. Contact time involves different activities like lectures, seminars, and practical classes. Each module has a credit value indicating the total learning hours required to achieve its outcomes, with one credit typically equal to 10 hours of study, including contact time, self-study, and assessment.
This three-year BEng (Hons) Computer Systems Engineering includes a foundation year and offers optional industrial experience or a year abroad. Year 1 covers subjects like programming, digital circuit design, and communications. Year 2 includes courses in software engineering, microprocessor systems, and algorithms. In Year 3, students work on a project and can choose from various modules, including control systems, digital signal processing, data mining, web programming, and big data processing.
The EngD in Computer Systems Engineering at Manchester focuses on advanced processor technologies, embedded systems, and FPGA systems development. The degree collaborates with industry stakeholders to address real-world challenges. If you work in computer hardware or embedded systems, this EngD is ideal. The programme involves 4-6 research-level projects, with 75-80% of your time spent with your company and the rest training in advanced processor topics. It offers flexible pathways and tailored Advanced Master's courses to suit individual needs, emphasising industry application and research problem-solving.
The Computer Science BSc at King's College London offers a comprehensive understanding of computer-based information systems. The first two years focus on building foundational skills in software development as part of a team. In the third year, students can specialise in areas like software engineering, algorithms, cybersecurity, systems engineering, computing foundations, and artificial intelligence. The course includes programming skills, software analysis, cryptography, real-time systems, and machine learning, providing students with diverse knowledge for their future careers.
The Computer Science BSc degree at Southampton offers a comprehensive software design and development education. It covers cutting-edge topics like machine learning, computer vision, and cyber security, preparing students for a dynamic industry. The course includes algorithmics, data management, software design, and interaction design, empowering students to create impactful technologies. No prior computing experience is required, as the course caters to various skill levels. State-of-the-art teaching labs and dedicated project labs provide a conducive learning environment with modern equipment and displays.
The Computer and Internet Engineering courses (BEng and MEng) at Surrey focus on cutting-edge mobile and Internet technology. The courses offer a solid foundation in electronics and programming, supported by renowned research centres, the Institute for Communication Systems and the Centre for Vision, Speech, and Signal Processing. After a year of fundamental concepts, students delve into advanced topics like mobile communications, digital signal processing, and artificial intelligence. The MEng programme includes a master's year and provides a direct path to a master's qualification.
Four Reasons to Study Computer Engineering
High Demand: Computers are essential in every industry, creating a strong demand for computer scientists who can solve problems in various fields like science, healthcare, engineering, and more.
Versatility and Specialisation: Computer engineering offers diverse specialisations beyond coding, including desktop support, database management, programming, networking, and others, allowing students to choose their area of interest and expertise.
Excellent Earning Potential: Computer science graduates enjoy high-paying positions as the field grows, providing a promising career path and financial stability.
Internship Opportunities: Studying computer science in the UK opens doors to internships with prestigious technology companies, offering practical experience and networking opportunities for students to kickstart their careers.
Computer Engineering Job Prospects and Salary
Graduates find employment in roles like application analyst, data analyst, database specialist, and UX/UI designer. Computer engineering skills are highly sought after, making graduates valuable company assets. The field's versatility and the increasing demand for UX/UI designers due to the eCommerce boom make it an appealing and rewarding career path.
The average computer engineer salary in the United Kingdom is about £30,000 annually. In comparison, the average computer science engineering salary in india is about 5-6 lakh per annum.
Computer Engineering Degree FAQ
Which degree is best for computer engineering?
For computer engineering, both a Bachelor of Engineering (BEng) and a Master of Engineering (MEng) are suitable options. The MEng provides a more advanced and specialised education and is a direct route to a master's qualification.
What is computer engineering at university?
Computer engineering in university involves studying the design, development, and implementation of computer systems and related technologies. It covers various aspects, including hardware, software, networking, and digital systems.
Is computer engineering five years long?
Typically, a bachelor's degree (BEng) in computer engineering takes 3 to 4 years, while a master's degree (MEng) may require an additional year, totalling 4 to 5 years of study.
Is computer engineering in demand?
With the continuous advancement of technology and the increasing reliance on computers and digital systems in various industries, there is a growing need for skilled computer engineers to design, develop, and maintain these systems. Job opportunities for computer engineers are expected to be strong in the foreseeable future.