Biology or Biological sciences is an extremely diverse field of study covering a range of specialist subjects such as microbiology, ecology, anatomy, zoology, natural sciences, neurobiology, physiology and many more. Undergraduate biology degrees in the UK are for three to four years and offer specialisations in many areas. Course delivery is a combination of lectures, lab work, practicals and research projects.
Biological scientists and biochemists are part of the UK Shortage Occupation List which means there is a huge demand for such professionals in the UK making it easier for international students to find work after graduation. Moreover, the UK's new point-based immigration system grants 20 additional points for jobs on the shortage occupation list, helping migrants reach the 70 point immigration score required for the UK Tier 2 work visa.
Career options for biology graduates are not limited to science and health sectors but their skills are transferable and highly sought after by many other industries including biology research, education, science communication, medical, legal and other non-scientific fields as well.
Best Biology Universities
Learn more about the top five universities for studying biology and biological sciences in the UK (QS World University Rankings by Subject) below and arrange a free consultation with SI-UK India to get your application started for September 2021 Intake.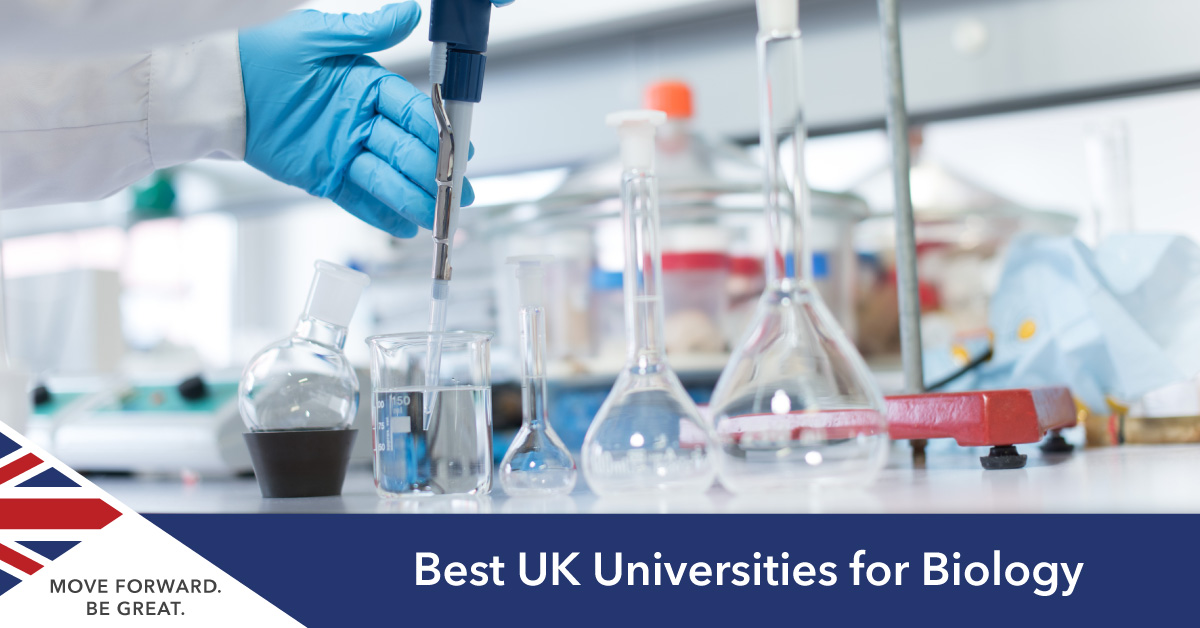 Top Five UK Universities for Biology and Biological Sciences
1. University of Cambridge
Cambridge is regarded as one of the world's top five universities and is ranked first in the UK for biological sciences (QS World University Rankings 2021). The School of Biological Sciences at Cambridge offers a range of undergraduate and postgraduate degrees across three Triposes - the Natural Sciences Tripos, Medical and Veterinary Sciences Tripos and Psychological and Behavioural Sciences Tripos.
2. University of Oxford
At Oxford, students are taught by the world's leading experts in biology. The University offers excellent educational and recreational facilities with well equipped laboratories, botanic garden and arboretum, museum of natural history and much more. Oxford University graduates enjoy some of the best graduate prospects in the UK, and five years after graduation average salary for Oxford graduates is around £43,000.
3. Imperial College London
Degrees in biological sciences at Imperial are offered with a wide range of modules for attaining high levels of specialisation and a broad understanding of living systems, organisms and ecosystems. The University has outstanding facilities for genomics, tissue culture and cell biology studies and the most modern microscopes. The Department has a high student satisfaction rate of 91% and teaching is enriched by cutting edge internationally leading research.
4. University College London
The Biosciences Department at UCL is one of the world's foremost centres for research and training and has one of the largest and most active research environments in the UK. It has a community of 500 staff and 300 PhD students engaged in cutting edge research. Human Biological Sciences at UCL is ranked 2nd in the world and 1st in Europe (Shanghai Ranking's Global Ranking of Academic Subjects 2020).
5. University of Edinburgh
The University of Edinburgh has one of the largest biology departments in the UK which is at the leading edge of research, teaching and innovation. Edinburgh has been consistently placed in top 25 universities in the world for biological sciences (Times Higher Education). The learning and teaching environment is flexible with opportunities to gain experience through interdisciplinary collaborative programmes with other departments.
Study Biology in the UK
If you wish to study biology in the UK, arrange a free consultation with SI-UK India today and apply for September entry at UK universities. Our UK edcucation experts will ensure your application is ready and submitted without error.