The UK is not just a place to learn AI; it's a place to live AI. Between its rigorous academic environment, vast career prospects, and efficient university management, students find an unparalleled ecosystem that propels them to the forefront of the artificial intelligence frontier.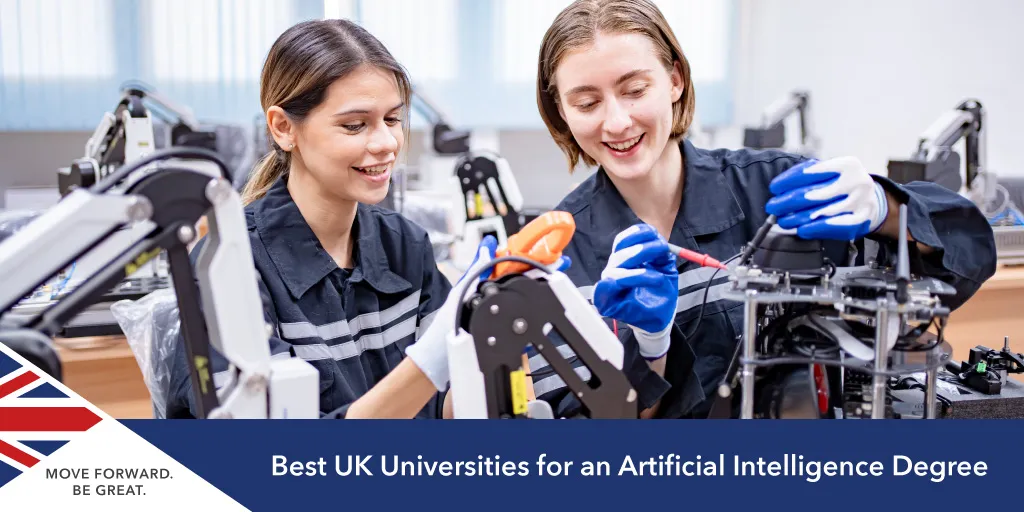 Top 10 Artificial Intelligence Universities in the UK
Learn more about the best artificial intelligence courses in the UK below (CUG 2024) or book a free consultation with SI-UK today to begin your application.
For a student aiming to study abroad, particularly in the realm of AI, the MSc in Artificial Intelligence at Imperial College London presents an unparalleled opportunity. Tailored for those with a solid background in STEM, this degree hones programming and foundational AI skills. Beyond theoretical learning, the course emphasises practical exposure through group and individual projects.
Furthermore, Imperial College offers an alternative MSc option for those with a computing background who wish to delve deeper into AI and related computing areas. This course not only imparts knowledge but also ensures students are well-prepared for a promising career or advanced studies in the field of AI.
Suggested course: MSc Artificial Intelligence
Entry requirements: First class Honours in mathematics, physics, engineering or other degree with substantial mathematics content.
International fees: £39,400
UCL's MSc in Artificial Intelligence for Sustainable Development blends rigorous technical AI training with applications centred on the UN Sustainable Development Goals. A unique interdisciplinary approach encourages students to collaborate on projects that address real-world sustainability issues through AI. Examples range from using drones for medical supply deliveries to refining agricultural methods—a perfect fit for graduates with a computer science, mathematics, or allied disciplines background.
Benefiting from UCL's esteemed reputation in AI and its expansive global networks, students are equipped with knowledge and primed to make meaningful contributions to global challenges.
The University of Birmingham's Artificial Intelligence and Machine Learning Masters/MSc offers an exceptional learning journey by helping them study the core principles of AI and ML. It imparts insights into how machines interpret, navigate, and comprehend their surroundings. You won't just learn theoretically; you'll have the opportunity to apply your knowledge practically in a significant individual project. These projects are overseen by the university's preeminent researchers, many of whom collaborate closely with the Alan Turing Institute.
The MSc in Artificial Intelligence at the University of Edinburgh is situated in a hub of academic excellence. The curriculum offers a deep dive into varied AI domains, from natural language processing and machine learning to the intricacies of robotics.
Over two semesters, students experience a blend of lectures, hands-on tutorials, real-world projects, and in-depth research methods, ensuring both theoretical and practical mastery. One of the course's distinct strengths is its pronounced focus on research. This culminates in a dissertation during the summer, allowing students to delve into a specific AI topic of their choice.
Suggested course: Artificial Intelligence MSc
Entry requirements: A UK 2:1 honours degree, or its international equivalent, in informatics, artificial intelligence, cognitive science, computer science, electrical engineering, linguistics, mathematics, philosophy, physics or psychology.
The University of Southampton Artificial Intelligence (MSc) draws from their groundbreaking research, and an esteemed faculty offers modules in thriving areas, from computer vision and machine learning to robotics. With a choice of specialised modules, you can hone the expertise necessary for advanced study or a dynamic career in AI application development. You'll be immersed in an optimal learning environment, complete with dedicated project labs, advanced computer workstations, and a suite of digital resources.
The University of Sheffield AI course trains students to become well-rounded tech professionals. Besides core coding skills, you'll cultivate essential competencies in teamwork, effective communication, holistic systems design, and entrepreneurial spirit.
It delves into their parallels with genuine biological intelligence and even probes the profound realm of consciousness. While some of the modules mirror those in the core computer science degree, ensuring you have a robust grounding in the essentials, the course also offers avenues to niche expertise.
King's College London (KCL) offers a top-tier Artificial Intelligence MSc for those aiming to be at the forefront of crafting intelligent software systems. Beyond core modules, KCL provides a suite of optional modules, enabling you to shape your learning journey according to your passions and aspirations.
You can select up to 30 credits from various level 6 modules, ensuring a well-rounded and personalised academic experience. Knowing that specific guidelines are tied to the module selection is essential. Before finalising your choices, ensure you're well-acquainted with these regulations to make an informed decision.
Suggested course: Artificial Intelligence MSc
Entry requirements: 2:1 undergraduate Bachelor's (honours) degree
International fees: £31,080
The University of Glasgow presents an MSc that dives deep into the pivotal technologies driving today's robotic and intelligent systems, from the intricacies of AI and machine learning to understanding how these systems perceive and engage with their surroundings. While the core topics lay a robust foundation, you can choose from a spectrum of optional courses, enabling you to carve out your niche in specialisation. You'll gain invaluable hands-on exposure to real-world applications through engaging tutorials, lab sessions, and collaborative team projects.
Suggested course: Robotics & AI [MSc]
Entry requirements: A 2.1 equivalent degree (GPA 3.0) in any Engineering Discipline, Computing Science or Physical Sciences/Maths degree that contains the core modules: maths or control, electronics.
International fees: £29,370
LSBU's BSc Computer Science and Artificial Intelligence degree is housed within the renowned Loughborough's Department of Computer Science. The course offers a comprehensive exploration of pivotal computer science subjects while delving into specialised artificial intelligence modules.
In the first two years of the course, the curriculum lays robust groundwork for the third and crucial year. During this final stretch, students dive deep into advanced subjects such as robotics, intelligent agents, reasoning within uncertain systems, computer vision, neural networks, and deep learning through focused modules. The third year also provides an array of other elective modules, helmed by authorities in their respective niches.
The BSc in Computer Science with Artificial Intelligence at the University of York is crafted to cultivate versatile, adept graduates who stand poised to ascend as leaders. Moreover, this course does not only make students technically proficient but also well-grounded in comprehending the broader implications, both on an individual level and in the wider societal context.
Throughout this distinguished AI degree, students delve into dual intertwined areas of focus that foster the development of computational thinking concurrently with honing one's prowess as an engineer. The synergistic blend of skills makes graduates particularly desirable to prospective employers.
Study Artificial Intelligence in the UK
Contact SI-UK today to learn more about studying Artificial Intelligence in the UK or to begin your application for the upcoming intake.
Artificial Intelligence DegreFAQ
Which AI courses are available at the University of London?
The University of London, through its constituent colleges, offers various courses related to AI. These include undergraduate, postgraduate, and short courses. While the specific courses might change over time, the University typically offers AI courses such as:
MSc in Artificial Intelligence
BSc in Computer Science with a focus on Artificial Intelligence
Short courses or modules dedicated to machine learning, neural networks, and other AI-related topics
Where can I study artificial intelligence?
You can study artificial intelligence at numerous universities and institutions worldwide. In the UK alone, many top-tier universities like the University of Oxford, University of Cambridge, Imperial College London, and more offer dedicated courses in AI.
What can I do with a master's in artificial intelligence?
A master's in artificial intelligence equips you with highly sought-after skills in the tech industry and beyond. With such a qualification, you can:
Work as a Machine Learning Engineer or Data Scientist in tech companies.
Pursue roles in research and development at AI research labs.
Join startups focused on AI-driven solutions.
Venture into healthcare, finance, or automotive sectors to work on AI applications specific to these industries.
Take on roles like AI Product Manager, designing and overseeing the implementation of AI features in products.
Continue with academic research and pursue a PhD in AI or related fields.
Consult for businesses looking to integrate AI into their operations.