Studying an art course involves a comprehensive exploration of various artistic disciplines, techniques, and theories. Art courses allow students to develop their creative skills, expand their artistic knowledge, and refine their artistic voice.
London, renowned for its vibrant art scene, serves as a melting pot of creativity and inspiration. The city is home to world-class art institutions, including the Tate Modern, the Victoria and Albert Museum, and the British Museum, offering unparalleled access to masterpieces spanning centuries. Pursuing art courses in London is an exceptional opportunity that offers a multitude of advantages.
Additionally, London's cosmopolitan nature offers countless opportunities for networking and collaboration, enabling students to connect with established artists and industry professionals. Furthermore, the city hosts numerous art events, exhibitions, and galleries, allowing students to engage with the broader art community and gain exposure to different styles and perspectives.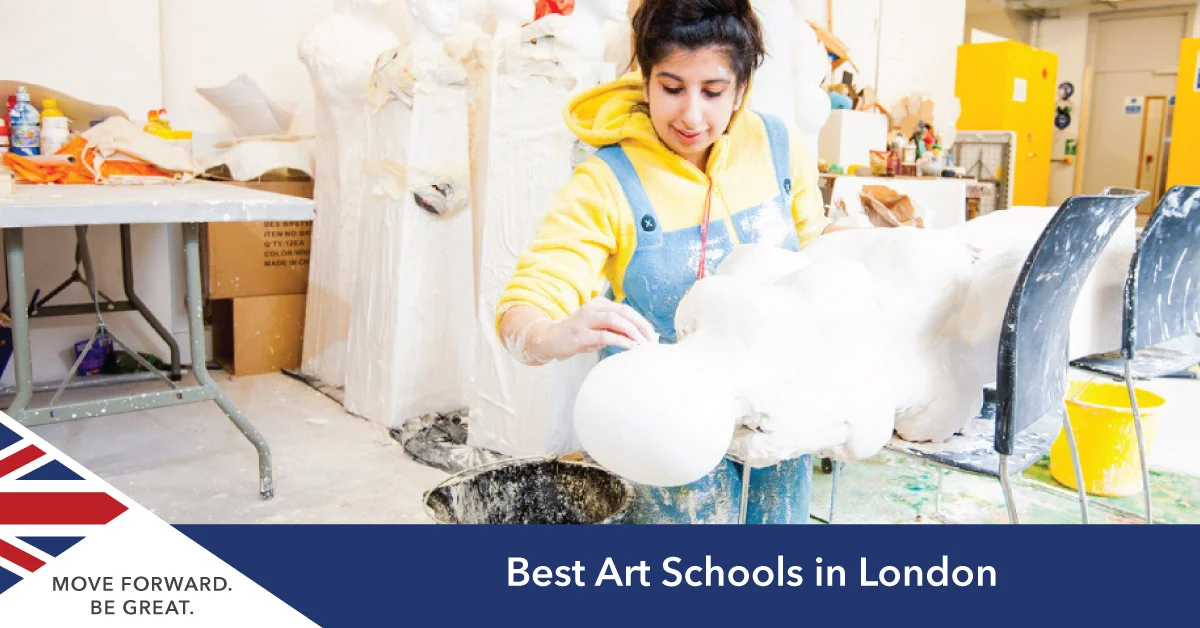 Top Five Best Arts Schools in London
The Arts and Humanities MFA programme at Royal College of Art, one of the best art schools in the world, is a professionally oriented and outward-facing course aimed at creative practitioners. It aims to foster a transdisciplinary and collaborative community of artists and humanists who explore how the arts and humanities can address present and future challenges.
The MFA is highly customisable to meet each participant's individual needs and interests. It offers a range of elective units that align with the School's specialised research areas, allowing participants to deepen their research and practice in a chosen field.
Course in focus: Arts and Humanities MFA
Entry requirements: A level 6 qualification such as a Bachelor's degree or Graduate Diploma in a subject associated with the arts or humanities.
International fees: £36,750
Accommodation: If you're seeking more affordable housing options near the RCA campuses, areas like Hammersmith, Shepherd's Bush, Clapham, and Battersea are recommended.
The BA Fine Art degree at UAL's Chelsea College of Arts emphasises a philosophy of "thinking through making and making things happen." It offers a dynamic and critically creative environment for students to develop their artistic practice. The course aims to provide real-world experience through a series of events such as exhibitions, performances, publications, presentations, and screenings, both on and off-site.
The curriculum encourages open and exploratory thinking, allowing students to explore a wide range of specialised areas, including film, video, digital media, sound, print, performance, painting, sculpture, and drawing. Students are encouraged to test their ideas, experiment with new techniques, and take risks to produce innovative and creative artwork. The course is structured over three years, with each year consisting of several units. These units cover various aspects of art practice, critical engagement, collaborative work, and the exploration of personal positions concerning other artists and wider contexts.
Course in focus: BA (Hons) Fine Art
Entry requirements: Pass at Foundation Diploma in Art and Design (Level 3 or 4); 2 A Levels at grade C or above.
International fees: £25,970
Accommodation: There are several Halls of residence at the university, including Archwood House, Brooke Hall, Cordwainers Court, and Emily Bowes Court.
Goldsmiths' MFA course examines art-making critically, aiming to enhance artists' motivation, self-reflection, and ambition. Participants engage with contemporary art practices and their relationship to art history, social dynamics, and cultural processes. A central focus of discussions is the understanding of artists' work and ideas within different contexts, including social, artistic, and intellectual spheres.
The course is divided into two parts: the first year (Diploma stage) establishes core concerns and ambitions, while the second year (MFA stage) allows participants to address their artistic ambitions within a broader context. Both stages can be completed full-time in one year or part-time over two years.
Course in focus: MFA Fine Art
Entry requirements: Undergraduate degree of at least second class (or international equivalent) plus experience as an artist.
International fees: £26,090
QS World Ranking: 511-520
Accommodation: The university offers over 1,400 rooms in its halls of residence, conveniently situated both near the campus and in various locations across London. Some specific residence halls mentioned include Chesterman House, Raymont Hall, and Town Hall Camberwell.
The MA Fine Art at UCL's Slade School of Fine Art offers a stimulating and diverse environment for graduate students to develop as professional artists and researchers. The course emphasises critical awareness and encourages students to situate their artistic practice within the contemporary cultural and social context. Interdisciplinary and collaborative approaches to art-making are supported.
The school's location in proximity to major galleries, museums, libraries, cultural institutions, and theatres provides easy access to unparalleled learning resources. The Slade Careers Programme also supports students in considering the professional aspects of their art practice.
Course in focus: Fine Art MA
Entry requirements: A first degree in Fine Art at a second-class Bachelor's level or above or its overseas equivalent.
International fees: £32,100
QS World Ranking: 8th
Accommodation: With a total of 26 halls, UCL provides around 7,000 beds to cater to the diverse needs and preferences of its students.
Kingston School of Art is among the world's best art schools and is internationally recognised for its excellence and innovative research in various disciplines. Situated a short train ride from central London, the campus houses the Stanley Picker Gallery and a newly-rebuilt extension designed by Haworth Tompkins architects. The School of Art collaborates closely with galleries, museums, and institutions in London, including the ICA, BFI, LUX, and Chisenhale Gallery.
The MFA in Fine Art at Kingston School of Art provides a distinctive course that combines studio and theoretical training. This course aims to develop students' artistic practice while encouraging critical reflection and situating their work within the evolving social, political, and cultural landscape.
Students are encouraged to develop their personal vision and understanding of collaborative practice, producing self-initiated work from the beginning. Individual tutorials, seminars, and practical workshops support their artistic journey.
Course in focus: Fine Art MFA
Entry requirements: A 2:2 or above honours degree in fine art or an equivalent British or overseas qualification.
International fees: £18,700
QS World Ranking: 601-650
Accommodation: Kingston's conveniently located halls provide easy access to campus facilities, Kingston town centre, and central London. With over 2,000 rooms available, it offers various options to accommodate different preferences and budgets.
Study Art in London
If you want to study art in London at one of the best art colleges in the world, arrange your free consultation today.