University College London (UCL)
13 May 2022
14:00 - 17:00
Chennai Office

London has again been chosen as the best city in the world for international students. Beating renowned cities such as Tokyo, Munich, Seoul in the QS world university rankings, London earned the name of being the best amongst all for the third time in a row.
Factors taken into account whilst ranking the cities included affordability, desirability and the opinion of current students. The presence of one of the most prestigious universities in the world which calls London its home - University College London - also played a huge part.
Learn more about UCL below and begin your UK study journey by arranging a free consultation with SI-UK India today.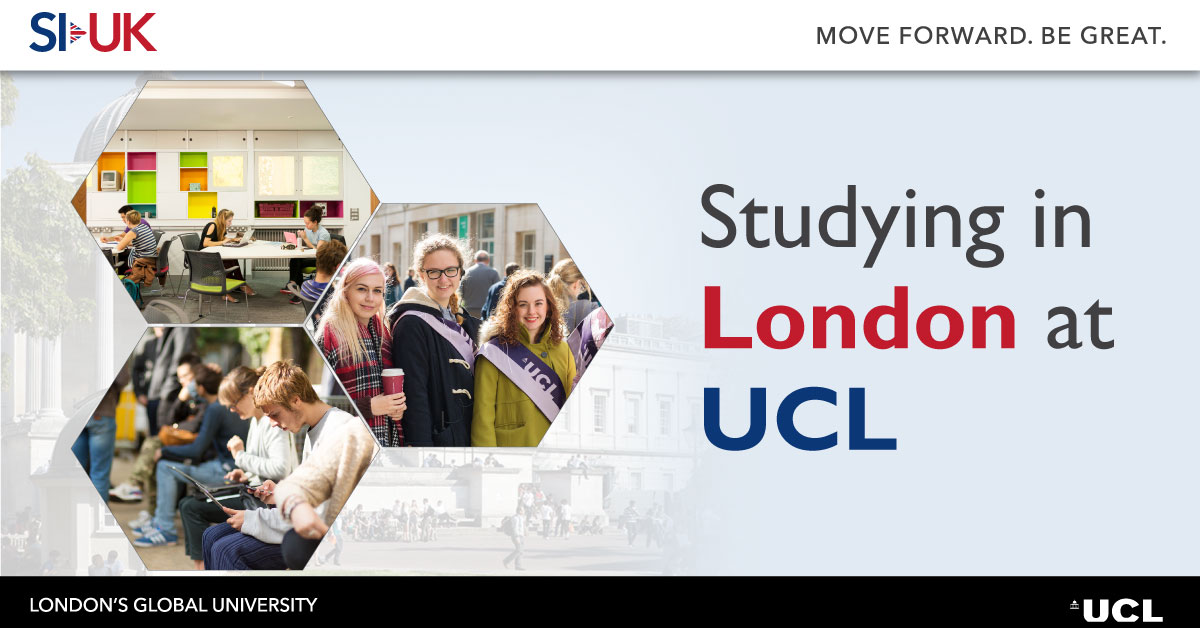 University College London Profile
University College London has always been part of the list of top universities in the world. It is the largest and oldest college of the University of London, making it amongst the most sought-after campuses for both national and international students. UCL is famous amongst students who want to pursue a postgraduate degree abroad.
UCL is currently ranked 8th in the world, joint 4th in Europe and 4th in the UK (QS World University Rankings 2022). Out of thousands of students who were alumni of this prestigious university, 30 have been awarded the notable title of Nobel laureate.
Some of the famous personalities that were once alumni of UCL include:
Mahatma Gandhi (Leader)
Rabindranath Tagore (Poet)
Alexander Graham Bell (Inventor)
John Stuart Mill (Philosopher)
Chris Martin (Singer)
Francis Crick (Scientist
Robert Browning (Writer)
Matthew Vaughn (Screenwriter, Film Director)
Faculties at University College London
Here is the list of all the faculties that are available at University College London:
Arts & Humanities
Brain Sciences
Built Environment
Engineering Sciences
Institute of Education
Laws
Life Sciences
Mathematical & Physical Sciences
Medical Sciences
Population Health Sciences
Social & Historical Sciences
Degree Types at University College London
The different degree types that are available at UCL are:
Undergraduate
Master's
Master of Research (MRes)
Postgraduate Diploma (PG Dip)
Postgraduate Certificate (PG Cert)
Postgraduate Certificate of Education (PGCE)
Graduate Certificates and Diplomas (Grad Cert/Grad Dip)
Distance learning
Short courses and continuing professional development
Postgraduate taught affiliate study
See UCL Courses
See UCL Scholarships
If you are unsure about which program is the ideal choice for your career, you can contact SI-UK professionals for a free consultation.
Life at UCL
University College London offers plenty of benefits for international students, including a centrally located campus, excellent facilities, experienced faculty and research based learning. London was also recently named the best in the world for students for the third year running by the 2022 QS Best Student Cities Ranking!
Study at UCL
The best way to start your education at UCL is by contacting SI-UK India. This is so because we are the only agency currently appointed by UCL to globally support postgraduate UCL applications. Book your free consultation with our professionals today.
Related Articles

Back to events